High-growth or "glamor" stocks have an undeniable lure about them. They are often the most widely reported story stocks with visions of being the next big empire. Investors may pile into these stocks with the hopes of turning a few thousand into a few million by retirement. These same growth stocks, however, can be some of the most volatile of investments as pricing is largely based on speculation and ever-changing sentiment.
Deep value stocks, or those with low price to book ratios, often have far less luster. They may be boring businesses that plug away with a known service or consumable product month after month, year after year. But their deep intrinsic value may, at times, provide a price support, and their slower growth rates often provide a cap on run-away share price appreciation. These stocks may go up somewhat correspondingly to their book value increase when smoothed out over many years.
We will examine a couple of these deep value stocks with rising book values to determine which might be suitable candidates for long-term investing.
We will screen for:
Low price to book ratios
Increasing book values
Some sales growth
Better than industry average return on assets
Listed on a major North American exchange
Deep Value Stocks on the Rise
Air T, Inc. (NASDAQ:AIRT) – Air T has had a rough year. While some of its contracts are still in play and some backlog in effect, as with the USAF, production and delivery of de-icing units were not carried out during the past nine months, thus greatly reducing revenue. When they do deliver, there will be a noticeable boost in sales. A more disconcerting trend is the significant reduction of services delivered to Delta (NYSE:DAL), which will affect revenues and profitability going forward.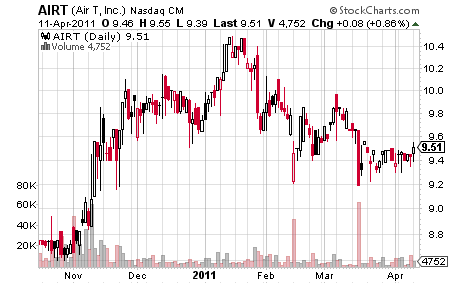 They do have a backlog which made inventory go way up, and the accounts payable also increased greatly. Once they deliver the goods and get the revenue, these figures should settle out. My take on this is that the short-term picture appears grimmer than it really is.
Now for some ratios ... since 2007 the book value has risen from $5.81 to $10.49 today. Because of the sporadic delivery of goods, annual figures are necessary when looking to ratios. Their return on assets is over 2.5x higher than the industry average. They have been raising their net profit margins fairly consistently (tiny dip last year), and up until 2010 they exceeded the industry average. Their annual liquidity ratios are 2.5x higher than the industry average. Again, once they fill the orders on their backlogs, the quarterly numbers will fall in line with longer-term averages.
The stock is currently trading under its book value per share, although for the past three years it has typically traded fairly close to equal. This stock also offers a 3.5% yielding dividend. Book value growth has been quite aggressive, but even if it slows down and levels at 10%-12% growth plus a 3.5% dividend, I see a nice steady upside.
Of course, tough economic conditions could play heavily on this stock. It is interesting to note that they do pass all of the fuel costs onto their customers (namely FedEx Corporation (NYSE:FDX)) in the Air Cargo segment, so rising oil prices is not a direct concern.
This looks like a deep value buy, and you will see some popping numbers once they start delivering goods, although future growth will be muted due to a contract reduction with Delta. All in all, I give this a timely buy rating.
Unify Corporation (UNFY) - Unify Corporation provides software and application solutions globally. Book values have aggressively risen since 2007 when net assets dropped to 8 cents per share. They now sit at $2.31 per share with a share price marginally above that.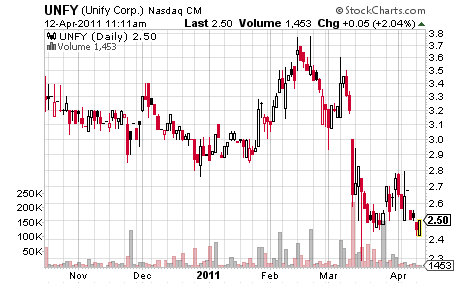 Sales growth has averaged 36.7% over the past three years. There were some costs of associated with the merger with Daegis, and cash flows are down largely because accounts receivable are piling up. In April 2010 the accounts receivable was 6.2 million and this has risen to 15.2 million in January 31, 2011. They have done a good job of keeping accounts payable down under 1 million.
I feel that based on book value growth and the current share price being almost equal to book value, this should find some support. Historically, however, the prices have traded at much higher price to book levels. I'm not suggesting that the price will revert to former ratios, but book value growth should give this some upside impetus.
Using price to sales ratios, this stock has remained fairly constant over the past few years ranging from annual averages of 0.90 and 2.0. At the current 0.84 it is definitely on the low end of the spectrum. The return on assets is low, and was negative last year. Oddly enough, even with a return on assets of zero currently, it is above the -4.2 industry average. So while I can understand why this is being compressed in the short-term, I feel that looking forward it is undervalued.
Looking ahead, when the cash flow jumps up once they get more aggressive with accounts receivable, investors might take notice once they speed up the sale to cash usable by the company. There is also the merger, and competition is fierce. They are going against giants such as EMC (EMC), IBM (NYSE:IBM), Microsoft (NASDAQ:MSFT), Oracle (NASDAQ:ORCL) and Symantec (NASDAQ:SYMC). When you compare these companies, UNFY looks like an ant next to an elephant. Yet, look at the low price to sales and price to book ratios in the columns, and you can see why this might make a great nano-cap in this field.
(Numbers below are directly from FINIZ. Variation exists from source to source.)
| | | | | |
| --- | --- | --- | --- | --- |
| Ticker | Company | Market Cap (mil) | Price/Sales | Price/Book |
| UNFY | Unify Corp. | 35.7 | 0.82 | 1.07 |
| SYMC | Symantec Corporation | 14,059 | 2.32 | 3.16 |
| EMC | EMC Corporation | 54,415 | 3.2 | 3.14 |
| ORCL | Oracle Corp. | 170,995 | 4.98 | 4.67 |
| IBM | International Business Machines Corp. | 199,943 | 2 | 8.74 |
| MSFT | Microsoft Corporation | 218,293 | 3.27 | 4.51 |
I think this could really be a good nano-cap stock to pickup for potential big growth and at a current undervalued price.
Nano-cap Warnings - Also keep in mind that very tiny cap stocks, such as nano-caps, do often trade closer to their book values as the risk of the unknown is greater. Risks are present in the form of a small size and lack of analyst coverage. Do your own due diligence and make your own conclusions while using articles such as these as a starting point.
Disclosure: I have no positions in any stocks mentioned, and no plans to initiate any positions within the next 72 hours.