Equity markets have continued their volatility this week as weakness in Monday trading gave way to a rocky Tuesday session. With the exception of Bernanke's speech yesterday, the week is pretty much devoid of additional news, suggesting that we could see a pretty flat market for the rest of the period, assuming that no further issues arise in Europe. While many equities are likely to see low levels of volatility, a few sectors could be in focus thanks to the tail end of earnings season. Although most of the largest companies have already given their reports, there are still a few key companies that could greatly impact certain ETFs with their quarterly updates. One such company that falls into this category is Piedmont Natural Gas (NYSE:PNY).
PNY is an energy service company that distributes natural gas to customers in the Mid-Atlantic and South focusing on customers in the Carolinas and Tennessee. The firm looks to post earnings of 68 cents a share on sales of $496.5 million for the most recent quarter which compares relatively favorably to the year ago period in which the company saw EPS of 65 cents and sales of $472.8 million. However, the company did miss last quarter's estimate by one cent and the stock is slightly above many analysts' price targets, suggesting that the company may be slightly overvalued according to these projections.
In addition to looking at the top and bottom line numbers, investors will likely hone in on the cost of the fuel for PNY and any impacts that this has had on gross margins. Natural gas futures have been rising modestly as of late so if PNY expects this to continue it could lead to a lower outlook for the firm's summer quarter. With that being said, hot weather across much of the region has likely increased demand for the company's fuel and could give a nice boost to earnings three months from now if investors see a prolonged heat wave in the area [see list of Natural Gas ETFs] .
Thanks to this earnings release, investors should look for the PowerShares S&P Small Cap Utilities Portfolio ETF (NASDAQ:PSCU) to remain in focus throughout today's trading session. The fund allocates its top holding to Piedmont Natural Gas at just under 10% and since the fund has just 22 other securities in its lineup, any movement from this security is likely to have an outsized impact on the fund's performance during Wednesday trading. Should PNY manage to erase memories of last quarter's miss and beat this period's estimates, it could be a solid day for PSCU. If, however, investors see weakness in margins thanks to higher natural gas prices or if PNY makes it two earnings misses in a row, this relatively new fund could see a continuation of its slide and sink in Wednesday's trading session as well.
click to enlarge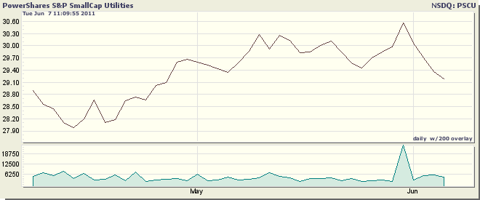 Click to enlarge
Disclosure: No positions at time of writing.
Disclaimer: ETF Database is not an investment advisor, and any content published by ETF Database does not constitute individual investment advice. The opinions offered herein are not personalized recommendations to buy, sell or hold securities. From time to time, issuers of exchange-traded products mentioned herein may place paid advertisements with ETF Database. All content on ETF Database is produced independently of any advertising relationships.