Eaton Vance Tax-Managed Buy/Write fund (ETB) is another compelling value in a broader market which looks to become more range bound going forward, in my opinion. ETB has not been this undervalued since the spring of 2009 when the markets were recovering from their March lows. If I am correct about a more range bound market as opposed to a ramp up market like we've had over the past two years, then option-income funds like ETB should start to outperform once again. This makes the deep discount level that ETB currently reflects an excellent opportunity. Investors can get into a fund that often trades at a premium market price to its Net Asset Value (NAV).
Considering all the negative news that Eaton Vance (EV) and its option-income funds have absorbed recently, investor's may be surprised to learn that ETB's NAV has actually outperformed its correlated market index, the S&P 500 (SPY) since its inception back in April of 2005. That's with a total return of 33.2% vs. 26.3% for the S&P 500 (Includes dividends added back but not calculated on a reinvested basis). And finally, ETB is a quarterly pay high-yielding Closed-End fund (CEF) which will go ex-dividend this month on the 19th of April.
Inception Date: 4/27/2005

Inception NAV Price: $19.06

Current NAV Price (4/12/2011): $15.17

Current Market Price: $13.78

Current Disc/Prem: -9.16%

Current Market Yield: 9.4%

Income Strategy: Option-Income (S&P 500 Index call options)

Dividend Cycle: Quarterly (3rd week Jan, Apr, Jul, Oct)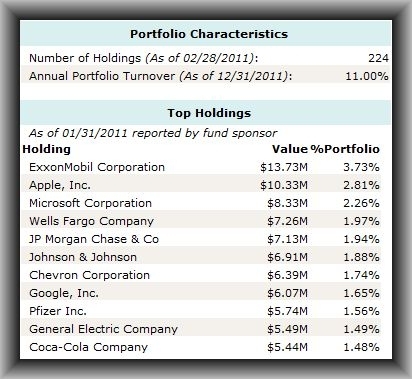 ETB used to be one of the darlings of the Eaton Vance option-income funds. I would often pull my hair out watching it defy logic at times and move quickly to 10%+ premium levels while the other Eaton Vance funds would typically trade at discounts. Part of the reason is because ETB is the smallest of the Eaton Vance option-income CEF's at $375 million in assets. Therefore, it can make larger percentage moves in a shorter period of time. ETB's 5-year average discount of only -2.5% is narrow for an equity CEF and reflects its popularity and strong NAV performance over the years.
All of that seems to have changed for the moment as ETB is now at a -9.2% discount level, the widest since the spring of 2009 when the markets were recovering from their March lows. Except for the market fallout period from late 2007 to early 2009 when many option-income fund's discount levels spiked down, ETB's discount level has rarely been this wide. The graph below shows ETB's Premium/Discount from inception in April of 2005.
Click to enlarge: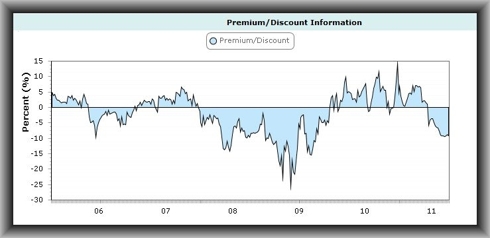 Part of the reason why option-income CEF's have had a more difficult 2-year period is that their income strategy is not optimized in the face of a mostly ramp up market like we've seen since the March 2009 lows. Selling or writing call options on their stock portfolios during this ramp up period often forces the funds to buy back their open option contracts at a loss. Combined with lower market volatility, most option-income funds have had to offset their option losses with the appreciation of their underlying stock portfolios, thus underperforming their correlated market indices. So even though ETB rose to a 15% premium at one point during the recovery period, its NAV performance was already starting to lag that of the S&P 500.

In December 2010, after 22 straight dividends at the $0.45 per share level, ETB's dividend was reduced to the current $0.324. This was part of a widespread reduction of dividends for all of the Eaton Vance option-income funds in an effort to capture more market upside for 2011. Though there is very little risk of any more dividend cuts in my opinion, the latest dividend reduction has led to continued weakness among the Eaton Vance option-income funds, even though virtually every other option-income CEF has reduced dividends as well over the past two years.

The following graph shows the divergence between ETB's discounted market price and its Net Asset Value (XETBX) over the past 6-months. Even though ETB's NAV (XETBX) is at its 6-month high, its market price is close to a 6-month low. This divergence is surprising considering ETB's historical discount/premium range and the fact that ETB's NAV has had a history of outperforming most other option-income funds in its class, many with much narrower discount levels.
Click to enlarge: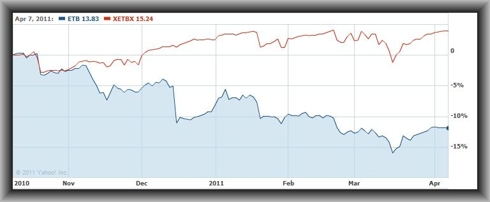 Note: graph does not include a roughly 10% annualized dividend yield over the past year, or about 5% for the period shown.

ETB sells S&P 500 index call options on 100% notional value of its underlying portfolio of large cap domestic stocks, making it very defensive. According to Eaton Vance's Annual Report, ETB can generate around $5 million per month by this sell call option strategy should the options expire worthless. This is about twice the coverage needed by the fund to pay for its quarterly dividend of $0.324 per share and is a big reason why the current dividend level should be safe no matter what the market direction.

Closed-End funds are all about timing the discount levels when a change in market direction is at hand. When fund's are at wide discounts to their NAV and the markets start to turn more in favor of their income strategy, that is when investors should take positions in these funds. Such was the case for the leveraged high yielding CEF's at the lows of the markets and such will be the case for the option-income funds when the markets start to look toppy and range bound. Time will tell if we are at such a juncture but even if the broader market averages continue their ramp up cycle, ETB's NAV will still appreciate, albeit slower than the overall market. Still, with a market price discount of -9.2% along with a sustainable 9.4% annual yield going ex-dividend next week, ETB makes for a compelling valuation.

Disclosure: I am long ETB.