Fairfax Financial (OTCPK:FRFHF) is an insurance holding company that has an extensive investment portfolio. A large portion of insurance companies' profits and earnings typically flow from their investment portfolios. Thus, insurance companies are often valued by their investments as opposed to their actual underwriting business. Typically, Fairfax is no different but investment results may be muted going forward as discussed below.
Fairfax's investment portfolio as of December 31, 2011 had $11.7 billion in bonds, $4.47 billion in common stocks, $583.9 million in preferred stocks, $3.5 billion in cash, $579 million in derivatives, $709 million in assets pledged for short sale, and $976.9 million in equity investments for a total of $22.2 billion. There are some investments and cash at the holding company level that have not been considered. There have been changes made since reporting and investors should look over their 13-F to see any changes made.
The amount of cash and income this investment portfolio brings in is substantially higher than that produced by its insurance operations. Interest and dividend income in 2010 was $868.8 million. This represents a yield of about 4% on Fairfax's portfolio before any sort of capital appreciation-- which has been substantial in the past. Fairfax's average bond return in the past 15 years has been 10% and its average return on equities over the past 15 years has been 17.2%.
I do not expect interest and dividend income to be any higher in 2011 than it was in 2010. For one, Fairfax has realized gains for more than 10% of its equity holdings. This cash will likely be held in cash or invested in bonds with paltry yields. The markets are no longer in a crisis mode and Fairfax will have few attractive options for reinvesting these sums. I expect interest and dividend income will be about the same, or slightly lower, going through 2011.
That being said, Fairfax has identified great deals in the past. For example, Fairfax purchased $3.5 billion of Berkshire Hathaway (NYSE:BRK.A) guaranteed municipal bonds that had a pre-tax yield of 7.9%. We would not have to worry about how CEO Prem Watsa would make returns on this money if investments like those were still available today (and he may still find some).
Also on that note, we can expect the $220 million dollar loss that Fairfax recorded last year due to writedowns on its muni portfolio to largely reverse if Fairfax holds them to maturity as planned. Any further losses due to changes in interest rates can also be adjusted to reflect the plan to hold these bonds until maturity. As the maturity of the bonds approaches and their value moves up in anticipation, we can expect these "losses" to reappear as substantial gains. The $220 million Fairfax wrote off last year will equate to about $10 per share gain upon their maturity.
For better or for worse, we can expect Fairfax's equity investment gains to be muted in the near future. For one, Fairfax had hedged nearly 100% of its equity position in 2010. Common stocks had unrealized gains of $1.03 billion in 2010, which was largely offset by losses of 936.6 million in Fairfax's hedging instruments. I will note here that Fairfax realized $522 million of these gains in early 2011.
Going forward, it is likely that this equity hedge will have even greater adverse affects as the company begins realizing gains in its equity portfolios and as equity markets keep rising. To illustrate this principal in a simplified manner, assume that Fairfax is 100% hedged in a highly correlated asset. As Fairfax's equity holdings go up by $1, its equity hedges will decrease by $1. Now assume Fairfax realizes half of these gains in equities. Going forward, Fairfax might earn $0.50 on its equities as the hedges will still lose $1. Fairfax may reduce its hedging position to prevent from being "over hedged", as was the case examined above.
That brings me to the next item: Fairfax's CPI linked derivatives. Fairfax has purchased $302.2 million worth of these derivatives that have a notional value of $34.2 billion. If the United States, European Union, or the United Kingdom experience deflation over the next 9 to 10 years, Fairfax stands to make huge profits. If there is no deflation, the derivatives are worthless and Fairfax will write down the declining value of the contracts in earnings going forward.
The derivatives are valued by cumulative deflation. For every 1% in cumulative deflation, Fairfax will receive 1% of the notional amount of the derivative contracts. This means that if, on average, the U.S., U.K, and EU experience just 1% of cumulative deflation over the next ten years, Fairfax will receive a total of $340 million.
As a reminder, the U.S. in the 1930s and Japan in the 2000s experienced cumulative deflation of 14%. If we experience just half of this amount, Fairfax will gain $2.38 billion over the next nine years from these derivatives alone. This is substantial for a company whose market cap is $8 billion. These CPI-linked derivatives seem to be a "heads I win, tails I don't lose much" kind of investment. The beauty of this investment is that Fairfax will receive cash from counterparties if there is deflation and this will offset the drop in their equity values. Where this really stands to make investors money is that Fairfax will then have the cash AND the equity investments so it can ride any sort of "recovery" on the way back up while maintaining the ability to "double-down" at low prices. Fairfax's losses are limited to the $302 million spent on the derivatives but the profit potential is huge!
Fairfax's arguments for a deflationary environment stem from the idea that Western governments will have to de-leverage at some point. The drop in spending by the U.S. consumer (who are de-leveraging) was largely made up by additional spending by the U.S. government. This will have to reverse as the government tackles its budgetary issues and trillions of dollars will have to come out of the current government spending. This is not just a problem faced by the United States. Many European nations will also be going through this process. Also, there is constantly talk of a brewing recession in China that could be similar to the one the U.S. just went through. Rising interest rates, government de-leveraging, and future recessions could all potentially be the straw that breaks the proverbial camel's back and gets the ball rolling on deflation.
Think about the other benefits Fairfax would have going into a deflationary environment: Fairfax owns tons of bonds. The prices of fixed income investments typically rise in deflationary environments as long as they continue with the fixed income payments that are steadily becoming more valuable. Given that Fairfax's bonds are largely non-corporate, Berkshire Hathaway-insured, or for necessary municipal services, it is unlikely that these will default. This is also a huge downside if we see the rampant inflation that many are expecting.
Fairfax's hedges on equity investments would also gain value as equities lost value. This would give them the chance to realize gains on the hedges and invest back into equities at depressed levels to be a part of any future corporate successes. Fairfax is ideally positioned to benefit from any downturn in the economy that may result from the combination of consumer and governmental de-leveraging and/or recessions. Of course, we have not seen these effects yet but Fairfax is not the only one picking up on tell-tale signs of deflation and future economic hardship. Many hedge fund managers have suggested that moderate deflation is a real possibility and have adjusted their portfolios accordingly.
In a best case scenario with absolutely no equity hedges and no fear of deflation, Fairfax could easily be expected to earn over $1.25 billion just on its investments. That is over $61 a share at current levels and does not include losses/income from insurance operations. These kind of earnings are easy to understand when you consider that Fairfax has about $1,139 per share in debt, equity, and float all working to earn a return. If Fairfax earns a 3% return on this amount, it earns an 8.5% return for shareholders (as of current prices).
Going forward through 2011 we can forecast interest and dividend income around $850 million, capital gains for equities at about $450 million, losses on derivatives of about $460 million and losses of around $150 million on bonds due to more interest rate rises. With that, we have a total net effect of about $700 million profit for investments. This does not include any gains or losses resulting from Fairfax's other derivatives or investments at equity.
When we consider this with Fairfax's proposed loss of $200 million from its insurance operations in part 1, we have a total gain of about $500 million. This results in a gain of $24.50 per share and represents an earnings yield of 6% and does not include any appreciation or depreciation or their investments at equity.
This is hardly something to get excited about until you look at it the right way. What you have in Fairfax is a company that will have modest returns while acting as a hedge instrument that will do insanely well in the event of a double-dip or deflation. Also, you will gain exposure to Fairfax's insurance operations so that you can benefit from any turn around in the insurance industry. Lastly, you gain exposure to one of the greatest capital allocators of our time at a point in time where it is not being priced into the stock.
To drive this point home look at Fairfax's results over the past 25 years.
Click to enlarge: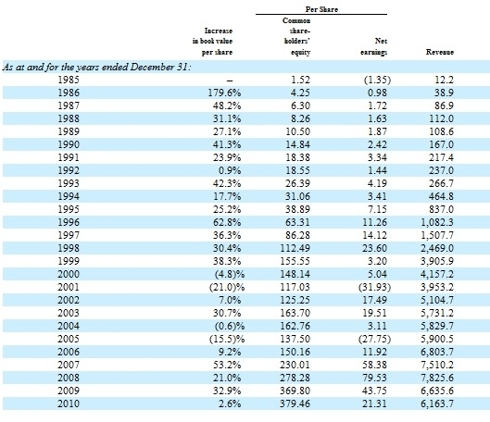 Prem has been able to grow Fairfax's book value at double digit rates in 17 of the last 25 years. In the same period of time there were only two double digit declines. I like those odds.
Another item to take from this is exactly how volatile Fairfax's reported EPS has been while still consistently increasing their book value. This is why book value should be the focus of anyone looking at investing in Fairfax.
Sure, the next year or two may look "grim" for Fairfax but in the long-term, it is likely that it will perform as it has for the past 25 years. If you can get this company at book value, or below book value, as it has been available off and on for the past two or three months, you should do very well for yourself in the long-term.
Disclosure: I am long OTCPK:FRFHF.
Additional disclosure: All investors are encouraged to due their own due diligence. There may be inaccuracies in regards to the numbers reported above due to mistakes in math or misunderstandings of the 10-k. Investors should verify all numbers for themselves.