Despite losing some ground in the first months of the year, the Turkey country-specific ETF, TUR, continues to push forward, backed by a strong long-term economic outlook.
Goldman Sachs (NYSE:GS) strategist Sharon Bell projected a "healthy 7.4% gross domestic product growth in emerging markets this year," reports Vito J. Racanelli for Barron's. Technical market indicators are looking better, especially a reversal in global equity fund flows into the emerging markets, which totaled $2.6 billion in the last week of March.
Turkey's index has moved above its 50-day and 200-day moving averages as investors see an inexpensive entry point into the emerging markets rally. Jacob de Tusch-Lec, a fund manager with Artemis Investment Management, has been targeting Akbank, Turkey's largest bank, arguing he is "willing to go through cyclical inflation for the secular long term."
Alan Miller, a money manager at London based SCM Private, recently put money into the Turkey ETF because of the country's strong economic growth, favorable demographics, valuation of its largest equities and double-digit profit growth.
iShares MSCI Turkey Investable Market Index Fund (NYSEArca: TUR)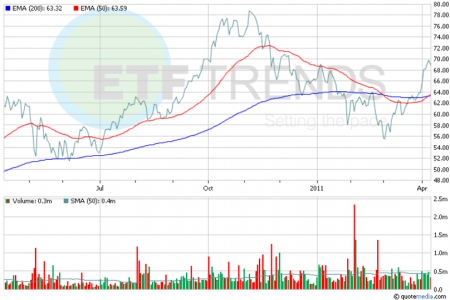 Max Chen contributed to this article.