The retail sector has got off to a good start in 2011, despite major headwinds from commodity costs inflation and rising gas prices. In February 2011, retail sales rose 1.0% following a 0.7% increase in January. This was the 8th straight month of increase in retail sales and the largest gain since October last year.
Retail stocks have performed well relative to the market as well (click to enlarge image). Year-to-date, XRT, the S&P retail ETF, has outperformed the SP500 index by about 250 basis points, reflecting renewed optimism for the retail segment.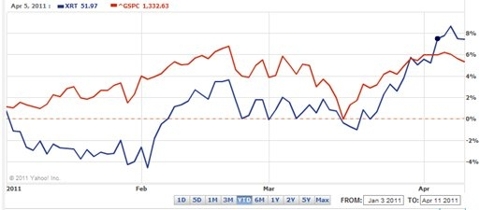 Click to enlarge
Source: Yahoo Finance
For March, U.S. retailers had been expected to post their first comparable-store sales decline since August 2009, partly because Easter falls three weeks later than last year, delaying some purchases. However, according to Thompson Reuters, March comparable-store sales increased 1.7% on average among 25 retailers that have reported monthly sales, exceeding the 0.7% decline analysts had expected.
The top performers include high-end department stores Saks Inc. (NYSE:SKS) (11.1%), Neiman Marcus (8.8%) and Nordstrom (5.1%) and retailer Limited Brands (LTD) (14.0%) – the company owns Victoria's Secret and Bath and Body Works. With the sales report for March scheduled to be released today by the Commerce Department, economists are expecting a 0.5% increase on average.

Looking ahead to the rest of 2011, the inflationary environment will likely become an increasingly larger headwind and retailers will have to make difficult choices: passing on higher costs to consumers or absorbing incremental costs. While low-income consumers will likely be most impacted, as higher gas and food prices will cut into their discretionary income, higher-income consumers appear to be less affected, as evidenced by sales growth at the higher end department and retail stores.
With retail companies in the spotlight today, it makes sense to highlight some retailers which we like as attractive investment opportunities based on AFG criteria like economic profitability/corporate performance, management quality and most importantly valuation.
Investment

Ticker
Name
Sector
Opportunity
Attractive Retail Companies

(NYSE:COH)
COACH, INC.
Consumer Non Durable

Attractive

(NYSE:ARO)
AEROPOSTALE, INC.
Consumer Services

Attractive

(NYSE:BJ)
BJ'S WHOLESALE CLUB INCORPORAT
Consumer Services

Attractive

(NASDAQ:COST)
COSTCO WHOLESALE CORPORATION
Consumer Services

Attractive

(NYSE:CVS)

CVS CAREMARK CORPORATION
Consumer Services

Attractive

(NASDAQ:DLTR)
DOLLAR TREE, INCORPORATION
Consumer Services

Attractive

(NYSE:KSS)

KOHL'S CORPORATION
Consumer Services

Attractive

(NYSE:M)

MACY'S, INCORPORATION
Consumer Services

Attractive

(NYSE:TGT)
TARGET CORPORATION
Consumer Services

Attractive

(NYSE:WAG)
WALGREEN CO
Consumer Services

Attractive

(NYSE:WMT)
WAL-MART STORES, INC.
Consumer Services

Attractive