As commodity prices continue to rise, many observers have questioned what the tipping point is for the American consumer.
Retail prices at the gas pump hit $3.79 yesterday according to the US Energy Information Administration (EIA), up 32.6% from a year ago and the highest since mid-September 2008.
The Labor Department said today that imported food was 4.2% costlier last month, and was up 19% from a year earlier. The gain in food prices compared with a month earlier was the largest since July 1994.
Americans' optimism about the future direction of the U.S. economy plunged in March for the second month in a row based on the latest Gallup survey, and is 3% points below the March 2010 level.
Though there is anecdotal evidence discretionary spending has been curtailed due to inflation and most consumer confidence measures have dropped sharply over the past several weeks, retail sales continue to be robust and are expected to strengthen as we approach Easter.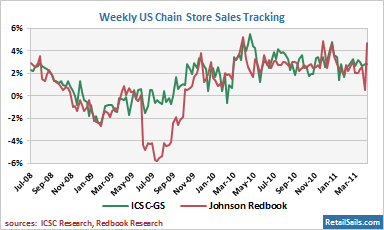 (Click chart to expand)
Redbook Research reported that same-store sales posted a 4.9% increase for the first week of April, the largest gain since Thanksgiving week, while sales were up 0.9% relative to the first week of March. Sales were driven by seasonal merchandise and most retailers said they were on track with their seasonal programs as we near the end of the fiscal first quarter.
Catlin Levis, Redbook analyst, said "The sharp rise in our model's year-over-year growth rates from the final week of March reflected the transition from the negative to the positive side of the Easter shift. Easter falls three weeks later this year than last, so the expected bulge in sales around the holiday will be accounted for in April rather than March."
Meanwhile, The International Council of Shopping Centers (ICSC) said that chain store sales increased a slight 0.1% over the prior week, while sales rose 2.9% compared to the year-ago period.
"Sales edged up from last week as consumer and sales trends should be relatively strong over the upcoming weeks, as Easter and spring sales kick in," said Michael Niemira, ICSC vice president of research and chief economist. "A late Easter—as it is the case this year–is better typically for April sales as weather is generally warmer and drives stronger apparel demand," Niemira added.
These trends confirm what we saw last week when the majority of retailers reported better-than-expected same-store sales for March and collectively posted a 2.5% comp gain compared to 2010. So, with prices surging from the shelves to the pump, the unemployment rate still hovering near 9% and economic optimism falling sharply, why are we not seeing consumers tighten their wallets significantly?
In a recent interview with Barron's, Mr. Neimira of the ICSC provided some insights. The whole interview is worth a read, but here is an excerpt:
"Energy prices—and food too—are rising. However, at the moment, those commodity price pressures are more of a worry for the economy than anything else. The payroll tax reduction this year and the pickup in hiring are much more important and significant than the higher-price impacts that consumers are facing. Consumer spending—theory suggests and empirical evidence shows—is primarily driven by income. Moreover, looking at the year-over-year gap between earnings and gasoline expenditures provides that perspective. Average weekly earnings have risen by $19 over the last year through February, while gasoline expenditures have risen by about $9 per week over the same month of last year. Although that is not a great situation, income is still winning out. If you were to go back to July 2008, income was up $18 (on a year-over-year basis) while gasoline expenditures were up slightly more than that! At that point in time, rising gasoline prices were far more problematic for the consumer, because of the rate of change relative to income. That income-gasoline expenditure gap also was very problematic for the consumer even at the turn of 2010, when gasoline expenditures were eating up all of the gain that workers were seeing in their weekly earnings, but that negative gap was soon reversed as income started to accelerate, even as gasoline prices glided gently higher through 2010.

Thus, negative drag from higher energy prices cannot be assessed without understanding the context, and in that regard the current situation does not look as dire as the headlines on rising gasoline prices would seem. Nonetheless, there are plenty of reasons to worry beyond today, if income and job growth do not march upward faster than the drag from energy prices and other consumer costs."
Consumers are indeed concerned that inflation will wipe out any expected income growth, and while rising prices might not yet be significantly affecting purchasing power as much as feared, the psychological effect of gas prices hitting $4 per gallon or more in the coming months should not be discounted:
In this month's Ad Age/Ipsos Observer survey of American consumers, 91% said they were already feeling the difference in the cost of filling the tank. Of those, nearly half plan to cut back on discretionary spending immediately. When asked about their spending if high gas prices persist for more than a month, those figures approach 75%.
About three-quarters of Americans surveyed by America's Research Group said they were shopping less due to rising gas prices, with more than 62% of the participants planning to spend generously only next year or beyond.
And, let's not forget retailers have not yet begun passing on much of their own input cost increases onto consumers. Inflation for clothing, food and other products is "going to be serious," Wal-Mart U.S. CEO Bill Simon said recently in an interview. "We're seeing cost increases starting to come through at a pretty rapid rate."
As we saw back in the summer of 2009, consumers are resilient until they're not. At some point, shoppers will start to return to the frugal mentality that led to severe cutbacks in discretionary spending, and based on what consumer surveys are telling us it could be sooner rather than later.
We will have a better idea of how strong spending truly was in March after reviewing the Commerce Department's March retail sales report today.
Disclosure: I have no positions in any stocks mentioned, and no plans to initiate any positions within the next 72 hours.