On Monday, Tenet Healthcare (NYSE:THC) filed a complaint in the United States District Court for the Southern District of Texas alleging that Community Health Systems (NYSE:CYH) has exhibited a practice of systematically admitting, rather than observing, patients for financial, rather than clinical, purposes. THC claims that this practice has created a substantial undisclosed financial and legal liability to the federal government, numerous state governments, private insurance companies and patients. THC's action seeks to compel discovery as to CYH's practice. This article seeks to discover whether THC's offered proof is sufficient for various other parties to bring claims against CYH for the proposed fraud, as well as against similarly acting competitors.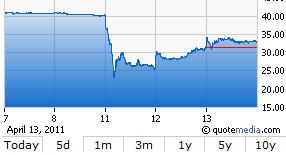 The allegation of Medicare fraud in the hospital industry is certainly not blockbuster news. And at the onset of this analysis it must be noted that CYH has attempted to buy-out THC, and that THC's allegations are in response to this attempted buy-out, rather than a sense of civic duty. THC asserts that CYH's actions call into question the legitimacy of CYH's finances. This article does not consider the value of these individual companies, their finances or the proposed acquisition - but instead focuses upon the legal impact of this claim's potential liability for CYH and any other similarly acting market participants that may owe to billed and treated third parties. Further, I hope to consider what consequences such allegations may have upon medical treatment in the U.S. Of course, patients as well as investors in hospitals and medical insurance companies should find this analysis worthy of interest.
THC's Basis for Asserting CYH is Systematically Committing Fraud
THC provided a summary (.pdf) of allegations asserted in its complaint. The summary contains scores of bullet points and charts, detailing their research and analysis of CYH. THC explains that CYH utilizes a proprietary system to justify whether to admit or observe and release patients, which is known as the "Blue Book." THC asserts that the Blue Book results in a higher rate of admitted inpatients, which must cost patients, Medicare and other insurers more money than outpatient, or observation, bills. THC's claim asserts that CYH's system results in multiple counts of fraud, possibly including over one billion dollars of excessive billing to Medicaid over the last decade.
The industry has undergone numerous investigations in the past decade. Moreover, the state of Texas has, through its Attorney General, initiated an investigation of CYH's 18 hospitals within Texas, focusing upon CYH's procedures and billing in the facilities' emergency departments. This investigation appears to indicate that the Texas Attorney General is also suspicious of CYH's practices, though no conclusions have been reached.
It should also be noted that THC is all-too-familiar with alleged Medicare fraud, having settled a federal probe for $900 million in 2006 in order to end that investigation. This may make THC's board filled with expert authorities on such practices, from both implementation and consequential liability standpoints.
THC asserts that CYH's Blue Book practice must stop, and that the financial impact to CYH will make its acquisition of THC more difficult. THC notes that 42 U.S.C. 1395y(a)(1)((NYSE:A)) places a "reasonable and necessary" standard upon hospitals, which THC asserts CYH is violating. It is unclear whether THC has also asserted a qui tam claim on behalf of the federal government, also known as a whistleblower claim, which they certainly should if the assertions have a legitimate basis. Such claims are filed under seal, so a filing would be unknown. But in the best interests of myself and my country, I feel obligated to personally assert such on the government's behalf, just in case, and for the whistleblower's ample cut. Similarly, individuals so defrauded by hospitals should contact me so that I may consult and refer them to competent and appropriate class action, mass tort and/or personal litigation counsel, so that they may sue for being deceptively kidnapped, 'overmedicated' and overcharged.
THC's Comparison of CYH to Itself, Other Market Participants & the National Average Appears Biased
THC notes that CYH's observation rate, or the percent of total patients that are not admitted inpatients, is much lower than other large hospital groups and the national industry average. On page 11 of its summary of allegations, THC provides a chart that compares some industry participants to one another and the national industry average. This chart indicates that the industry average is 12.6%, while CYH's rate is listed as 5.11%, with an asterisk (in fact, three). At the bottom of the page, it reads
*** Our analysis limited the 130 CHS hospitals to 111 hospitals in 2009, which excluded 3 non-inpatient short-stay acute care hospitals, 4 hospitals acquired in 2010, 6 CAHs, and 6 hospitals that did not bill for ER visits and/or observation stays.
That means approximately 14.5% of CYH's hospitals were not considered. No such modifying and mitigating asterisk(s) accompany the other 4 hospital systems shown in the chart. This difference in treatment is of concern. It appears to compromise the integrity of the researched comparison and introduce a bias to any conclusion(s) drawn from it, though without seeing untainted data, the scope of perversion, if any, remains uncertain.
If THC's Claims Are Accurate, THC Identifies Superior Acquisition Targets for CYH than THC
THC does not delineate the percentage of observation versus inpatient care that proves CYH or any other market participant is committing their asserted fraud, but it is worthy of note that THC's own outpatient percentage is below their stated national average (perhaps it is guilty of fraud as well). If CYH were targeting the acquisition of other hospital systems with higher outpatient rates to then add to the asserted fraud, as THC claims CYH already did with a prior purchase, Triad, one might wonder why CYH would choose THC as a take-over target rather than another system that has a higher outpatient percentage, where there would be more juice to drain.
THC even notes that one competitor, LifePoint (NASDAQ:LPNT), sports a 17.04% outpatient rate, which would presumably be about twice as juicy of an acquisition for CYH as would THC be, if outpatient rates are relevant to the alleged fraud. THC also notes that HCA has a higher outpatient rate than THC within the primarily urban subsect of hospitals within which THC includes itself. Nonetheless, as this analysis aims to consider potential external frauds and not speak to the valuation of these systems as purchasable entities, the aforementioned is the extent to which I shall consider their respective values.
If THC's Claims Are True, This Action Might Result in "Death Panel" Determinations & EMTALA Violations
It is worthwhile to consider that this matter's conclusion could result in healthcare analysis exclusively by the numbers. If having an observing outpatient rate of too low below the national average is sufficient to assert fraud, should THC get investigated? This issue may end up concluding a factual and/or legal line in the sand that could result in administrative determinations mandating that a higher level of hospital patients become outpatients, in an effort to lessen costs. After all, for many issues, it will always be cheaper to simply provide a patient with a few pain pills and tell them to consult their physician in a week if the problem continues, under the logic that a great many conditions are likely temporary and prone to self-correction. Nonetheless, I would not want to be turned away with a pocket full of pain-pills where I do in fact suffer a serious condition.
Further, these allegations of overbilling may be shortsighted as to eventual and inevitable costs. THC's analysis appears to presume that outpatients will not require future treatment after being turned away, which is certainly not always the case. If a patient must return to the same hospital for future care or go to another place that then provides treatment, those future treatments will result in costs that THC's analysis does not consider. It is even possible that such practices result in double testing and, therefore, carry the potential to generate greater total costs in order to ultimately conclude treatment of the patient's condition.
Furthermore, it is as conceivable that some hospitals would choose to turn away lower margin Medicare patients, and that CYH, like THC, is honorably less likely to do so than the nation's average hospital system. In fact, the government has developed regulations within the Emergency Medical Treatment and Active Labor Act ("EMTALA"), also known as the anti-dumping law, to prevent hospitals from too quickly casting aside certain patients. Violations of EMTALA could subject a hospital to harsh government penalties as well as malpractice suits. These penalties and lawsuits would expose hospitals to additional costs that, invariably, increase the cost of a future patient's treatment.
Conclusion
THC's claim is concerning as it contains allegations of fraud that may not only exist at CYH but throughout the industry. Nonetheless, their analysis appears biased and their basis for asserting the claim appears based out of self-preservation rather than a sincere concern over fraud within the market where they claim to be an honest competitor. Though this bias calls to question the conclusions THC has reached, this does not mean that there is no fraud here, and the Texas Attorney General's investigation shows that at least one billed entity has developed a working hypothesis with similar conclusions.
For the reasons set forth, THC's research appears inconclusive on its own to prove anything and a deeper analysis of these practices, including future care to returning outpatients, EMTALA claims and outpatient malpractice claims would be necessary in order to develop a true determination of fraud by CYH or another similar system. Still, as THC's own prior $900 million settlement indicates, fraud was probably already in the system. This will certainly not be the last claim of overbilling fraud to be raised against a hospital, and any factual and legal determinations reached through this action or Texas's ongoing investigation may have widespread implications as to how medical treatment is provided in the future. The industry as a whole should prepare for a storm of scrutiny, as should hospital patients.
Disclosure: I have no positions in any stocks mentioned, and no plans to initiate any positions within the next 72 hours.