"China has become the single largest driver for global wind power development. Every second wind turbine that was added anywhere in the world was installed in China." - Steve Sawyer, Secretary General, Global Wind Energy Council.
Last Thursday, it was reported that China officially overtook the United States in wind power. While the U.S. added 5,116 megawatts last year (about half the amount of 2009), the mainland added a full 18,900 MW, becoming the new global leader with nearly 45,000 MW of installed capacity.
At first glance, this "passing of the torch" appears as yet another example of China's implacable ascent, its state capitalist model driving the kind of high-tech adaptation that our own fractured polity can no longer muster. In Q3 2010, Chinese projects accounted for 50% of total world investment in wind power. The CCP's latest five year plan aims for an additional 90 GW of wind by 2015.
But despite any loss of title or bragging rights, the situation is far from grim for the U.S. The country has a respectable 40,000 MW of capacity, and the industry has made headways vis a vis other energy sources. Wind power contributed more than 25% of the total new U.S. electricity supply that came on line last year. GE (NYSE:GE), Vestas Wind Systems (OTCPK:VWDRY) and Siemens (SI) in particular have been major equipment suppliers in this effort, with companies diverse as Google (NASDAQ:GOOG) and Berkshire emerging new prospective clients.
A close examination of the year turns up quiet positives. In July, Google announced a major deal with NextEra Energy (NYSE:NEE), purchasing 114 MW from NextEra's wind farms in Iowa. It is the tip of the spear. According to Martha Wyrsch, president of Vestas's North America unit:
"In North America, we've totally restructured our salesforce and hired more engineers to work with customers that don't have much experience with wind farms. We are seeing a lot of interest from carbon-conscious companies that we never saw before."
In contrast, a close scrutiny of China's "mega-success" in wind power suggests a far frothier, less certain story. Indeed, for the market savvy among us, it is precisely the "China is surpassing us" type of headline that can make one keen to see if a near-term market top has formed. For all the success that China's central planning offers for certain modernization needs, it can often spawn absurd excesses at the lower level.
This appears to be the case in wind power at the moment. Just days ago, it was reported that China's National Energy Administration (NEA) is drafting new restrictions on the industry. The new regulations, which are likely to come out before June 30 will alter the approval process for small projects.
According to existing government rules, only wind power projects with installed capacity of more than 50,000 kilowatts had to be approved by the central government. Smaller projects could be approved by local governments alone.
This has led to some rather "inefficient" incentives. Large wind power projects were cut up into smaller ones to expedite approvals without the NEA's involvement. Though this sped up the process, it also made graft or collusion between in-province developers and politicians a real possibility. Some wind farm investors allegedly transferred their "sweetheart" approvals to other enterprises after getting local government nod to start construction. The "under 50,000" rule was carte blanche for quick-thinking local boosters.
And more importantly, from the electricity feed-in perspective, these local-approved wind power projects were not even on the map of the regional planners. This led to capacity that proliferated like weeds beyond the power grid's receiving capacity, with a great number of these locally-sanctioned turbines now idling.
The new regulation is expected to demand local governments to get approval from the NEA before starting construction of any wind power projects. Industrial insiders see the regulation as tamping down on the overheated development of the wind power industry in China. Wang Haisheng, a chief analyst with Huatai United Securities, believes the regulation will crimp new wind power projects. It will lower profits for the wind farm operators and their wind equipment vendors in the near term.
Yes, the vendors. Chinese wind turbine manufacturers have been enjoying a very profitable stretch recently. In an astonishing transformation since 2005, four of the top 10 global wind turbine manufacturers are now from the mainland, with Sinovel and Goldwind taking the second and fourth slots, respectively. These domestic suppliers made 50% of the equipment used in Chinese wind power projects.
How will this Beijing-induced slowdown of the wind power industry impact the rare earths sector? The traditional wind turbines have gearboxes. But these are more prone to break down and require expensive servicing in their distant open sea or desert locales. The latest turbines use neodymium-iron-boron (Nd2Fe14B) magnet generators. They have far fewer moving parts and are therefore less costly to service in extreme locations. They quickly became the turbine of choice.
Neodymium has been used for decades in tiny measure in many electro-magnetic-related household items – stereo speakers, computer hard drives, etc. But only with the rise of green tech, with its demand for highly efficient magnets, has the rare earth element really come to the fore, perfect for use in hybrid cars and wind turbines. A direct-drive permanent-magnet generator for a top capacity wind turbine would use 4,400 pounds of neodymium-based permanent magnet material.
A collapse in demand for wind turbines in China could hurt mainland REE prices later this year. Whether this will increase smuggling and thus soften prices outside China is an open question. But it is conceivable and something to look for later this summer.
Molycorp (MCP), Lynas (OTCPK:LYSCF) and Rare Element Resources (NYSEMKT:REE) have been on a rightful tear since last August. As an early supporter of the non-Chinese rebirth of the REE mining industry, I am very optimistic of the industry's long term possibilities, as my articles on MCP in September and Ucore (OTCQX:UURAF) in October make clear. But intermittent drops in demand must be expected as part of this type of trajectory, and any cutback in Chinese turbine manufacture will have a real impact.
If Beijing's regulatory redux wasn't enough of a concern, a slowdown in the world automotive market is also a possibility. Citi (NYSE:C) recently slammed the table on the Japanese carmakers, putting a "sell" on the industry. The call was newsworthy for its sense of panic, though it was in concurrence with statements coming from the industry itself.
Toyota has said it will be operating factories at 50% capacity. According to Bob Carter, a group vice president of U.S. sales:
"Toyota will be producing new vehicles at significantly reduced levels. What we don't know are vehicle production levels for May through July. The potential exists that supply of new vehicles could be significantly impacted this summer."
Car sales are an important component to a reviving economy and something of a leading indicator, helping to "pull the train" of a whole swath of secondary industries. This slowdown will also likely affect REE in so far that electric cars, like turbines, use a lot of REOs. A typical hybrid car, such as a Toyota Prius, contains around 25 pounds of rare earth metals - mostly lanthanum in its rechargeable battery and neodymium in its drive motor.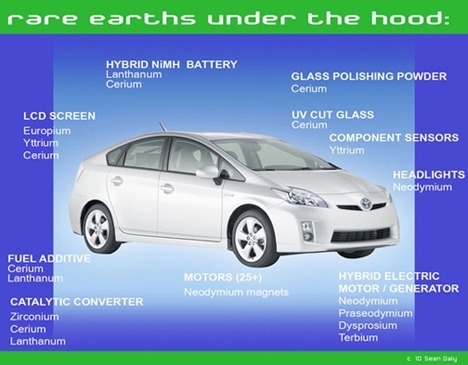 This week, two of the most public bulls - Goldman's David Greely and CNBC's Jim Cramer - have pulled in their horns. The market might be seeing an inflection point, as large institutional investors shift to cash as the tsunami fallout, Chinese inflation, America's unknowable post-QE2 landscape, and the new Portuguese-inflected PIG 2.0 give pause to risk taking.
If passed, Colorado Rep. Mike Coffman's Armed Services Committee member's bill - dubbed "Restart" - will certainly help the native REE companies in a stockpiling initiative. But I see that as having a more transformative impact on some of the smaller heavy rare earth plays like UURAF - which has an Alaska property abundant in those heavies most prized by the military - and less on a LREE play like MCP.
Molycorp's recent purchase of Silmet signaled three things: The company wanted to gain that existing processing capacity in case of regulatory setbacks in California; it wants European exposure; it wanted to use its new found financial muscle to initiate a roll-up acquisition process, one that it - and only it - is capable of doing within the sector at the moment. The company has come a long and beautiful way from its "broke" IPO last summer.
Whether the rare earths follow other commodities down in the post-QE2 de-risking or become something of a speculative "uncola" that the commodity traders will chase as oil and copper markets sour is an open question. But like most equities since September, these miners have had a good run.
With Chinese turbine and Japanese automotive manufacture likely to slacken, corporate deals in the U.S. like Google's NextEra agreement will become more and more essential to keep demand from turning south. Let's hope they continue.
Disclosure: I am long GE, GOOG, TM, MCP, UURAF.PK.