Buy Pick of the Day: Comerica Inc. (NYSE:CMA)

Analysis: Comerica looks to be a solid pick-up moving into earnings as the company's stock is showing some life. The company received an upgrade last week, has received a lot of positive options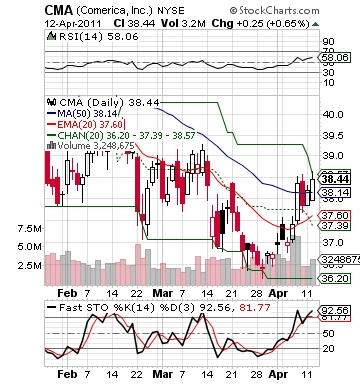 action as of late with tons of calls being bought, and was one of our highest rated companies in the Earnings Preview done by EquityAnalytics. The company is going to be growing EPS by 204%, swinging from a steep loss at -0.46 one year ago to 0.48 consensus this quarter. Additionally, the company is coming off of a great quarter one quarter ago when they beat EPS by 71% and reduced loan losses. The reaction was not great due to the company buying Sterling Bancshares as part of the report.

The company looks poised for some nice gains moving into earnings as the financial sector got a strong support line today from JP Morgan (NYSE:JPM) that should continue until at least Friday when we hear from Bank of America (NYSE:BAC). Regional banks start Friday with Webster (NYSE:WBS) and Monday morning with Keycorp (NYSE:KEY). Comerica has shown strength when other financials have not, and we like that support the company is getting and should continue into earnings. The company is a bit overvalued, but we would rather have a financial the market likes instead of one we hope they will start to like. The stock has jumped nearly 5% in the past week.
Technically, the company's fast stochastics are nearing a top, but we believe it has legs to $40. The company's RSI is still only at 58, and the stock is just starting to get love from its industry and sector. The stock just broke a key price channel and is on a great support line. This stock actually looks ready to break out technically.
Get into CMA!
Keycorp and Fifth Third Bancorp (NASDAQ:FITB) also look solid right now given similar growth and fundamentals to CMA. Their technicals are not as attractive, but FITB is probably a great pickup on any pullbacks.
Entry: We are looking to buy at 38.80 - 39.10.
Exit: We are looking to exit the first half for a 2% gain.

Stop Loss: 2% on bottom.

Timeline: Daytrade to Midterm Trade.

Oxen Entry: Close to open.
Disclosure: I am long CMA.