The continued rise in energy costs could really start crimping the economic recovery soon. That's why it's important to look for companies that will actually benefit from rising energy prices. One tiny company I have found is PowerSecure International (NASDAQ:POWR). PowerSecure is a small company but a big leader. The company is on the cutting edge of smart grid technology. PowerSecure products save companies money by managing efficient energy use.

PowerSecure International, based in Wake Forest, N.C., is a leading provider of energy and smart grid solutions to electric utilities and their commercial, institutional and industrial customers. PowerSecure's energy and smart grid solutions businesses provide products and services in the areas of energy efficiency, interactive distributed generation, and utility infrastructure. (Source: Company website)

PowerSecure has a market cap of $130 million. It's CEO, Sidney Hinton, is a former Southern Co. (NYSE:SO) executive. Hinton has built a team that understands energy and how to manage it. Over 50% of PowerSecure's revenue comes from the distributed power generation business. In this segment, PowerSecure supplies highly sophisticated generators that operate during peak energy times. This process is known as "peak shaving." Peak shaving provides huge cost savings to commercial customers by providing an alternative power source when energy costs are the highest. PowerSecure remotely monitors power supply for peak times and automatically switches power to the generators when there is a cost advantage. PowerSecure's distributed generation systems ran 12,745 times in 2010, according to a recent 8-K filing. This represented an increase of 56% over 2009.

PowerSecure also operates a utility infrastructure business and an energy efficient lighting business. These two segments make up the remaining 50% of revenue. The utility infrastructure segment maintains power transmission lines, assists in repairing and replacing infrastructure after storms, and conducts design and engineering studies. The efficient lighting business deploys LED systems to commercial customers. These systems can provide a significant cost savings to customers.

PowerSecure will soon launch two more innovative products, SmartStation and MicroGrid. SmartStation is a small, efficient, and reliable substation. MicroGrid is a small electric grid operating system for field use. It is connected to various sources of power to distribute and regulate electricity.

At $7.25 a share, I feel PowerSecure offers a compelling opportunity. It trades at a forward PE of about 19 and has a PEG ratio of 1.62. As you can see from the chart below, the company has been steadily growing revenue since 2005.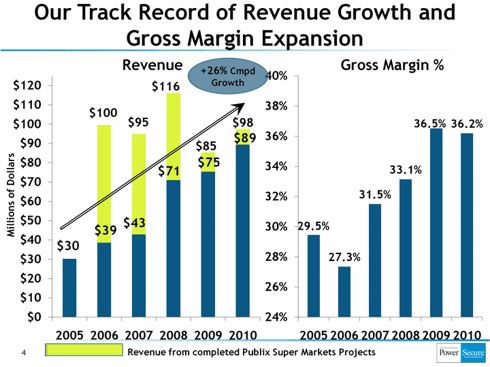 Click to enlarge
(Image from 8-K filing on 3/14/11)

Revenue has grown at a compound rate of 26% and gross margins have steadily grown from 29% to 36%. In 2010 revenue was up about 19% (excluding the expired Publix project) from the prior year. One of the most exciting aspects of this high growth company is that it has very little debt (about $5 million), allowing it to be both flexible and innovative.

Value Metrics

| | |
| --- | --- |
| Metric | POWR |
| Market Cap | $126.9 M |
| Recent Price | $6.77 |
| Forward PE | 19 |
| Dividend Yield | N/A |
| 5 Year Div. Growth Rate | N/A |
| Payout Ratio | N/A |
| Price/Book | 1.72 |
| Price/Cash Flow | 36.53 |
| Price/Earnings Growth | 1.62 |
| Price/Owner Earnings | N/A |
| Return on Equity | 4.70% |
| Debt/Equity | 0.07 |
| Revenue TTM | $97.5 M |
| Operating Cash Flow FYE | -$6.64 M |
| Capex FYE | -$6.13 M |
| Capex/Cash Flow FYE | N/A |
| 5 Year Rev. Growth Rate | 17.50% |
| 5 Year Cash Flow Growth Rate | -1.40% |
| 5 Year Earnings Growth Rate | -26.80% |
| Net Profit Margin | 3.40% |
| Current Assets | $77.35 M |
| Return on Assets | 2.75% |
| Long-term Debt | $5.0 M |
In a recent article published on Motley Fool, author Andrew Sullivan gives PowerSecure a target price of $15. I would agree. If energy prices stay high this stock could double in the next one to two years. Although I am taking a conservative approach to the stocks I am buying right now, PowerSecure actually benefits from one of the main causes of my economic concern, high energy prices. This small cap is poised to power ahead in the coming years.

Disclosure: I am long POWR.