For the first time in a very long time, healthcare is starting to show some leadership. Through 4/13, the sector is up 6.05% YTD, just behind Industrials but still trailing energy. Month-to-date, the sector is up 1% in contrast to the S&P 500's decline of 0.86%. Since early February, when I discussed that "Healthcare is Stronger Than It Looks", the sector has rallied almost 4% while the S&P 500 has declined marginally. What's going on? Why the stealth rally?
Before trying to answer that question, a few observations:
Strength is broad - 71% of S&P 500 names are up MTD as of 4/12 and 50% are up 8% or more YTD
Smaller healthcare stocks are booming - +13% YTD for mid cap and + 15% for small cap
Strength is across all sectors, even pharma
So, why are investors quietly bidding up healthcare stocks?
M&A
Less fear of ObamaCare (or too much was priced in)
Preparation for a shift in Fed policy
It's no secret that M&A activity is picking up in the sector as well as the market in general. The stronger performance in the smaller companies certainly backs up this point. Even within the S&P 500, we have seen the play for Cephalon (NASDAQ:CEPH) recently, and there have been some other rumors as well. Additionally, consolidation helps the acquirer too.
Healthcare has been out of favor for quite some time, with ObamaCare creating an overhang. This happened after the sector, which is normally immune from economic cycles, was clobbered by inventory destocking and depressed demand in the Great Recession. The stocks were left very inexpensive in my opinion, and the sector is now returning to normal.
Finally, and perhaps least appreciated, healthcare typically performs well in a Fed tightening environment. The recent strength in the sector, along with consumer staples, seems to be a macro set-up trade. One of the best industries in the sector has been the Insurance companies. All 6 of them are up more than 20% YTD. These guys are poised to benefit from declining unemployment (more covered lives), but another factor is the float. For the past few years, there hasn't been any return on their float (the premiums advanced in front of claims). So, they are poised to benefit from higher short-term rates.
We have reasonable exposure in the models at Invest By Model. Top 20 currently holds a small cap device company, a small cap biotech company, and the big laggard (NYSE:JNJ), totaling 13.5%, which is slightly more than the S&P 500. Conservative Growth/Balanced, on the other hand, is very overweight, with JNJ and two other device companies as well as a distributor, totaling 22% (double the exposure of the S&P 500). My guess is that as bonds are pressured as the year progresses, conservative investors will seek the earnings stability and dividend growth of the healthcare sector.
I want to wrap up with a chart (click to enlarge):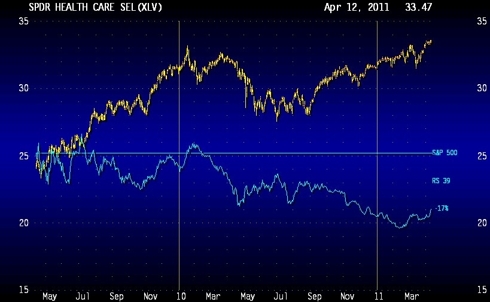 To me, it looks like we are just getting started. The sector has still lagged the market by 17% over the past 2 years despite the two-month recovery. I still believe stocks rally 20% this year, and I expect healthcare to do slightly better.
Disclosure: I am long JNJ in both models at Invest By Model