As a former hedge fund analyst, and a career webmaster for a credit card site, I was a bit surprised at the lack of news coverage surrounding eHow's plight after the international roll out of Google's (NASDAQ:GOOG) algorithm change on April 11.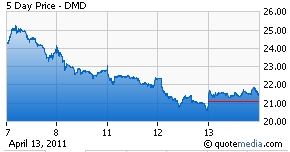 Since Demand Media's (DMD) IPO, and prior to Google's Panda Update in February, we have been tracking hits and average ranking per hit to various domains, including eHow.com, answerbag.com, about.com and wikihow.com.
Mahalo CEO Jason Calacanis commented that "Google's Panda update has ended the age of casual, non-expert-driven content." We believe a significant percentage of eHow articles constitute exactly this type of content. Our analysis seems to prove this out.
Round 1: USA Panda Attack
On February 24, 2011, Google announced changes to their algorithm, intended to attack Content Farms (officially termed the Google Panda update). The change was intended to "reduce rankings of low-quality sites – sites which are low-value add for users, copy content from other websites or sites that are just not very helpful".
It was widely reported in the media that this change bypassed Demand Media. In fact, our proprietary web crawl revealed an 18% increase in eHow traffic on February 25, 2011, on a day over day basis. Similar numbers were reported by Sistrix. Analysts breathed a collective sigh of relief, as it appeared that Demand Media actually dodged a bullet, despite massive damage to some of their smaller properties such as Answerbag.
Round 2: International Panda Attack
On April 11, 2011 the algorithm change started rolling out globally to English websites. We believe eHow.com (owned by Demand Media) is one of the websites that has been significantly impacted by the global rollout of this algorithm change.
While this was reported by SearchMetrics and regurgitated by a few sources like the Guardian, the verbage really didn't focus on the startling deranking of eHow.com in the US. Rather, the reports imply that deranking is only happening in the UK. We believe this change is of global importance, not just limited to the UK. SearchMetrics reported eHow.com losses of about -53% day over day, and even larger losses for eHow.co.uk.
We cross referenced this data with our proprietary web crawl of eHow search terms in the United States.
On April 12, we noticed a ~15% decline in eHow "top 10 search results" on our keyword list in the morning, and a ~32% decline by noon, the day after the international Panda rollout. Ranking per hit has also gotten worse, by over 1 placement on average across over thousands of search terms. This compares to very steady numbers in both metrics over the past few weeks, after the big jump on February 25.
While this could be a blip, we think it's an indication of a permanent change in how Google values content from providers like eHow.
Financial Impact to Demand Media?
Demand Media disclosed in their recent 10-K that 25% of 2010 annual revenues ($241 million) were from eHow and that 65% of eHow's page view traffic came from Google searches.
To add a wrinkle to the equation, it also turns out that the average that implies ~$41 million of revenue is at risk, or a $16.4 million revenue impact, assuming a 40% decline in Google search traffic.
While this may not sound like much, at 6.5% of revenue, it's important to understand that this revenue is a much higher profit margin than any of Demand Media's other businesses. Search engine traffic to eHow has very little offsetting variable cost, and therefore is nearly 100% incremental margin. Therefore, the impact on pre-tax earnings is also roughly $16.4m, in the event of a 40% decline in Google traffic to eHow.
Let's take a look at the three segments in which Demand Media discloses revenue:
First, domain registration is 39.5% of 2010 revenue, yet one sell side bank estimates the businesses accounts for 20% of EBIT margins.
The company breaks the remaining parts of the business into media that is "owned and operated" (43.8% of revenue), such as properties like eHow, and "network" (16.7% of revenue), which consists of content placements on sites like USAToday.com.
Media's owned and operated sites operate at extremely high profit margins. Within owned and operated, the highest margin businesses are the pages that require no upkeep or human labor, yet generate money everyday - namely content farms like eHow (25% of revenue) and Answerbag (tiny after it got Panda'd by the first update, to the tune of -91% according to Sistrix). The less profitable properties are the subscription based properties with better content, which require humans to upkeep, like LiveStrong and Cracked.
This is why we believe a hypothetical $16 million decline in eHow's revenue will correspond to a nearly $16 million decline in EBIT. Alternatively, if DMD tries to reduce costs by reducing investing in new content creation to lower amortization costs going forward, the bull story that content creation generates a 58% IRR (see page 16) based on a 5 year amortization also disappears. We believe this IRR story is the basis for the company's rich valuation.
Demand Media's management assured investors in their 10-K, filed March 1, 2011, shortly after the first Panda update, that the alogorithm change was not impacting the company financially. Sistrix's crawl, and our proprietary crawl, showed that eHow was up, while many of their smaller properties were hammered - for example, Answerbag was down 91% according to Sistrix.
Since the company states that Panda US had little impact on earnings, this gives us a baseline to gauge the impact of Panda International.
Stock Impact Likely To Be Much Greater Than Revenue % Impact
Now with eHow also facing the fury of Google, and with potentially similar risk to Demand Media's other owned and operated properties and partner sites (including GardenGuides.com, Airlines.net, and countless others), the impact could be much larger, on the bottom line, than suggested by cursory algebra on the topline impact.
The entire return on newly invested capital for the company's highest margin business, which is also the primary driver of earnings growth, will also implicitly decline. Therefore, the P/E ratio will likely contract as well.
I'm personally targeting 50%+ downside. I'm deriving this value based on assigning the domain registrar a valuation of less than 20% of the current stock price of $21 (it's growth is a fraction of Media's growth, and it is currently ~20% of EBIT), so at most it is worth ~$4.
If you believe the remaining ~80% of EBIT is split on a revenue pro-rated basis between owned & operated and network, this means 58% of EBIT comes from owned & operated (accounting for $12.17 of the stock price), and 22% from network (accounting for $4.60 of the stock price).
We're going to adjust these value allocations a bit to adjust for growth rates - in 2010 registrar grew 10% y/y, O&O grew 51% y/y, and network grew 22% y/y, so O&O is really worth at least $14.50 of the stock price.
The formerly 58% IRR on eHow content creation cited in the S1 drops to roughly 29%, in the event of a 40% decline in search traffic, assuming a 5 year content amortization window. Since IRR on new content creation should be linearly tied to the rate of earnings growth per $1 invested, this implies that earnings growth will halve in the business, assuming flat investment levels.
This alone will take the earnings multiple down on the O&O piece by a substantial margin (50% assuming a flat PEG ratio). Further, the earnings will also decline linearly with search traffic, causing a double whammy impact of about -70% in the business value of O&O, or about a ~$10 per share impact.
Disclosure: I am short DMD.