Marine Harvest ASA (OTCPK:MNHVF) (MNHVY.PK) is a Norwegian fish farming and seafood company. The company controls between 25-30% of the global market for salmon and trout and is the largest such company in the world.
Marine Harvest is a fully vertically-integrated company. They make their own broodstock in freshwater, carry out growth and maturation in seawater, perform their own harvesting and processing, and handle their own distribution. The company operates production facilities in Norway, Scotland, the Faroe Islands, Ireland, Canada, and Chile. Marine Harvest distributes their products worldwide under a variety of brand names. These brand names include Delifish, Ducktrap, Clare Island Organic Salmon, Donegal Silver Salmon, Kendall Brook, Kritsen, La Couronne, Pieters, Sterling White Halibut, and Xalar. The company mostly produces salmon, but it also includes cod, trout, halibut, and whitefish among its products.
Marine Harvest had an impressive stock performance in 2010. It is up roughly 35% in the last year, compared to just over 10% for the S&P 500 during the same time period. The company's stock performance over the last two years is even more impressive, up just under 275%, compared to 50% for the S&P 500.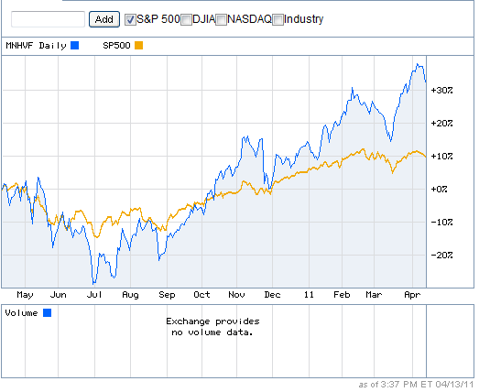 Click to enlarge
(Click to enlarge)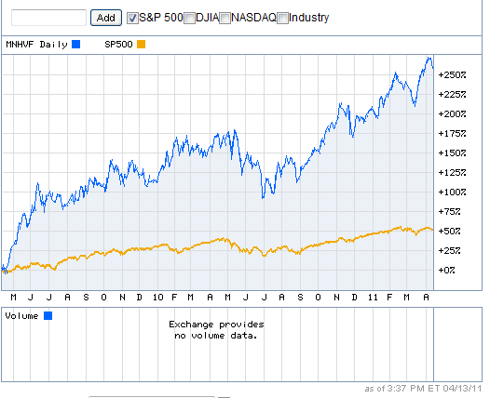 Click to enlarge
(Click to enlarge)
The above two charts from Fidelity Investments (Marine Harvest is the blue line on both graphs) show only price action and do not include dividends. Marine Harvest, like most of John Fredriksen's companies, has a strong focus on rewarding investors through dividends. The board of directors increased the proposed dividend to NOK 0.80 per share on March 31, 2011. This corresponds to a dividend of $0.1469 per share in U.S. dollars at the April 11, 2011 exchange rate of $0.1837/NOK 1.00. Additionally, the board of directors intends to hold an extraordinary general meeting in the latter half of 2011 to propose a semi-annual dividend. The size of this dividend has not yet been announced. Excluding any potential semi-annual dividend, the stock has a yield of 11.47%. Naturally, the ultimate yield may well be substantially higher than that, depending on how large this second dividend is.
Marine Harvest earned NOK 3.130 billion ($572.8 million) on revenues on NOK 15.191 billion ($2.78 billion). This gives the company a net after-tax profit margin of 20.6%. This represents a substantial improvement over the company's 2009 performance despite lower production volume. In 2009, Marine Harvest earned NOK 1.302 billion ($238.3 million) and delivered 327,100 HOG tonnes of product to the marketplace. In 2010, the company delivered 295,683 HOG tonnes. Management attributes the improved performance to the following:
Strong global demand and flat global supply that supported strong prices.
Marine Harvest Chile returned to profitability at low volume and showed a positive EBIT of NOK 113 million ($20.7 million), compared to a NOK 466 million ($81.72 million) loss in 2009.
ROACE (Annualized return on average capital employed) was 19.9% in 2010 compared to 6.2% in 2009.
Management sees a strong outlook for the market in 2011 and 2012 and expects Marine Harvest to generate strong cash flow. Management bases this outlook on the forward prices on Fishpool, which show prices around NOK 39/kg ($7.15/kg) in 2011 and NOK 37/kg ($6.78/kg) in 2012. Like most commodities companies, Marine Harvest uses forward and futures contracts as a way to both lock in prices and to hedge their exposure to the sometimes volatile commodities spot prices. Marine Harvest has entered into forward contracts for 48% of their production volume for the first half of the year and 38% of their production volume for the second half of the year. These are higher percentages than the company has used in the past. This should reduce the company's exposure to volatile prices and make cash flow steadier. Steady income is desirable from both an investment and a management perspective as it makes cash flow more predictable and easier to manage. Marine Harvest's contract portfolio has prices well above those of the fourth quarter in 2010 and the company is entering into new contracts with prices as high as NOK 40 ($7.33) per kg.
Marine Harvest also expects to increase production going forward. The company harvested approximately 296,000 tonnes of product in 2010 and expects to increase this to approximately 340,000 tonnes of product in 2011. The company further intends to expand production further into 2012 and beyond. This increased production combined with the higher prices that the company has secured for their fish harvest provides Marine Harvest with some very attractive growth potential going forward. As Marine Harvest has a stated policy of returning a minimum of 75% of free cash flow as dividends to shareholders, Marine Harvest also looks quite promising as a dividend growth play as the company continues on with its aforementioned growth.
The Los Angeles Times recently ran an article describing radioactive contamination in Japan's seawater and fish as a result of the nuclear crisis in that country. While the Times article makes no mention of salmon, trout, halibut, cod, or whitefish being affected by this, it is still quite possible that consumers will begin to shun Japanese or possibly even all Asian seafood. Marine Harvest, which raises its fish primarily in Europe and South America, could be a beneficiary if Asian seafood consumers decide to buy their seafood from other areas. While this is not a significant part of my investment thesis and bullish stance, it could potentially add to the company's growth tailwinds.
Disclosure: I am long MNHVF.PK.