Retail sales rose in March for the ninth consecutive month at U.S. retailers, as rising incomes and an improving employment market have so far offset the effects of rising costs for food and fuel.
The U.S. Department of Commerce reported that Advance Estimates of U.S. Retail and Food Services sales for March rose an adjusted 0.4% from the prior month to $389.3 Billion, while sales increased 7.3% (unadjusted) compared to the year-ago period. The rise was slightly less than the 0.5% analysts were expecting, but excluding automobiles and gasoline sales advanced more than projected. This was the ninth straight monthly increase and 17th straight year-over-year gain after 15 consecutive months of declines, which was the longest such streak on record.
[Click all to enlarge]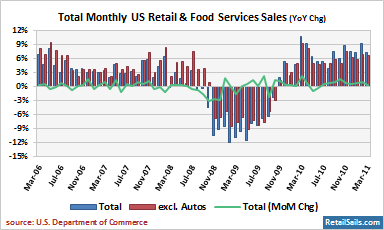 Total sales excluding Autos were up 6.6% in March from the year-ago period, while total sales less Autos and Gas Stations showed a 5.2% year-on-year increase. Nominal sales have finally returned to peak levels – for the fourth straight month total adjusted sales reached record levels, though unadjusted sales were just 4.3% above March 2008.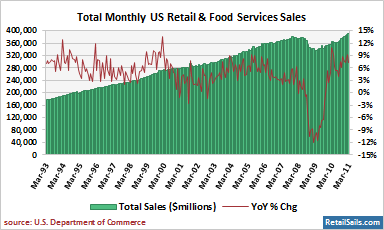 The gains were broad-based, as 10 of 13 categories saw sales increases from last month and housing-related categories showed relative strength for the first time in years. Click here for more detailed results of March retail sales by line of business.
For the month, the strongest gainers were Gas Stations (+16.7% YoY / +2.6% MoM), Furniture & Home Furnishing Stores (+3.8% YoY / +3.6% MoM), Electronics & Appliance Stores (3.6% YoY / +2.1% MoM) and Building Materials & Supplies Dealers (+5.5% YoY / +2.2% MoM). The monthly gain at Furniture stores was the strongest since July 2004, while sales at Electronics stores rose the most in a year. Due to the fact these are seasonally-adjusted numbers, we will need to see sustained strength in these categories to confirm it's not just a blip on the radar.
Gas prices continue to surge and are currently about 33% higher than a year ago and the highest since mid-September 2008. In this month's Ad Age/Ipsos Observer survey of American consumers, 91% said they were already feeling the difference in the cost of filling the tank. Of those, nearly half plan to cut back on discretionary spending immediately. When asked about their spending if high gas prices persist for more than a month, those figures approach 75%.
So far, consumers have remained resilient, as rising incomes and falling unemployment have kept shoppers from signficantly paring back their discretionary spending. However, as we approach $4 gallon at the pump, the psychological effect on shoppers should not be underestimated. As we saw back in the summer of 2009, consumers are resilient until they're not. At some point, shoppers will start to return to the frugal mentality that led to severe cutbacks in discretionary spending; based on what consumer surveys are telling us, it could be sooner rather than later.
Disclosure: I have no positions in any stocks mentioned, and no plans to initiate any positions within the next 72 hours.