I purchased two REITs more than a decade ago, and those investments have worked out very well. The charts below for Entertainment Properties (NYSE:EPR) and Tanger Factory Outlet Centers (NYSE:SKT) show records that have beaten many stocks, including some prestigious companies.
[Click all to enlarge]
Entertainment Properties: 10 years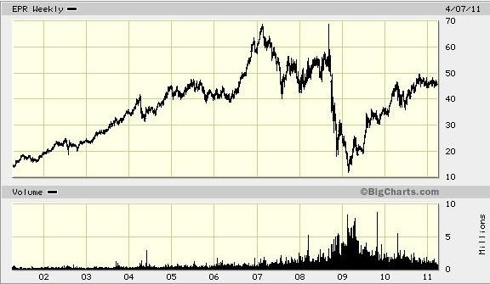 Tanger Factory Outlet Centers: 10 years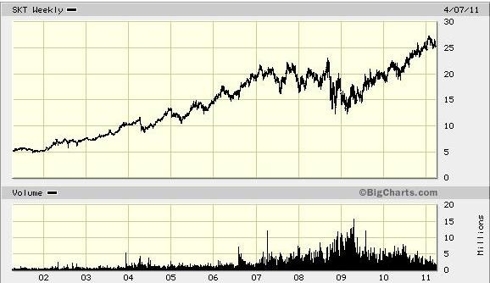 EPR invests in niche classes of real estate that reflect high growth opportunities. Investments are single-tennant properties where the tenant is responsible for the costs of the property and include:
109 Megaplex theaters (with at least 10 screens per location), 80% of revenues
Land leased to restaurants and retail operators adjacent to theater properties
Nine entertainments centers
27 public charter schools
Other properties including 10 wineries and 6 vineyards
A ski property in Ohio
Theater properties are 99% occupied and other properties are 92% occupied. Of the $3.1 billion invested in properties, 70% is in megaplex theaters, 7% in charter schools and 23% related to other recreational and specialty properties. 36% of total revenues came from AMC theaters.
Revenue increased 21% to $313 million in 2010 and EPR expanded its portfolio of properties by $325 million to $3.25 billion. But 2009 was a very tough year for EPR; it had to concentrate on maintaining liquidity (i.e. cut back on expansion plans). FFO, fund from operations (the measure used for determining dividends), suffered badly in 2009:
FFO
2008 - $4.61
2009 - $0.13
2010 - $3.02
Last year, EPR expanded its property investment 12% while reducing debt as a percentage of capital by 200 basis points. In 2010, EPR received an investment grade rating when it borrowed $250 million at major savings in interest cost. Longer term, EPR has a record of growth. Real estate investments grew from $1.4 billion in 2006 to $2.2 billion in 2010. With debt at $1.2 billion backed by $1.6 billion in equity, its debt equity ratio is respectable for an REIT.
EPR gave 2011 guidance for adjusted FFO per diluted share of $3.40-3.50. Including expected charges of 14¢ per diluted share for costs associated with the pay-off of the vineyard and winery loan facility, guidance for FFO per diluted share is $3.26 to $3.36. EPR investment spending of approximately $300 million in 2011 includes the anticipated sale of the Toronto Dundas Square and selling the vineyard and winery properties.
SKT enters its 30th year as one of the largest operators of outlet centers in the U.S. 98% are occupied by more than 2,000 stores representing 360 store brands such as Polo Ralph Lauren, Saks Fifth Avenue - Off Fifth, Calvin Klein, Ann Taylor, GAP, Banana Republic, Old Navy, Reebok, Tommy Hilfiger, Abercrombie & Fitch, Eddie Bauer, Brooks Brothers and Nike. Revenues from fixed rents and operating expense reimbursements accounted for 90% of revenues in 2010. Revenues from contingent sources, such as percentage rents and other income, accounted for the other 10%.
Revenue grew from $209 million in 2006 to $276 million in 2010. Last year, per share FFO fell to $1.21 from $1.35 in 2009. But adjusted FFO (adjusted for special items) went up 6%, but on a per share basis it declined to $1.33 from $1.37 because of 2 stock offerings for 8.3 million shares. This year the stock was split 2-1 and the annual dividend was just increased 3.2% to 80¢. The company has paid dividends each quarter since going public in 1993 and the dividend has been increased annually for 18 years. Debt is $714 million with equity of $421 million.
SKT expects a positive impact on rental income from the increases in rental rates achieved during 2010. Renewal and releasing releasing rental spreads should continue to be positive in 2011. In January 2011, SKT signed an agreement with RioCan Real Estate Investment Trust (OTCPK:RIOCF), to form a joint venture for leasing outlet shopping centers across Canada similar to the U.S. portfolio and branded as Tanger Outlet Centers. RioCan is Canada's largest REIT exclusively focused on retail real estate. The joint venture intends to develop 10-15 outlet centers in large urban and tourist areas by 2018 for a total investment of up to $1 billion.
In the last 10 years, EPR stock tripled while SKT rose 150% -- quite a performance even during the best of times. However, EPR cut the quarterly dividend from 84¢ to 65¢ in 2008 and maintained the reduced rate in 2009, marring its record of higher annual dividends. In Q1 2011, the rate was boosted to 70¢, based on an improved outlook.
Their different yields reflect dissimilar risk characteristics. SKT yields 3.2%, low for an REIT, because investors expect capital appreciation to supply most of growth. A higher 6.2% yield is needed for EPR to support added risk associated with entertainment properties. Both are expanding their property portfolios for increasing dividends in the future.
Dividends from REITs (such as these two) have an advantage for personal accounts. They are partially non-taxable and another portion may be taxed at capital gains rates, but percentages vary from one year to the next. In growing U.S. and Canadian economies, expanded portfolios for these REITs should bring rewards for stockholders.
Disclosure: I am long EPR, SKT.