I often see money supply as the headline when pointing to inflationary pressures building up in the system, but the supply of anything is not very meaningful unless it is being consumed. If I attend a party and the host drops 12 bottles of the finest wine on my lap, I will not get drunk unless I consume the mind-altering juice.
Apparently the effects of the Fed's Quantitative Easing – or "money printing," if one wishes – are muted at best, and the so-called runaway inflation is not taking shape, although the recent oil spike is only now impacting retail food prices – mostly vegetables, fruit, and dairy -- and has added a few percentage points to daily staples. I am aware of this because I do most of the household food shopping and can recite the current prices of a number of items, and what they were last December, although aggressive sales on a variety of items continue to take place to attract a shrinking consumer's wallet. However, more pronounced deflationary pressures continue to erode the savings tied to real estate – the largest asset for most Americans – and will not end anytime soon.
U.S. trade balance figures were best summarized by Reuters, and came on the heels of the first Chinese trade balance negative quarter since 2004:
U.S. imports and exports fell in February, prompting analysts to cut again their forecasts for U.S. economic growth in early 2011 and showing signs of a slowing in the global recovery. The trade gap totaled $45.8 billion and was down 2.6 percent from January as imports fell faster than exports, even as oil prices hit their highest level since October 2008, the Commerce Department said on Tuesday.
U.S. retail sales delivered a mixed and weak picture, due to the high price of gasoline with 0.4% growth and 0.8% core, while previous numbers were revised up — February from 0.3% to 0.7%, and March's sales increased to 1.1% from 1.0%. However, auto sales shrunk 1.7%, which brings us to consumer credit and how the data series is building an uneasy picture of divergence between reality and expectations. Even if one is to assume that the Fed's quantitative easing had a hand in credit expansion, the impact was negligible and is already fading before the program ends.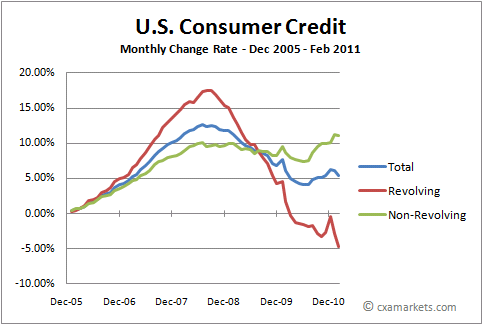 Revolving credit includes credit cards, or the daily financial bread and butter for most consumers. Non-revolving is defined by the Federal Reserve Board in its release as including "automobile loans and all other loans not included in revolving credit, such as loans for mobile homes, education, boats, trailers, or vacations. These loans may be secured or unsecured."
For the record, consumer credit expanded virtually non-stop between 1943 and 2008, then dropped precipitously into last year. Now we are observing an expansion of non-revolving, a resumption of a contraction in the revolving category, and total consumer credit displaying a little bounce and starting to descend again. Residential mortgages and home equity lines of credit are not tracked by the Fed in this report, but we know that tale from other sources.
But let's stop a second and take a look at the non-revolving story. Of the seven types — and you can see them in the release — only "Federal Government" increased, while the other six decreased. Why? Student loans. That type of credit, although helpful to those seeking an education, is not contributing to the traditional economic engine, and without student loans, consumer credit would have been short by $9 billion – and an overall contraction.
One very interesting piece of data in the report is the "Loan-to-Value Ratio" for new car loans at auto finance companies; I see it as a little window into consumers' demeanor. Where in 2006 the consumer was financing 94% of value, the latest reading shows a huge decline to 80% – larger cash down payments – and that is a screaming reflection of consumers' attitudes toward debt. The table below shows that, with the exception of the "Loan-to-Value Ratio," not much has changed between 2006 and today.
| | | |
| --- | --- | --- |
| New Car Loans by Auto Finance Companies | 2006 | 2011 |
| Interest Rate | 4.99% | 4.73% |
| Loan Maturity | 63 months | 62.3 months |
| Loan-to-Value Ratio | 94% | 80% |
| Amount Financed | $26,620 | $26,673 |
Joe and Mary Consumer are extremely conservative about their money, and no longer splurge without a second thought. Going forward, consumer attitudes have changed considerably, are here to stay, and are not priced in the markets. The fallout will be felt for a very long time, and for those who state that the American consumer is not that important in a global sense, time will tell – and the cracks are already showing.
Join a more frugal consumer in other major countries implementing austerity measures, reduced spending, and potentially higher taxes -- because short of default, there's no other way to solve government deficits and pay debt, and the end result is a much slower global economy that many have not anticipated. In my opinion -- although I am still bullish on the equities market for the foreseeable future for reasons described before -- when the rubber meets the road, an extremely difficult and extended period will ensue, and to receive decent investment returns by historical benchmarks will become unusually hard to accomplish.
Lastly, the financials are wavering — as evidenced by the KBW Bank Index (KBE) — and without stability or a continued rise in the sector, the broader market will not engage in a meaningful north-bound marathon.
Disclosure: I have no positions in any stocks mentioned, and no plans to initiate any positions within the next 72 hours.