Theoretically, two assets are all that's needed to demonstrate the concepts behind portfolio construction. In reality, three assets seems like too few to pass a laugh-test. To me, a dozen seems like too many. Five funds seems about right.
For a few months now, we've been posting the results of the Konno and Yamazaki Mean-Absolute Deviation Portfolio with positive feedback. This handy mathematical tool has been used to quickly scan hundred of stocks and determine portfolio allocations. I'm sure this, or something like it, is plugging away on those pesky hedge-fund co-located servers. The results can be written on the back of business card, sent to someone's hand-held device, or broadcast on twitter. Here, we take a small universe of Exchange Traded Funds, compute a basic set of statistics, and determine which funds and allocations provide a target return of 10% AND minimize the mean absolute deviation. We assume the investor is at or near retirement.
Given a universe of the following assets:
The resulting 10% MAD portfolio allocation for the previous 252 trading days was:

| | | | |
| --- | --- | --- | --- |
| Exchange Traded Fund Name Symbol | Return | Std Dev | Weight |
| iShares Barclays 1-3 Year Treasury Bond Fund SHY | 1.72% | 1.21% | 60.00% |
| iShares Silver Trust SLV | 126.27% | 30.06% | 9.09% |
| iShares S&P 500 Index Fund IVV | 11.86% | 17.63% | 8.32% |
| iShares Morningstar Mid Core Index Fund JKG | 22.49% | 21.20% | 12.60% |
| ProShares UltraShort S&P500 SDS | -21.43% | 35.61% | 10.00% |
and yielded a 10% return, with a standard deviation of 3%. Compare that to the performance and standard deviation for the S&P500, which was 10% and 18%, respectively, and those allocations don't sound all that crazy.
Had we allocated our capital into the assets listed above 252 days ago, our performance would have looked something like this (click to enlarge images):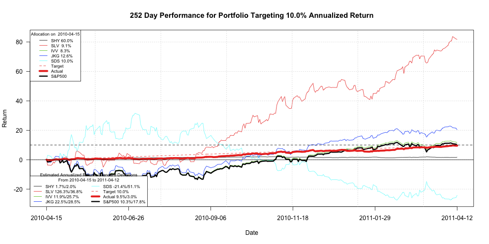 Click to enlarge
Here are the take home messages for today:
Disclosure: I am long SLV.