We are in the search for the winning combination of metrics in dividend stocks. We will start with two common ratios: yield and payout ratios.
Do high yielding stocks produce better investing results or are they less sustainable due to the bigger payouts?
What about low payout ratios vs. high earnings retention to fuel future growth? Should companies save earnings or give them back?
Conflicting DataOne study presents the argument that low payout ratios are associated with lower subsequent earnings growth (Does Dividend Policy Foretell Earnings Growth, Robert Arnott and Clifford S. Asness). The concept is that management may boost payout ratios when they feel confident of future growth. Also, having less retained earnings from high payout ratios may force the business to be very judicious when considering future asset purchases. This study seems to fly in the face of other papers though.
A wealth of information has been published tying high dividend yields to superior performance. One recent paper called Trading Strategies Based on Dividend Yield: Evidence From the Taiwan Stock Market includes references and citations to a plethora of other papers with evidence that this strategy works in North America despite the article's focus being on Taiwanese markets (I recommend reading it).
Yet, another study in 2006 called Quantitative Research: High Yield, Low Payout offers a different picture than Arnott and Asness by giving evidence that low payout ratios and high yields combined have produced much higher annualized returns than any other combination of payout and yield coupling. The average annualized return between 1990 and 2006 with this pair was 19.2%.

Picking a Path
I prefer this report (High Yield, Low Payout) to the earlier one (Does Dividend Policy Foretell Earnings Growth) since the dividend information is much more current than the broad and far reaching report by Arnott and Asness that goes back into the 1800's but only up to 2001. You can read both reports and be the judge, but my opinion is that lower payouts coupled with bigger yields perform better.
Therefore, we will search for lower payout ratios and higher yields to get a potential list of stocks that will give better than market average returns. Here is my screening criteria:
Stocks only (no ETFs)
Small-cap and larger
Price up for year and quarter
Payout ratio under 54%
Dividend Yield about 4% or more
USA stocks
(If you are more of a bottom-of-the-barrel stock picker, consider these Cheap Stocks Near 52 Week Lows)
10 Stocks With Low Payout and High Yields
| | | |
| --- | --- | --- |
| KFN | KKR Financial Holdings LLC | Financial |
| | DPL Inc. | Utilities |
| | Ares Capital Corporation | Financial |
| | CMS Energy Corp. | Utilities |
| | Dominion Resources, Inc. | Utilities |
| | NextEra Energy, Inc. | Utilities |
| | Sinclair Broadcast Group Inc. | Services |
| | Alliance Resource Partners LP | Basic Materials |
| | Eli Lilly & Co. | Healthcare |
| | Sunoco Logistics Partners L.P. | Basic Materials |
Looking into Payouts and Dividends
KKR Financial Holdings (KFN) – This financial stock has a very low payout ratio of only 18% and a forward dividend yield of 6%. Trading only marginally above book value gives this one decent support at around $9.30, which is also evident on price charts. The 52 week high of $10.60 may take some time to blow past as evidence shows that investors get nervous around annual highs. When it does finally go past, the coiled price can have a strong upside for quite a few months. Just note that the beta of this stock is just under 3 – which is high.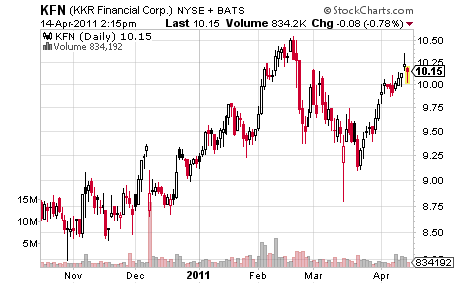 DPL Inc. (NYSE:DPL) – A low beta pick of 0.60 with prices off 52 week highs less than 1% give this an attractive chart setup. The payout ratio is 48% and the yield sits at 4.9%. EPS has risen a nice steady 19.5% over the past 5 years, although sales haven't kept that pace at an average 7.9%. The PE is also slightly below industry average.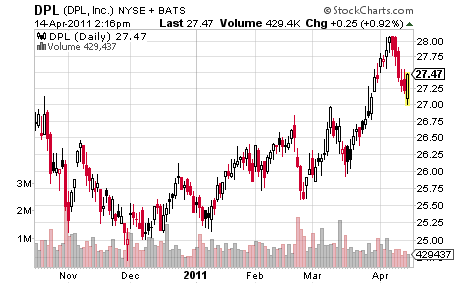 Ares Capital (NASDAQ:ARCC) – This closed-end specialty company has a beta pushing 2. The forward P/E is around 10 making this seem fairly attractive. The forward yield is a whopping 8.1% with a lowly 36% payout ratio. However, keep an eye on dilution as share size has doubled since 2009. Yes, some of this is from closing on the Allied Acquisition, but this still erodes value.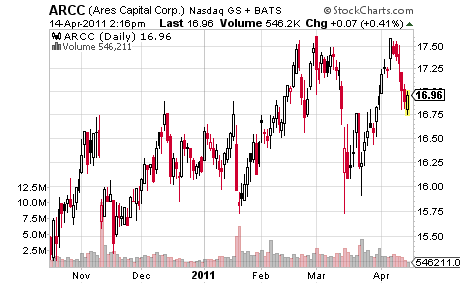 CMS Energy (NYSE:CMS) – A forward annual dividend yield of 4.4% with a 52% payout ratio and a beta about half the market make this an attractive pick. It is trading above strong support of the $18.50 - $18.80 range.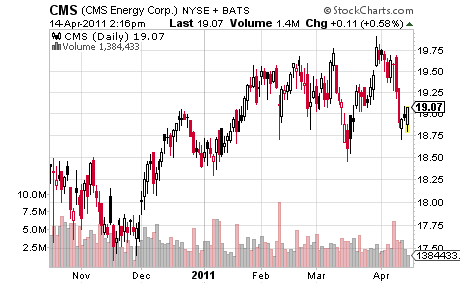 Dominion Resources (NYSE:D) – A 4.5% forward yield and a payout ratio of 38%. The beta is also quite low at 0.56. Prices recently pulled back from $46.56 highs in March. Their interest in nuclear energy and the recent disaster no doubt played a part in their price dip.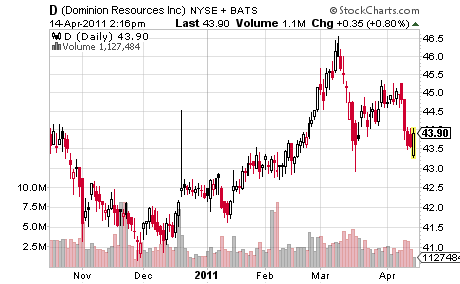 NextEra Energy (NYSE:NEE) – A similar story with 29% of its electricity generated from nuclear sources. Prices have recovered better than D. The forward yield is lower at 3.9% and the payout ratio slightly higher at 42%. The beta is similar but I give it an edge when comparing relative price performance since the Japan disaster.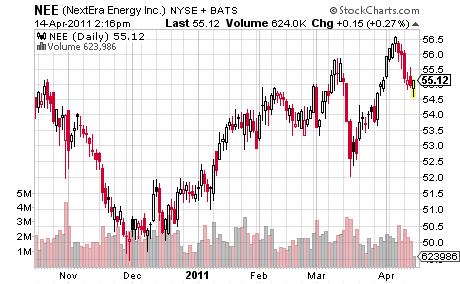 Sinclair Broadcast Group (NASDAQ:SBGI) – Note that the beta is twice the market. High institutional ownership around 77%. The forward yield is 4.1% as reported by Yahoo with the payout ratio being 46%. Three year EPS continuing operations growth is at 71.6% and the one year figure is at 156.5%. This is common when stocks have turned positive earnings in the last couple of years. The stock has seen crazy upwards momentum since January 2010, but has been sliding since the beginning of March. Note that book values are negative and it may be prudent to wait until the May 4th earnings announcement to load up more.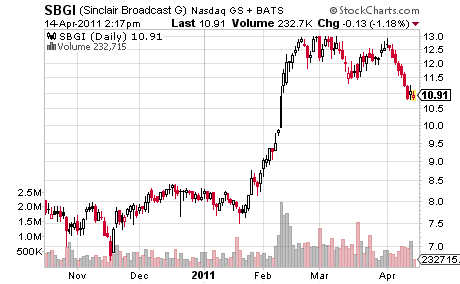 Alliance Resource Partners (NASDAQ:ARLP) – This coal producer and marketer is looking to give a 4.4% dividend yield with a 48% payout ratio. It's still a good yield but it hasn't been this low since 2005. I'd sure be happy if they boosted it to the 5 year average of a 6.5% yield.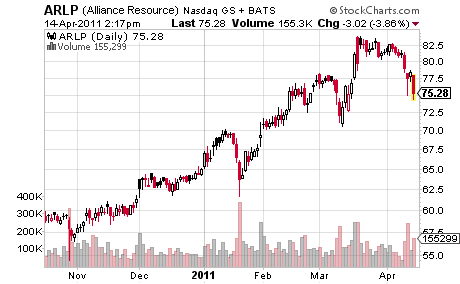 Eli Lilly (NYSE:LLY) – The payout ratios just keep dropping year after year on this one. From mid 84.6% in 2004 down to 43% now and a yield of 5.5%. This pharmaceutical company has been trading in a tight range between $33 - $37 for some time now. Earnings are just around the corner on the 18th and expectations are that earnings will drop an average of 6% per year for the next 5 years. Will a PE more than 35% below the industry average coupled with a low payout ratio and high yield beat the negative analyst expectations? I'm neutral on this stock due to the mix of partially good metrics and bad forecasts.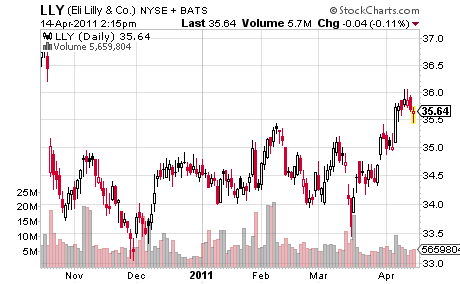 Sunoco Logistics Partners (NYSE:SXL) – Trading down 3.9% from its near $90 high, this stock has a nice setup should it break the new high. A forward yield of 5.3% plus a payout ratio of 48% make this in line with our dividend policy. The return on equity is very high at 36.56% which far exceeds the industry which hovers closer to 6%. Rising sales growth is extremely high, and but the gross profit margin is very low around 5.6%. No wonder this stock needs to trade at very low price to sales ratios of 0.37, which is still well above the 5 year average of 0.23. A good buy in my books.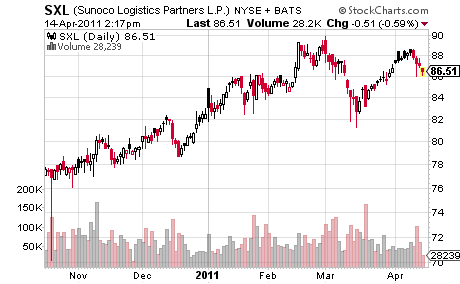 The Dividend Strategy
If the professional research can be trusted, and there is no reason not to, then starting with a scan of high yields and low payout ratios is a good starting point. We should use forward yields to make sure we are not being lured by a high payout when prices were much higher and shares have slid since then. But to be sure, this isn't a two-step process to buying dividend stocks for life, but it can be a down and dirty way to separate some dividend paying stocks that have historically been shown to under-perform. So while it is not the magic formula, it might be a couple ingredients closer to the right potion.

*(Another novel approach is to buy stocks in diverse sectors for reduced volatility while cherry picking certain stocks historically shown to drift upwards over time)

Do you own one of these stocks or have another related pick to tell the community about?

Disclosure: I have no positions in any stocks mentioned, and no plans to initiate any positions within the next 72 hours.