One of my favorite currencies in our current times is the Singapore Dollar. Outside of precious metals, the SGD/USD exchange rate is my favorite instrument to trade; it has all the advantages of forex (leverage, reduced volatility relative to other asset classes, low transaction cost, etc) while still having very favorable fundamentals over a multi-year period, in my opinion. For those who suspect the 10+ year trend of US dollar devaluation to continue, the Singapore Dollar is a tool I recommend.
One of the reasons I continue to be very bullish on SGD is because the Monetary Authority of Singapore (MAS), the central bank responsible for managing SGD, is one of the few central banks in the world that welcomes a stronger currency. As Singapore's economy is robust relative to much of the world, and does not have debt concerns to the degree that many other currencies/economies do, the continued ascent of the Singapore Dollar seems likely to me. It has been the second best performing Asian currency against the US dollar, behind only Japan. The monthly chart below illustrates.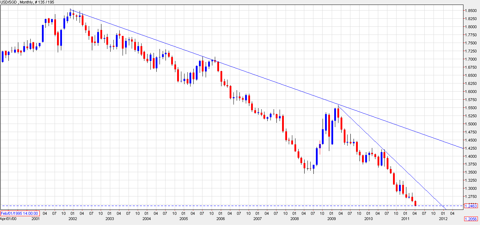 click to enlarge
At this point, many may have concerns about chasing, and missing out on the trend. As the US dollar index has been hovering around 75 for the past few weeks, I believe we may be set for the next leg down. With regards to USD/SGD, I suspect bears will be strongly defending the 1.2900 level, should we get a sizable retrace to that point.
For those looking for an ETF with exposure to the Singapore Dollar, I recommend considering EWS.
Disclosure: I have no positions in any stocks mentioned, and no plans to initiate any positions within the next 72 hours.