I've noted in recent days that the price behavior of defensive sectors (Consumer Staples, Healthcare, and Utilities) were all indicating a move into risk-aversion on anticipation of a period of equity volatility and declining prices. The idea behind this is to see if areas of the market which tend to outperform in corrections are sending an early warning signal to prepare for rough waters ahead.
The market has in recent days seen quite a streak of lower prices, so for the moment let's assume that we are in the midst of a correction now. The worsening situations in Japan and the Middle East, in addition to uncertainty regarding what happens next after QE2 ends, does seem to provide enough of a reason for a market sell off. But unless we are in a period like 2008 again, not all markets are created equal.
One of the worst performing countries since 2010 has been China. Its stock market has performed quite poorly while the rest of the world saw higher equity prices. Much of this performance may well be justified given inflation figures and China's rate hike tightening cycle. None of this, however, is new news. China's market may well have already discounted all of this. Take a look at the price ratio of the popular iShares FTSE China 25 Index ETF (NYSEARCA:FXI) relative to the S&P 500 ETF (NYSEARCA:IVV). As a reminder, a rising price ratio means the numerator/FXI is outperforming (up more/down less) the denominator.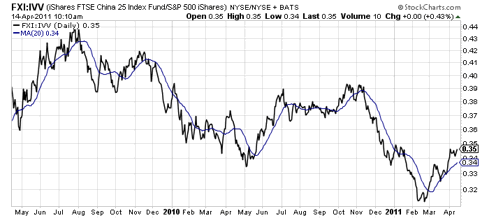 Click to enlarge
(Click to enlarge)
I've written a few articles arguing that this would likely be the year of China as that market experiences its own period of mean reversion and catches up from an outperformance standpoint to other world markets. Notice that the ratio above bottomed out in mid-February and has continued to actually trend higher despite recent equity market volatility in the U.S.
What all this means is that as much as investors have written off China's stock market because of economic fears and increasing inflation, China's stock market might actually be a better place to invest in during the current juncture. There are a number of ways to play this, from individual ADRs to actual ETFs like FXI above. Diversification when it comes to international investing is crucial, so the ETF may be the better way.
Decoupling may indeed be occurring, with China's stock market potentially going up with U.S. stocks going down or ending flat. If we're in the midst of a correction, perhaps China stocks may actually outperform by enough to buck a decline.
Disclosure: I have no positions in any stocks mentioned, and no plans to initiate any positions within the next 72 hours. Pension Partners, LLC, and/or its clients may hold positions in securities mentioned in this article at time of writing.