As a stock nears its 52 week high, do you get butterflies in your stomach when contemplating taking up a new position? If you do, you are likely part of the majority. Why do many investors become apprehensive as this target approaches? Perhaps it is because …
The 52 week high is viewed as a major resistance level; and
Investors might quickly assume this means prices are over-extended.
In the paper, "The 52-Week High and Momentum Investing," authors Thomas George and Chuan-Yang Hwang offer empirical evidence that buying stocks near their 52 week highs produce excess returns in the market. One rationale they offer is this: investors are reluctant to buy a stock as it nears the 52 week high. This is regardless of new positive information. Finally, when information prevails and the 52 week high is broken, the compressed coil is let loose and prices give back excess gains. Between 1963 – 2001, the average monthly gain to this strategy was 0.45% and they were very persistent. (If you prefer trying to pick up cheap stocks near 52 week lows, check out these picks)
Interestingly, this was shown to outperform momentum-trading returns and the 52 week high is independent of prior strong gains. That is to say that a stock can have low relative strength as it nears the 52 week high. Yet, despite a lack of prior momentum, this same stock will give excess gains at the 52 week high and it will persist for many months following.
In March 2011, a report entitled "Industry Information and the 52-Week High Effect," by Xin Hong, Bradford Jordan, and Mark Liu added onto the previous research by suggesting stocks in high beta industry groups nearing 52 week highs would deliver much higher monthly returns around 0.60% per month, and this can be boosted to 0.78% monthly if stocks are held for three months only (If you are looking for tiny stocks ready to bolt, check out these 2 Nano-caps Getting Ready to Run).
Creating the Industry-based 52-Week High Strategy
Next we look at industry groups within 10% of their 52 Week High with betas over 1. To do this simply, we will use SPDR ETF's that cover 11 industry groups.
| | |
| --- | --- |
| | SPDR S&P Biotech |
| | SPDR S&P Oil & Gas Equipment & Services |
| | SPDR S&P Homebuilders |
| | SPDR S&P Health Care Equipment |
| | SPDR S&P Metals & Mining |
| | SPDR S&P Oil & Gas Exploration & Prod |
| | SPDR S&P Pharmaceuticals |
| | SPDR S&P Retail |
| | SPDR S&P Semiconductor |
| | SPDR S&P Telecom |
| | SPDR S&P Transportation |
The five that are within 10% of their highs with betas over 1 are: XES, XHB, XME, XOP, and XRT. We will look for stocks within these industry groups nearing or at their annual highs focusing on Retail and Metals.
Metals & Mining
(GRS) – Gammon Gold, Inc. – The earning upgrades for the current year keep coming in with 2011 expected to make 75 cents per share versus 32 cents one year ago. Production is looking up with the recent acquisition of Capital Gold. Good forward-looking profits, growth, high gold prices, and smart acquisitions are all news-worthy items that will make this stock pop.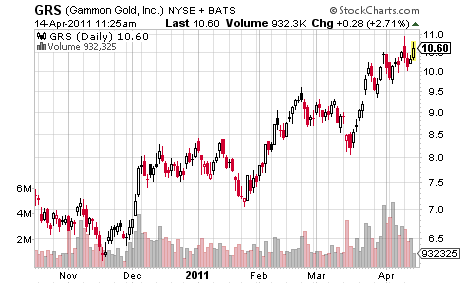 (NYSEMKT:ANV) – Allied Nevada Gold Corp. – The one-year growth is astounding, but this is largely due to the stock turning profitable in 2009 with 13 cents EPS and rising up to 41 cents in 2010. This gives sales and net income growth rates between 200 – 300%. They are further expanding operations and as precious metals continue their upwards advance, this is one to watch as it coils at the 52 week high.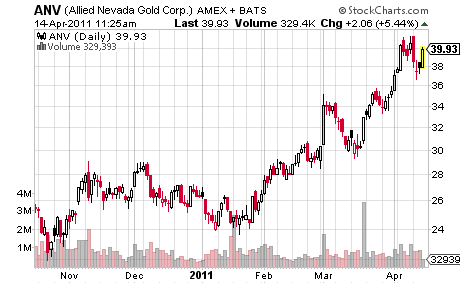 (NASDAQ:PAAS) – Pan American Silver Corp – With a 1.22 beta and an incredibly hot silver industry, this stock should be on your radar. Just below the high of $42, this stock retreated slightly when announcements of a slight reduction in silver production was announced from 24.3 million in 2010 to a range of 23-24 million ounces in 2011. With 5 year growth in sales at 38.9%, EPS at 34.1%, and net income at 41.7%, this silver stock has a rich historical record behind its name. They have boosted reserves by 5% and there are some potential big projects such as the Navidad project located in the Province of Chubut, Argentina which could produce close to 20 million ounces of silver at $6.03 per ounce over the first 5 years, and a 17 year mine life. I take this most recent minor pull-back as a good entry point.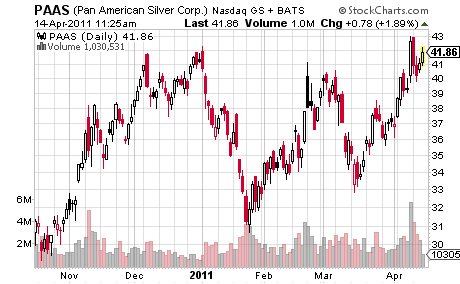 (NASDAQ:SSRI) – Silver Standard Resources Inc. – A beta of 1.48 gives this a strong upside when prices move favorably. As demand for silver rises, some even call for prices as high as $50 per ounce (such as extreme high forecasts by Jeffery Rhodes - INTL Commodities DMCC) Perhaps this coupled with their positioning in the silver market – such as buying Esperanza's interest in the San Luisa project – gives this silver based company added luster.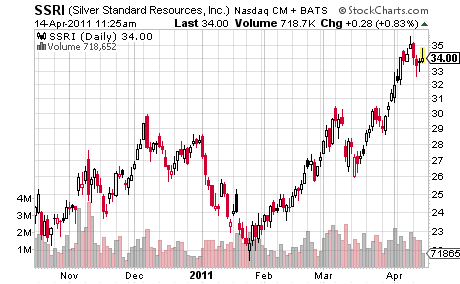 Retail Industry
For the retail industry, we are even going to bump up the individual stock beta requirements to over 1.5.
(NYSE:RL) – Polo Ralph Lauren Corp. – This stock is sitting around 1% below its 52 week high of $130.19. The next 5 years are expected to see earnings grow at an annual 12%. This long-lived and well-known brand will likely continue to thrive and survived if they seek emerging markets instead of playing tug-a-war in developed ones with the smaller fads that come and go. Based on the 52 week strategy, this has some winning upside potential.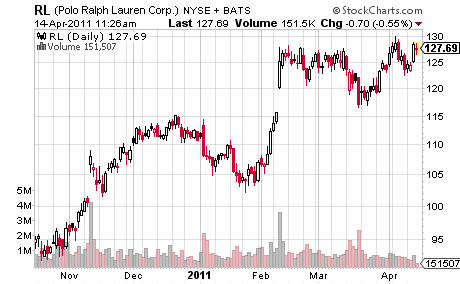 G-III Apparel Group (NASDAQ:GIII) - A very high beta of 2.5 makes this a high-popping possibility. This clothing maker does expect higher raw material costs over the next year or so, but they hope to buy in bulk at cost effective times and make subtle shifts in fabric to mitigate some of those expenses that will weigh on margins. Net sales for FY 2011 are up 32.5% and diluted EPS is up of 57% from 1.83 to 2.88. Despite some higher costs, expect good things as this jumps past the 52 week high.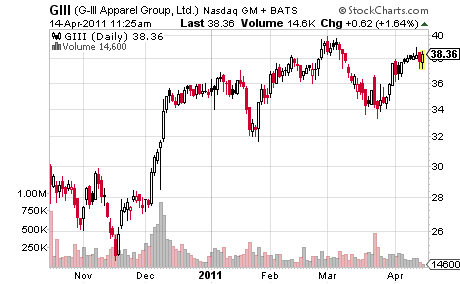 (NASDAQ:LULU) – Lululemon Athletica Inc. – With a 19% short ratio, not everyone thinks this stock will continue to be a winner. The past 5 years have seen over 60% annual growth on average, although these numbers are expected to cool to over 25% per year in the next half a decade. This is still quite hot. 5 year sales growth has been around 53% and if this were to continue (which I find unlikely),then this stock could be worth almost $140 per share next year based on the price to sales of 9 and a growth trend that would have it at $15.35 revenue per share at that time. Again, I think based on cooling, yet good growth, this is fairly valued for the time being, but a jump to new highs is likely brewing.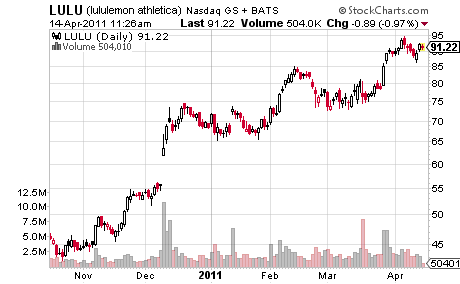 Wrap-Up
While stocks nearing highs make investors nervous, those with strong stomachs can make market-excess gains if they pick industries nearing highs, better than market betas, while selecting rising stocks. Of course, this is only one narrow way to play the market right now. Do you successfully trade 52 week highs? I'd like to hear from you.
*If you want to read up on a similar idea - high momentum sector trading while cherry picking a certain type of stock within - click on the link.
Disclosure: I have no positions in any stocks mentioned, and no plans to initiate any positions within the next 72 hours.