Real-time Monetary Inflation (last 365 days): 2.6%
Last month, inflation in the prices of U.S. goods and services ticked higher, according to the latest data from the U.S. Bureau of Labor Statistics. Year-over-year increases in the Producer Price Index (+5.8 percent) and the Consumer Price Index (+2.7 percent) were the largest seen in a year.
The 12-month increase in the Monetary Inflation Index, a currency-adjusted metric of the U.S. dollar's gold purchasing power, was 2.3 percent at the end of March.
U.S. Inflation Metrics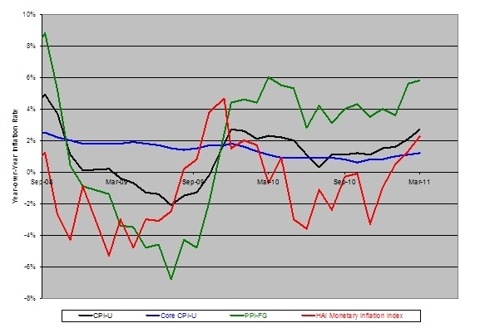 (Click charts to expand)
Gold turned in a mixed performance against the world's reserve currencies in the week ending Thursday. Bullion advanced 0.3 percent vs. sterling, but declined 0.8 percent in euros and 1.7 percent in yen. Gold dropped 2.3 percent against the Swiss franc.
For dollar-denominated assets this week:
Thursday's London morning gold fix was $1,458, up 0.7 percent, after averaging $1,463 during the week; COMEX spot settled at $1,472 for a 0.9 percent gain; New York prices averaged $1,464 for the week; average daily COMEX volume fell 1.1 percent to 145,407 contracts, while open interest ticked up 1,330 contracts to 511,909.
COMEX gold inventories surged by 73,371 ounces (2.3 tonnes) to 11.084 million, covering 21.7 percent of open interest; 2.354 million ounces are available for delivery, but immediate demand for COMEX bullion doesn't presently exceed 138,200 ounces.
SPDR Gold Trust (NYSEARCA:GLD) vault assets declined by 4.2 tonnes (136,480 ounces) to 1,213.0 tonnes.
Projected volatility for gold, measured by the CBOE Gold Volatility Index slid another 0.8 percentage points to 15.3 percent.
The average one-year gold lease rate increased 3 basis points (0.03 percent) to 0.31 percent.
The broad market's correlation to gold producers rose 6 points to 25 percent along with a 22-point rise in its coefficient vs. bullion.
NYMEX WTI crude oil declined 2.0 percent to $108.11, raising the gold/oil multiple from 13.3x to 13.5x.
Gold futures continued to price in expectations for steady-to-lower rates as calendar spreads narrowed; the one-year COMEX contango fell 12.6 percent to $7.60 an ounce; London's forward market spread narrowed 8.3 percent.
One-year TED spreads widened another 2 basis points to 0.52 percent.
Upticks in long bond yields, together with a drop in short rates, further steepened the Treasury yield curve to 454 basis points.
The euro rose 1.1 percent vs. the U.S. dollar to an average $1.4446 cross rate Thursday.
The Monetary Inflation Index's rolling 365-day change averaged 2.5 percent, up 10 basis points from last week; at today's rate, the real return on three-month Treasury bills is -120 basis points.
3-Month T-Bills: Real Yields (Adjusted For Monetary Inflation)