By David Urani
Here we are at the start of the first quarter earnings season, and concern numero uno on investors' minds will be the glaringly obvious price increases in oil, food, and other raw materials. We all know that input costs have been going up for producers, it's been all too evident amongst the many national manufacturing reports, and echoed by business owners countrywide. We know that some of those price hikes have found their way into consumer goods, so the question is how much. Now that the March PPI and CPI numbers are out, we have a little bit better picture of the cost/price picture for the first quarter.
The Producer Price Index was up 0.7% month to month in March, while core prices (excluding food and energy) were up 0.3%. The rise in the core index was the second largest in the last year. The Consumer Price Index rose by 0.5% on the headline number, equaling last February's increase, and representing the largest monthly increase since June 2009. Meanwhile, core prices were relatively subdued, coming in with a 0.1% rise.
When we subtract the PPI from the CPI, we get the spread between consumer and producer prices, giving us a generalized view of how profit margins likely trended. Consequentially, the spread between CPI and PPI holds a good correlation with the S&P, as it implies corporate profitability. Computing the difference between the core CPI and PPI, we find that the spread between the two continued to decline through the first quarter. Although consumer prices have ratcheted modestly higher in general, they have not matched the magnitude of the input price increases.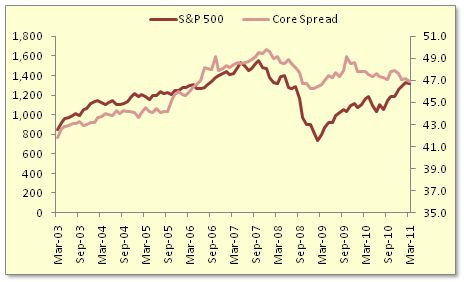 However, in the last three months there has been a discrepancy between the pricing spread and the S&P. Stocks have been locked in an uptrend, often times surging higher with little to go on, and year to date the S&P is up approximately 5%. Thus, the market may be headed for a disappointment as we head farther into earnings season and gross margins are understood more thoroughly. We will be bracing for when major consumer stocks begin to report, and will be prepped for a potential market pullback.