Market Movers
Reports from China indicate the Chinese economy grew 9.7% in the first quarter of 2011 with foreign exchange holdings rising to a record $3 trillion. This brought about a fresh round of speculation that the Chinese government will tighten lending further in an attempt to curb and control inflation after two years of record credit expansion. The central bank has already raised interest rates four times since October 2010 along with increasing reserve requirements for Chinese banks.
Demand in China for copper is not as strong as some expectations suggest but the market continues to see strong buying support in Asian trading, which is not necessarily translating to stronger prices in Europe or the U.S. Inventories in both London (LME) and Shanghai (Shanghai Exchange) have risen 19% and 17%, respectively, thus far in 2011.
Across the Pacific in Chile a report from Teck Resources Ltd's (TCK) V.P for Copper, Roger Higgins, said:
"We believe that the copper price is robust and it will support our projects. Certainly over the next four to five years production will grow more slowly, so it will be a solid price."
When asked about the growing trend of consumers turning to plastics instead of copper for plumbing applications and replacing copper with aluminum in electrical and heating uses Higgins responded:
"Substitution will be one of the ways the gap (between robust Chinese demand and a shortfall in mine supply) will be closed. The demand for the metal remains strong, and new supply is not keeping up pace. Copper's properties - electrical conductivity, heat transmission and its antimicrobial properties - are not easily replaced."
Technical Analysis
I continue to support a bullish long term view on copper. The larger advance has been interrupted by a corrective phase which began off of the February 2011 highs. My last update suggested the correction was complete and the larger advance was back underway. This would remain in place unless a break below 433 area support occurred. That has now happened and in fact support at 421 is being challenged today (4/15/2011) in New York trading, which raises the "yellow caution flag" for the near term picture.
If the 421 level contains additional weakness with prices turning higher I would expect confirmation (that support will hold and the rally is on again) to come via upside acceleration. Short of this taking place an additional leg down looks probable. Below 421 support at the 407 level may not be strong enough to contain downside. Stronger support does not come in until 392 and a break below 421 adds some strong potential that this move is in progress.
Technically, I noted that the market was pushing toward overbought at the 453 level and actually did turn prices lower. Currently reading more neutral the Stoch oscillator is pointing more sharply down which adds support to the correction continuing.
Click to enlarge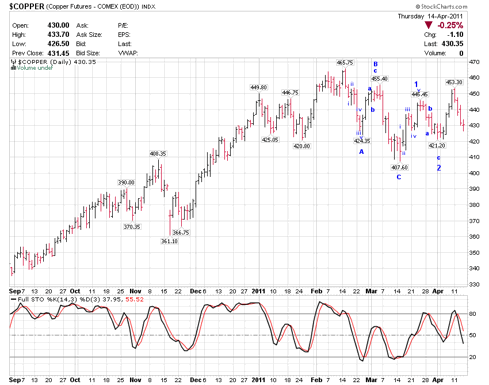 The chart for COPX presents a slightly different picture. After putting in a corrective low at 17.19 in mid - March the COPX rallied to new highs at 20.74, while copper futures did not reach new highs. I suspect the correction will also continue in COPX as mining stocks see profit taking and adjustments. However, the near term look for a small intervening rally before an additional down leg begins. I suspect that support at 19 or 18.60 will be seen before the next sustained rally phase begins.
Click to enlarge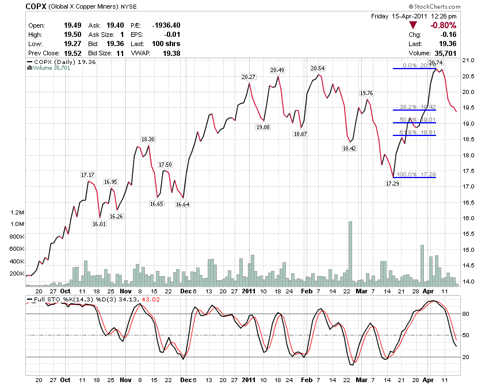 Disclosure: I have no positions in any stocks mentioned, and no plans to initiate any positions within the next 72 hours.