If you're looking for basic materials stocks paying high dividends, join the crowd. Most basic materials stocks paying dividends have had quite a run over the past year, as it has been the leading sector in price gains, due to strong demand from emerging nations, and a cheap dollar:

The sector is still holding its own in 2011, although it has been overtaken by the long out-of-favor health and conglomerates sectors, in addition to industrials. (The conglomerates sector is dominated by GE (NYSE:GE), which makes up approx. 47% of it.)
Here's a look at overall P/E's, projected EPS and PEG figures, and past EPS and sales history for all of the sectors: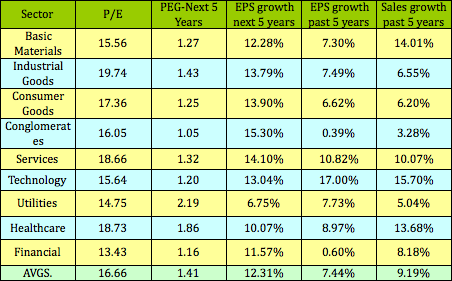 Only tech outgrew basic materials in both sales growth over the past five years, but basic materials had only average EPS growth. Looking ahead, the projected 1.27 PEG ratio for basic materials stocks is cheaper than the avg. 1.41, but certainly nowhere near the conglomerates sector's low of 1.05.
So are there any solid dividend paying stocks still undervalued in the basic materials sector? We found one, Sunoco Logistics (NYSE:SXL), which is listed in our High Dividend Stocks By Sector Tables, as it currently has a dividend yield of over 5%.
SXL is a MLP that owns and operates refined products and crude oil pipelines and terminal facilities. Its Refined Products Pipeline System has approximately 2,200 miles of refined products pipelines located in the northeast, midwest and southwest U.S, and equity interests in four refined products joint-venture pipelines. The Terminal Facilities has approx. 10 million shell barrels of refined products terminal capacity and approx. 24 million shell barrels of crude oil terminal capacity (including 21 million shell barrels of capacity on the Gulf Coast of Texas). The Crude Oil Pipeline System consists of approx. 5,400 miles of crude oil pipelines, located principally in Oklahoma and Texas.
Industry Financial Comps:


SXL's dividend payout is in line with industry dividend yields, and its mgt. ratios are quite strong. Although its operating margin looks very slim, SXL has managed to steadily increase dividends, from $3.03 paid out in 2006, up to $4.52 paid in 2010. Importantly, its Distributable Cash Flow has grown from $103 million to $248 million, and its Dividend Payout Ratio is only 48%. The company also has had an ongoing capex program, which has greatly expanded its pipeline capacity. In March, the company announced the development of Project Mariner West, a pipeline project to deliver Marcellus Shale ethane from MarkWest Liberty's Houston, Pennsylvania, processing and fractionation complex to Sarnia, Ontario, Canada markets.
Valuation Comps:


SXL has a low PEG ratio for the next 12 months, especially when compared to its peers. Given its ongoing capex emphasis, the 7% 5-year EPS growth estimate may be low, which would improve its long term PEG ratio.
There are options available for SXL, but the long term, (Nov.) out of the money Covered Calls are currently only yielding under 2%.
However, the Nov. $85.00 Cash Secured Puts are yielding over 5%, and would give you a break-even of $82.30. You can see details in our Cash Secured Puts Table.
Disclosure: Author is long shares of GE.
Disclaimer: This article is written for informational purposes only.