With the earnings season upon us, this is a perfect time for me to point out trends of technology companies over the past 12 months that could lead to a wealthy month of April for investors. I studied the charts of seven major technology players that report earnings within the next few weeks. Because these major players are reporting around the same time, the market could see a huge run, or a big drop depending on the outcome.
We could also see stagnation if only a few technology stocks report positive numbers. I focused on, in chronological order of reporting date; VMWare (NYSEARCA:WMW), Seagate Technology (NASDAQ:STX), EMC Corporation (EMC), Apple (NASDAQ:AAPL), Western DigitaL (NYSE:WDC), Riverbed Technology (NASDAQ:RVBD), and Microsoft (NASDAQ:MSFT).
Riverbed Technology

Fantastic news for these companies came from Riverbed earlier this week when the company reported a pre-earnings guidance that has numbers above analyst expectations. Riverbed is expected to officially report April 25th. Analysts expect an EPS of 12 cents, but Riverbed announced (here) 19-20 cents on revenue of $163-$164 million. While the EPS is well above the 8 cents from the previous quarter, revenue is down from $165.43 million. The numbers Riverbed produced are very positive and this could possibly be a good sign for the rest of the technology companies.
However, this does not mean you should invest all your money into the upcoming technology earnings reports. A small problem with using Riverbed to predict other companies earnings is that they have had an almost constant rise over the past year. This can be seen from the June and August 2010 pullback that Riverbed did not go through. With that said, Riverbed has seen the same major trends that the other companies have seen. It cannot be denied that Riverbed's excitement is great news for other companies who have earnings reports in the coming weeks.
VMWare and Seagate Technology

The first two companies from this list that are slated to report earnings are VMWare and Seagate Technology on April 19th. VMWare is a virtualization company that is about 40% owned by EMC. However there is not a direct correlation between EMC and VMWare in terms of earnings reports. Granted, a strong VMWare report can lead to a strong EMC report; this paradigm is less likely to happen vice versa. The average EPS estimate for VMWare is 31 cents for this quarter. This is up from 28 cents in January 2011, therefore if VMWare can beat expectations, investors will become more confident in the company. Since the company has fallen well off its January high, VMWare needs a strong earnings report on April 19th. VMWare has not closely followed the traditional trends over the past year that the other companies have followed, but the company does hit the major patterns I discuss later. Therefore, since Riverbed has started off with a bang, VMWare has a good chance of reporting big as well.

Seagate has already reported initial earnings just as Riverbed. Seagate gave early guidance (here) revenue of $2.7 billion, which is ahead of analyst expectations of about $2.62 billion. The company is expected to have an EPS of .36, but Seagate did not release EPS yet. Either it has not calculated it, or the company missed expectations and did not want to publish that miss. Most investors enjoyed the revenue Seagate posted, as the stock jumped almost 8%. Even though revenue beat expectations by a small margin, for a company that has not had good numbers recently, this is excellent to hear. To go along with the revenue beat, Seagate recently reinstated a dividend of 18 cents per share for shareholders of record on May 2nd, 2011, as you can see in the above press release. This shows that the recent quarter results made Seagate happy enough to give some of its cash flow to investors.
If Seagate can nail the EPS on April 19th, we could see the stock jump a few more percent. Since the major shift already happened, don't be surprised if nothing changes. Seagate has indeed followed trends of the other companies which include: A dip in late June 2010- prior to July earnings season, and another dip before the October 2010 earnings season, followed by a sharp increase in late October.
EMC, Apple and Western Digital
On April 20th, we will see one of the biggest days for this earnings season as EMC, Apple and Western Digital report on the same day. This day will be the turning point for the market. If EMC, Apple and Western Digital can nail their earnings, we should see a bull run begin, barring any outside problems.
I will begin with EMC. EMC is a data storage and cloud computing company that is one of the leaders in that sector. Analysts predict an EPS of 28 cents. EMC should eclipse this number as, among other things, its last report produced an EPS of 29 cents. Since Riverbed gave such a strong earnings report, EMC should produce a record quarter. By comparing these two charts, they are almost identical, excluding the past month where Riverbed faced a stark dip while EMC has stagnated between $26-$27. EMC is another company that Riverbed will help out by releasing strong guidance two weeks before the posted date.
As I mentioned, Apple, one of the most watched companies on the market, will be releasing its numbers on April 20th as well. I, as well as many others, are expecting another blowout quarter. Due to the release of the iPad 2 and the deal between Verizon (NYSE:VZ) to sell iPhones. Also, since the earthquake in Japan struck late in the quarter, sales out of Japan should not be hindered. On the contrary: Next quarter should see a hit from that region as buying the newest Apple product will be the last thing people in Japan will be thinking about.
Peter Oppenheimer, Apple's CFO, "expects revenue of $22 billion and diluted earnings per share of about $4.90." These numbers will be well ahead of the same quarter last year as revenue was $13.5 billion and EPS was $3.33. As usual, guidance from Apple is well below analysts' expectations of about $5.82 earnings per share. It will not be surprising to see Apple announce an EPS of just over $6, which would far surpass the expectations of Apple and the analysts. The biggest question in the conference call will be whether or not, and how much, Japan will affect the sales for the next quarter. By following the charts, Apple closely resembles EMC. Unfortunately since these two companies report on the same day, investors are not going to have the luxury of using one or the other to make a short investment. Just as EMC, Apple follows the chart of Riverbed. This allows investors to see that Apple should have another record breaking quarter.
Another company reporting April 20th is Western Digital, a major player in the hard drive industry. This simply means the company supplies computer companies with the disk drives in computers. Western is beginning to scratch the surface of HDD, so Western Digital should see future profits expand. Western is facing expectations of about 83 cents per share by the analysts.
One action that could affect the earning per share of Western Digital is the purchasing of Hitachi (HIT) for $3.5 billion in cash and $750 million in common stock on March 7th. Even though the sale will not become final until the third quarter of 2011, Western Digital
expects the transaction to be immediately accretive to its earnings per share on a non-GAAP basis, excluding acquisition-related expenses, restructuring charges and amortization of intangibles.
I believe the analysts took this into consideration when setting Western's predicted EPS value for this quarter, but the transaction should be noted as the reported EPS on April 20th will be lower than previous quarters. Not surprisingly, Western Digital's chart follows Seagate very closely. Therefore we should be seeing Western pointing up within the coming week because Seagate has been heading upwards after its positive guidance. As previously stated, I will discuss the major trends at the end of this report.
Microsoft
The final company that could possibly have a big jump before its earnings is Microsoft. Microsoft is one of the computer giants that is innovating in any way it can to keep pace with the changing technological world. Microsoft is set to report its earnings April 28th. Therefore, if the other companies listed above are able to surpass expectations, we may see Microsoft follow suit. Likewise, if the companies disappoint, Microsoft will have an uphill battle to impress investors. Granted, the long term shareholders will not be scared away from bad news by other companies, but Microsoft can still be affected negatively if bad news arises. Analysts expect an EPS of 0.61. Microsoft may see short investors add shares to their portfolio because Microsoft has raised its dividend from 13 cents per share to 16 cents per share for shareholders on record as of May 19, 2011. Microsoft follows the trends of Seagate and Western Digital very closely. All three companies have stagnated since late 2010 and reporting strong numbers could cause a big move in the coming weeks.
Technical analysis
So far I have given brief reasons as to why these technology companies should be seeing a good earnings season. Marginally based on the fact that Riverbed has already reported EPS and revenue above expectations, and Seagate has reported revenue above expectations as well. However, this is only one small reason why I believe the other companies, which report next week, will have strong quarter results as well.
As I mentioned at the beginning, I will focus on seven major trends that can be seen from the charts over the past 12 months. These trends are important because it allows investors to spot potential moves in other sectors of the market before they happen; whether these moves are up or down. By tracking these moves, an investor can save themselves a big loss, or add to their earnings.
The first major trend that investors should know about was a June 2010 slide in which all these companies share price fell. However EMC, Apple and Riverbed did not face as big a hit as the other four companies. This should be a good sign for investors of Apple and EMC as Riverbed has already posted great quarter ending March 2011 results. Which means if Apple and EMC follow suit next week, as they have in the past, we should see great results.

Concurrently, all seven companies had a sharp turnaround right as July 2010 started. Among other things, the July earnings season had a very large impact on investors and this sparked a 2-4 week bull run for these technology companies. This trend was followed by the Dow Jones Industrial Average (DIA). However it must be noted that these technology stocks are drivers, and precursors, for the general stock market. For instance, the share price of Seagate and Western Digital are the only two that rose after the Dow Jones turned upwards. Therefore it appears that these technology companies led the market higher, just as they lead the market lower. This means that once the technology stocks begin to fall, chances are other companies outside of the technology sector may dip as well.
All the companies, including the Dow Jones, suffered another steep loss throughout August of 2010. However, Riverbed and VMWare finished that month higher than they started. This is not surprising to see this from Riverbed because the company has been on an upward trendline for almost a year. Nevertheless, the rest of the companies did face a big loss in share price during this month, which was most likely due to investors finding a reason to take profits after strong July earnings. A spike in oil prices was the perfect excuse for investors to take profits. Just as with the aforementioned increase in share price, these seven technology stocks began their dip before the Dow as a whole. Which again shows these companies can be a precursor to the overall market. Therefore if you are an investor in these companies, and you wait for the Dow to show signs of weakness, you will be too late and have already taken losses.
When the October 2010 earnings season came about, we saw huge increases in these companies except VMWare. VMWare did not partake in this jubilation because it did not have a very positive quarterly report. Nevertheless, the rest of the companies gave stellar, even record breaking earnings that led to huge jump in stock price. As the first trends showed, the technology companies led the Dow Jones to a minor spike, followed by a patch of investor fears which leads to profit taking. However, despite the dip, these companies ended up going higher than they initially were before earnings reports. Another note to make about this October 2010 earnings is that Riverbed led the majority of the technology stocks mentioned higher. The outlier from this pattern is Seagate, which has not seen its share price go anywhere since October 2010. But it may head higher after next week's official earnings are released if a positive outlook is given.
The next major trend comes in mid January 2011 when the companies presented more earnings. Most of the companies saw big jumps after another successful quarter. However it must be noted that after these jumps, we saw very steep declines from every company. The Dow Jones did not see the price jump the technology stocks saw, but it did suffer the dip that the seven other companies faced. It must be noted that in this January dip, the Dow Jones did not fall as much as the technology stocks, which shows that other companies from different sectors can stabilize the market. It may sound monotonous, but I am trying to drive the point home that the technology stocks lead the Dow Jones; meaning that it may be better to follow the technology stocks to see where the Dow Jones will be going.

Since January 2011, we have seen these companies either stagnate between certain levels and form clear ceilings and floors, or we have seen the companies drop big time. All the companies listed have reached a floor and are currently at or just above that floor. Therefore, unless terrible earnings are announced, this might be a perfect time to buy these stocks. If you plan to invest in any of these companies, I recommend pulling the trigger now because after the earnings reports you will have to wait several weeks before a buying opportunity opens up. Unless they miss the earnings expectations and face a sharp drop. But if that happens you may want to stay away from that company anyway. Even Riverbed is currently not out of question to buy since shares are still well off the March 52-week high.

The main point to take home has clearly been that chart trends are one way an investor can make a wealthy portfolio. Not only are simple trends a good way to invest, but detailed trends that show pre earnings and post earnings patterns are good ways to make strong trades. For instance, most of these companies have seen dips after strong earnings releases due to massive profit taking from short investors. These are things you must be aware of so that you do not get frightened away if the stock drops. Granted, there is nothing wrong with taking a small portion of your money out of the market for making a good choice, but there is no reason to sell off everything. Another major point to remember is that these companies tend to fall together, therefore if we see constant earnings misses early, it may be a sign to get out while you still can.
For the upcoming earnings next week we should expect to see some good things from the companies mentioned above. Do not take this as a guaranteed prediction since stranger things have happened. While Riverbed is the obvious precursor to a strong earnings season, I think Seagate is an even better indicator as to where the market can go. That's because Seagate has not had any movement over the past few months. For Seagate to have a positive outlook, it should be a sign to investors that the major players will also give fantastic numbers. With that said, even the most common trends can be broken. Even if everything points to EMC and Apple giving record breaking numbers on Wednesday, there is the slight chance that both companies will give earnings that miss expectations. Apple is almost guaranteed to hit its own expectations since it always sets low standards. But to hit analyst expectations requires a strong quarter of sales.
As you may or may not know, my motto is never take the advice of somebody else when investing, always do your own research and make sure that what you are doing will be good for your own wallet. And when you feel the time is right, pull the trigger with no hesitation and never second guess yourself.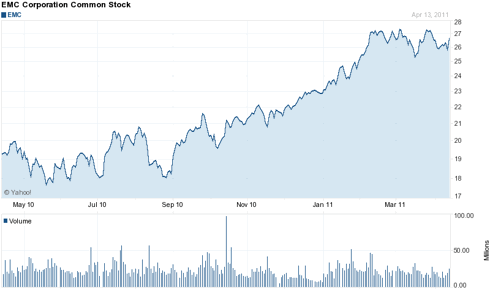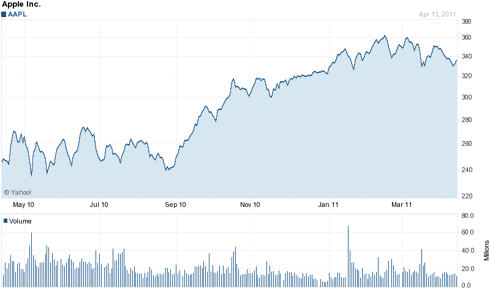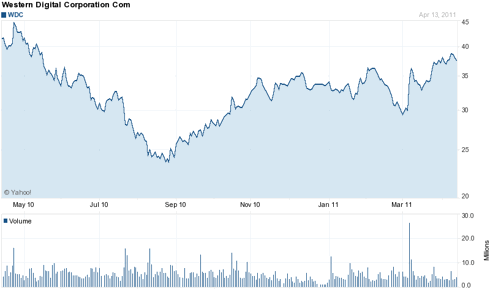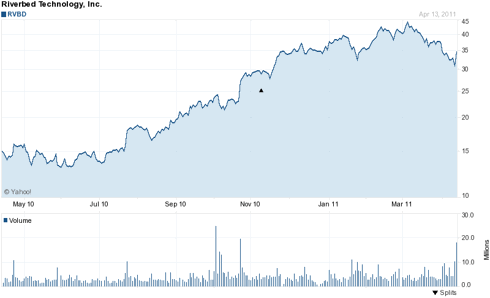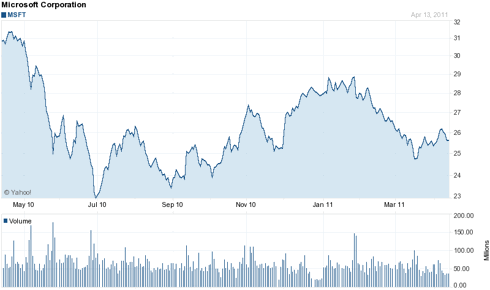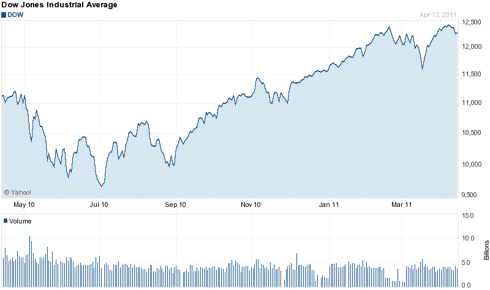 Disclosure: I am long EMC.