by Sebastien Buttet and Panos Mourdoukoutas.
Investors have every reason to be optimistic about the coming earnings season that officially began this week with Alcoa (AA) beating profit estimates by a penny but falling short on the revenue side.
According to research published by the St-Louis Fed, non-financial after-tax profits are in full recovery mode since the Great Recession ended and this trend should continue for three different reasons:
Quarter over quarter comps are still favorable due to the on-going economic recovery and still-depressed earnings a year ago. For example, AA earnings grew by 170% from 10 cents per share in Q1 2010 to 27 cents per share this quarter.
Monetary policy remains accommodative even though uncertainty grows about the Fed's stance on future policies once QE2 expires in June.
Fiscal policy is also accommodative with the renewal of the Bush tax cuts by Congress last December and generous stimulus money offered by the Obama administration.
Click to enlarge: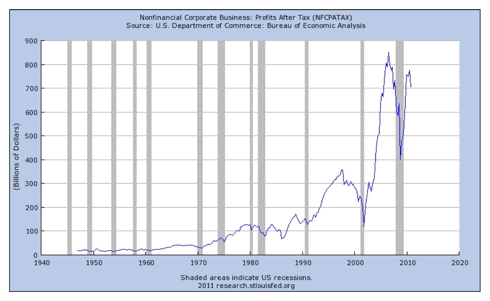 Despite the tailwind that the three catalysts provide to earnings, AA stock sold off by more than 7% since it released its quarterly results. One possible explanation for the stock's precipitous decline is that top line revenues growth will matter more than earnings growth this quarter. That's because companies are done cutting costs and margins are unlikely to expand further ("First Quarter Earnings Preview: Why Profits Won't Matter Most"). As in the case of AA, stocks are likely to post sharp declines when revenues come in light.
In our opinion, there is another important reason why stocks could sell-off following positive quarterly earnings reports: Management will err on the conservative side when guiding for next quarter earnings as the intensity of the three aforementioned catalysts is declining. Quarter over quarter comps will be increasingly difficult as earnings' recovery went a long way. With three hawkish Fed presidents sitting on the FOMC and judging by the actions of central banks around the world, it is not clear how long it will take the Fed to start a tightening cycle. Finally, if Obama's recent proposal is any guidance, tax increases might be unavoidable to curb U.S. deficits.
In previous economic recoveries that followed the 1981-82 or 2002-03 recessions, consumer spending picked up the slack once the stimulus from the Fed and Treasury ran its course, because of two factors: Labor markets were on the mend with declining unemployment rates, and improved consumer confidence that came with rising home and stock prices. So far, the typical boost to GDP and corporate profits that comes from increased consumer spending has failed to materialize. The recovery in labor markets is anemic (U.S. companies find it more profitable to hire overseas) and home prices keep on falling, as seen in the Case-Shiller Index.
Disclosure: I have no positions in any stocks mentioned, and no plans to initiate any positions within the next 72 hours.