China just released its regular monthly (and March quarter) data dump, and this article provides a brief update on two key statistics: GDP and CPI (for reasons which I will explain later). First up, a review of the results: Q1 2011 GDP growth came in at 9.7%, compared to consensus 9.4%, and previous 9.8%. Consumer price inflation rose to 5.4% in March, compared to consensus 5.2%, and previous 4.9%. So some very interesting results there.
Click to enlarge: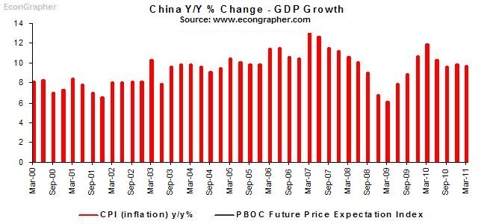 The reason for honing in on CPI and GDP is two-fold (I will be focusing my usual "top 5 graphs of the week" article on a wider suite of China data). First of all, as I noted in a previous article, the inflation situation is absolutely critical to the China investment outlook over the short-medium term. As soon as inflation shows signs of tapering off and slowing down - provided growth doesn't take too much of a hit - stocks will rally fast. The reason is that people will perceive a lower chance of further policy tightening (indeed the policy cycle could reverse), which is good for stocks. Adding to that is the tightly bound state of the market at present - there have been no major breakouts from the current trading range. But the path of inflation may well dictate the future of this situation.
Click to enlarge: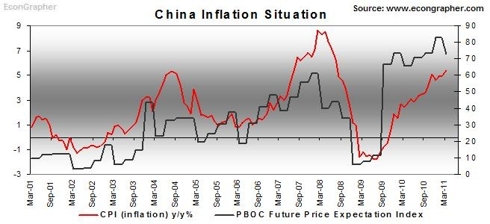 Of course, the reason for focusing in on GDP is that you can't look at inflation without looking at economic growth, and vice versa. The March quarter GDP result was somewhat surprising. Positive for sure, but there is some cause for concern. Usually GDP will take a hit after a decent round of monetary policy tightening. What's more, if GDP growth is very strong and capacity doesn't likewise grow, then strong inflationary pressures can precipitate.

So on the economic growth front, things seem fine for now. But then it's like on the one hand you have monetary policy tightening, while on the other you have loose fiscal policy. So what of inflation? Does the high figure and upward surprise indicate higher inflationary pressures and therefore signal the alarm bells? Perhaps, but then maybe not.
The chart above shows the PBOC future price expectations index falling to 72.8% from 82.7% in the previous quarter. This is still a very high level, but the direction is interesting. Similarly, several food prices are showing signs of peaking. So there is a real possibility that we are very near to a peak of inflation in China. If this is true, the investment market outlook could well be looking brighter.

Graph Data Sources:
National Bureau of Statistics
People's Bank of China

Disclosure: I have no positions in any stocks mentioned, and no plans to initiate any positions within the next 72 hours.