Thesis and Valuation Summary
Nathan's Famous (NASDAQ:NATH) is a uniquely durable brand that is premised on nostalgic appeal and great taste quality. The stock, excluding cash balances, is currently trading (4/14/11 - $17.31) at 11.3x EPS as the market has misclassified it as a regional franchisor, as opposed to what it is, a fast growing marketer & food licensor with a strong brand that is growing market share in traditional and non-traditional markets nationwide.
As its licensing business and Branded Product Program grow to become its largest cash flow sources, the market should assign an applicably higher multiple of ~16.5x EPS ($17.99), plus full valuation of its adjusted cash balance ($4.98/sh) representing a 33% upside to $22.97. (Note: Adjusted cash excludes the $4.9m related to the SMG litigation judgment and $1.7m of estimated share repurchases during Q4.)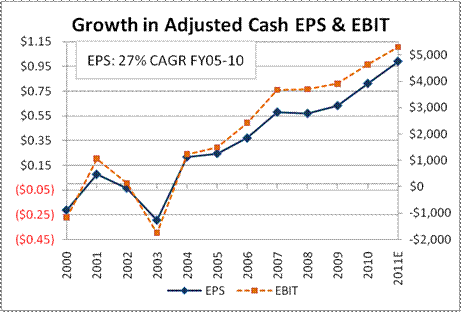 Adjusted Cash EPS excludes intangible amortization & interest income
Upside could be greater if management continues to aggressively reduce share count while NATH is undervalued. The BOD recently increased the share repurchase program to a total repurchase capacity of 581k or 11% of basic shares outstanding; also management is incentivized to increase the share price as directors & officers own ~27% of the company and the most recent options grant from 2008 has an average exercise price of $17.43, near current trading levels.
The stock is primarily undervalued due to its misclassification as an operating business focused on restaurant franchising; secondary reasons include limited sell-side coverage, poor disclosure of segment profitability and legal uncertainty from the contract dispute with SMG, its largest licensee. Possible catalysts include share-buybacks, increasing EBIT profitability from non-franchised sources and compounding EPS.
Business Description
Nathan's Famous is the marketer of hot dogs, french fries and other menu items offered under the Nathan's Famous brand. The products are distributed through retail and wholesale channels. Nathan's Famous brand is 95 years old and known well nationally, notably due to their Nathan's Famous Fourth of July International Hot Dog Eating Contest hosted annually at their flagship location in Coney Island, New York that is heavily attended and televised live by ESPN.
History and Background
The hot dog is a food concept that is securely entrenched as an American food staple, which consumers love to enjoy and indulge in. The Nathan's brand has been popular since its introduction in 1916, at first only regionally, but then ultimately known nationwide. Ironically, despite being a meat product that is not exactly lean on calories or fat, the quality of ingredients are significantly valued by consumers.
For example, initially Nathan's Famous hot dogs were introduced in 1916 as the lowest-cost hot dog at 5 cents/dog, 50% below the competition. Against expectations, though, the public simply assumed the lower cost represented a lower-quality product that used inferior meat and customers did not immediately embrace Nathan's. Those apprehensions were ultimately neutralized after much promotion and marketing that focused on the inherent quality of the product in addition to the compelling price.
That dynamic is still representative today as consumers are interested in value and thus want inexpensive, but not cheaply made, hot dogs with quality ingredients and great taste.
Strategy & Main Revenue Drivers
The primary growth sought by management is through licensed channel growth and quasi-licensed brand expansion (i.e. Branded Product Program). Above-average growth will continue to be accomplished mainly through penetrating non-traditional markets via the BPP method (i.e., replacing unbranded hot dogs in food service) and by taking market share from Oscar Mayer and Ball Park in traditional markets (i.e. supermarkets). Management is also focused on international opportunities but results have been inconsistent and are not considered a key driver of future growth as of yet.
The Branded Product Program and other revenue ($30mn LTM Dec10; 55% of revenue) allows Nathan's products to be sold to food service operators and retailers in a variety of environments including sports venues (i.e., Dallas Cowboys, NY Yankees & Mets, etc), movie theater chains, casinos, military locations, the QVC network and more. Every BPP vendor is granted the limited use of Nathan's trademark and point-of-purchase materials but is required to purchase Nathan's branded products from company approved producers only.
Nathan's makes its money by marking up the inventory purchased by food service operators, thereby earning a small margin on the vendor purchasing side. The distributors themselves license the right to manufacture and distribute Nathan's branded products onto the food service vendors; thus Nathan's also earns a royalty from the supply side too.
The result is that Nathan's profits on both ends of the same transaction.
The BPP method is appealing to food service operators as it offers flexibility, has no fee payments, requires no reporting of underlying product sales but still allows operators to market a branded hot dog in what would typically be an unbranded product. BPP should be considered a high value distribution model that requires little cash investment to grow but is much lower in risk than increasing the number of owned restaurants or aggressively building up a national franchise network (see subsequent section for expanded discussion of franchising risks).
The growth of the BPP vendor network has established a widely disaggregated food service retail network to sell Nathan's products outside of the traditional channels of supermarkets, club stores and Nathan's stand-alone locations. The number of food service and retail locations offering this program has exploded from 14,000 at March 2006 to over 40,000 at March 2010.
A good example of the BPP method is Nathan's partnership with the dominant franchisor, Subway, whereby Nathan's has their products featured in many of Subway's Wal-mart (NYSE:WMT), Race Trac and K-Mart (NASDAQ:SHLD) locations. The BPP program has been in effect since fiscal 1998 and became the largest single revenue stream in FYMar06. Its revenues have grown at an 18% CAGR during the past 5 years through Mar10 and 9 month year-to-date sales through Dec-10 are up 17.7% versus the comparable prior period.
The supply/licensing method ($6.6mn LTM Dec10; 12% of revenue) allows for Nathan's to sell exclusive or semi-exclusive manufacturing & wholesale rights of specific products to food & meat producers for a negotiated royalty from subsequent re-sales onto end markets. The standard royalty is 3-5% of producer re-sales. Licensed products are resold into 4 main markets: i) hot dogs sold onto grocery markets; ii) hot dogs sold onto food service operators; iii) proprietary spices that are a key input into Nathan's hot dogs and sold to Nathan's meat producers and iv) various products such as fries, onion rings, mini-bagel dogs, condiments, etc.
License-based revenue has grown at a 14% CAGR during the past 5 years through March 2010 and 9 month year-to-date sales through December 2010 are up 4% versus the comparable prior period. Nathan's top 2 licensors represent 77% of this revenue stream. It is important to emphasize that this revenue channel will prospectively enjoy higher segment profit margins due to not incurring much incremental operating expense as it grows. I estimate that segment margins have increased from 7% in FYMar06 to 36% in the LTM December 2010 period. I forecast materially increasing segment EBIT margin expansion in the next 5 years.
The secondary drivers of growth includes the operation of 5 New York-based company owned stores (sales of $13mn LTM Dec10; 24% of revenue) and fees & royalties from the 263 unit franchise network ($5mn LTM Dec10; 9% of revenue). Company owned restaurants have normalized growth rates of 2-4%/year; although there is some upside if the revitalization of Coney Island progresses as planned but that aspect is ignored in my valuation given its unpredictability. Royalties from franchised locations also have normalized growth rates of 2-4%. It's important to highlight that based on company experience from their 1990's attempted expansion, management determined stand-alone Nathan's franchises did not thrive consistently enough to justify a national franchise push.
Generally speaking, restaurant franchising is a tough business to sustain dominant success with over long periods of time (i.e. decades). The industry is characterized by a high degree of rivalry and the predictability of success with most concepts, new & old, is low. An extreme cautionary tale was the illusory initial success of Manhattan Bagel in the early 1990s, which rode the bagel boom by opening up hundreds of franchised locations.
However their business was DESTROYED by Dunkin' Donuts once they began selling bagels in 1997; Manhattan Bagels was bankrupt by 1998. The key takeaway is that there are a few industry-dominant franchisors that seem to sustain success (i.e., McDonald's (NYSE:MCD), Dunkin' Donuts, Subway, Yum! (NYSE:YUM)) but most franchised concepts ultimately die out or get their lunch eaten by some new competitor. Management is sharp, understands this dynamic and avoids competing directly against the established heavy-weights of McDonald's, Subway and Yum! brands.
Lastly, consumers typically don't want to eat, on a daily basis, a greasy meal of hot dogs and fries; thus the Nathan's concept is best exploited in travel & entertainment environments since those are situations where people are more likely to indulge. Accordingly Nathan's chooses to operate a small franchise network in high-traffic, captive environments such as highway travel plazas, airports and amusement parks as they know their products are best suited as an infrequent indulgence; the combination of those factors makes their franchise network very defensible. The company has wisely chosen to only grow these segments modestly on an opportunistic basis.
Cost Structure and Historical Segment Profitability
As mentioned previously, the company has 4 business segments: the Branded Product Program, Franchised restaurants, Licensing, and Owned Restaurants. Understanding the cost structure of each segment is critical to understanding profitability by segment; however, disclosure surrounding the associated profitability by segment is abysmal as management does not aggregate and present EBIT results individually. Here is a summary of the main cost drivers by segment and a summary of the information reported by management.


Click to enlarge
[click to enlarge images]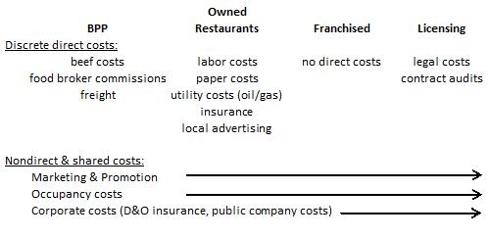 Click to enlarge
Understanding the historical profitability of each segment is critical to valuing the business as a whole. Using the information available in NATH filings combined with assumptions relative to allocations of centralized operating expenses (i.e. Depreciation, General & Administrative costs) a sense of profitability can be estimated.
Only 12.5% and 17.5% of Corporate G&A costs were allocated to Owned Restaurants and Franchised operations; this is supported by their decentralized nature and the fact that they provide their own day-to-day management; any oversight and guidance from corporate management is minimal. Additionally discrete operating costs for Owned Restaurants are correctly reported separately.
Conversely, Licensing (40%) and the Branded Product Programs (30%) are fully centralized and managed exclusively at the corporate level, thus it is estimated that the majority of non-direct shared costs belong with those segments. I assigned a greater allocation percentage to the Licensing segment owing to the fact that contractually they require a high degree of oversight, including verification of underlying sales by the distributor; also recently this segment has been a source of litigation, which contributes to higher on-going legal expenses.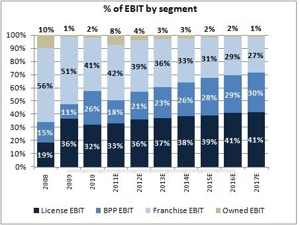 Click to enlarge
Highlights
Durable, iconic brand with a hard-to-replicate product taste – Nathan's hot dogs have been enjoyed for 95 years and its brand remains strong. Its competitive advantage is its high taste quality derived from its secret recipe of spices which are prepared in accordance with procedures that have not varied significantly in more than 90 years. They routinely place in the top rankings of hot dog taste tests by food websites and reviewers; it's even worth noting that their hot dogs comfortably outranked quality private label offerings from Trader's Joes, a retailer known for its ability to select great tasting, off-brands. Additionally Nathan's annual hot dog eating contest is one of the premier competitive eating contests in the world and its broadcast on ESPN has averaged 1+ million viewers the past several years, which suggests that when many people think of hot dogs they think of Nathan's Famous.
Focused management - Management performance over the past 4 years has been strong in the key category of capital allocation. Notably they chose to monetize an underused asset ($1.5mn leasehold interests in 2007) and dispose of underperforming businesses (i.e., $3mn for Miami Subs in 2007, $3.7mn for NF Roasters in 2008). This was important as those franchise concepts had questionable long-term appeal & operationally were beyond the expertise of the company. Management wisely reinvested much of the proceeds back into the business by aggressively buying back shares at undervalued prices and has reduced the GAAP diluted share count by ~18% since 3/2006.
SMG Litigation Update:
On December 172010 Nathan's received a legal ruling that mandated they pay $4.9m in damages for terminating their contract with SMG, its largest licensee, before its original 3/1/2014 expiration. As of April 2011 Nathan's has decided to appeal this ruling.
Key Risks
No brand diversification – Should anything occur that impairs the concept of the hot-dog and/or there are mass-appeal shifts away from the Nathan's Famous brand, the company has no strong secondary brands to neutralize that low-probability risk. Mitigated by the long-operating history of Nathan's which spans nearly 100 years, the perennial, nearly universal appeal of hot-dogs and the consistent strong product reviews Nathan's earns.
Customer concentration - The licensee meat producer, John Morrell & Co, accounts for approximately 22% of licensing revenue (2nd most within license revenue stream), which in isolation is not noteworthy; however John Morrell sold nearly 100% of that volume to one customer (Sam's Club). In addition, approximately 59% of the Branded Product Program revenue is from five accounts. In all instances the underlying contracts are relatively short-term contracts. Mitigated by hard-to-replicate product quality; growth in overall volume in the BPP & Licensed segments which will prospectively diversify their customer base.
Deep-pocketed competition – The two heavy-weight hot-dog brands in the US market are Kraft's Oscar Mayer and Sara Lee's Ball Park National, both of which have corporate parents with greater financial clout and strong marketing abilities. Leading market-share is perennially controlled by these 2 producers; however from 2003 to 2007 Nathan's increased its market share from 3.6% to 5.4% in US supermarkets. Additionally ConAgra's Hebrew National brand competes strongly too, though focused on the niche kosher market. Mitigated by the iconic status NATH enjoys from annually hosting the #1 hot-dog eating contest in the world, its low-risk strategy that seeks to avoid head-on competition and its hard-to-replicate, high quality products.
Detailed Valuation
I also valued NATH using a discounted cash flow (aka DCF) approach in order to pressure-test the multiple-based valuation. I modeled a DCF with a 10.5% discount rate and normalized growth rates which yielded $18.03 per share, adding the pro-forma cash balance of $4.98/sh this yields an intrinsic value of $23.01. This is within range of the multiple-based valuation of $22.97.
Summary of Research Performed
Analysis of past filings, including proxy statements and annual shareholder letters
Market research of product sales through grocery channels
In-store visits (1 company owned restaurant, 3 franchises, 2 food-service locations, several grocery & club stores)
General industry research, including historical failures, on franchising & meat-branded products
General industry research on main competitors
Discussion with management (i.e. CFO)
This research has been published as part of my pursuit to secure a full-time research based position; if you know of any opportunities please let me know. Many thanks.
Disclosure: I am long NATH.