A recent study conducted on the articles published on Seeking Alpha by its contributors sought to extract the accuracy of the sentiments therein compared to that of the Wall Street Journal. The research performed at Purdue University by Professors Prabuddha De, Yu (Jeffrey) Hu, Byoung-Hyoun Hwang and doctoral student Hailiang Chen set out to answer the questions:
Do articles on Seeking Alpha, the leading financial social media website, contain quantifiably valuable information for investors?
Is Seeking Alpha more or less valuable for investors than traditional media outlets, such as the Wall Street Journal?
I thought it was a remarkable observation and thoughtful analysis. It forced me to revisit my own article about the importance of investment analysis; particularly those offered by the "pros" as they are called. In that article, I asked the question
Do you value the opinion of others more than your own; specifically those that offer opinions on the stocks in which you are interested?
I think this question borders on the same light as what professor Chen and his team brought to our attention. The summary of their article concluded that the findings suggest that the market opinion and analysis from the over 3,000 contributors featured on Seeking Alpha provide useful information beyond the financial news coming out of mainstream media outlets.
Professor Chen and his team are absolutely right. There have been numerous articles written by the so called mainstream media that have been either highly negative or positive about a stock that has resulted in the opposite outcome. Whereas, articles written by Seeking Alpha contributors (based on my own findings) have outperformed what has been produced by mass media; whether on TV or print.
Here are a couple of examples: On April third, an article was published by fellow contributor Rocco Pendola entitled "Why I'm Selling Apple". He started with the article by stating:
AAPL closed at $344.56 on Friday in a week that saw it range from a low of $343.30 to a high of $354.32. While I hardly view the stock as a worthy short candidate, I don't believe the payoff from continuing to hold the shares will match the upside I have already seen.
From the volume and sentiment of the comments, Rocco took a lot of flak for his position. In his article, he pointed to where Apple (NASDAQ:AAPL) has possibly reached its peak at $354 and had called for a decline. Incidentally Apple closed yesterday (4/15) at $327 for a decline of 7.62% since his recommendation to keep up with the theme and the study conducted by Professor Chen, let's just round that number up to 8%.
click to enlarge images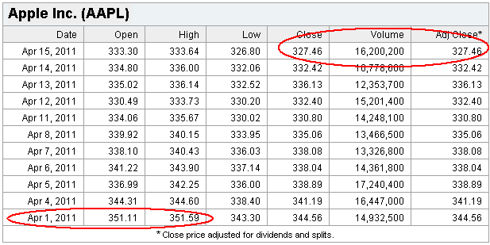 Click to enlarge
But looking back we can see that he was right where many from the mainstream media remained bullish.
Let's use Sirius (NASDAQ:SIRI) as an example. In the onset of its remarkable recovery during the last two quarters of 2009, you can see on the chart below that one prominent rating firm, Smart Consensus, had a hold rating on the stock. They maintained the hold rating from October 2009 through August of 2010. Now to be fair, one can define the term "hold" as "maintaining your current position". This would translate to those who currently do not have a position in the stock as a "don't buy" signal.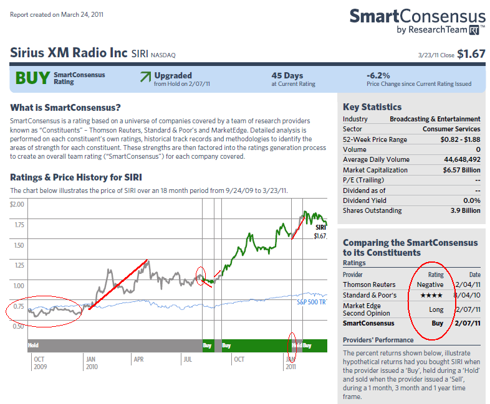 Click to enlarge
During the coverage initiated hold, SIRI traded at $.75 cents. At the peak of the coverage span, SIRI reached a high of $1.25, or a gain of 50% in value. As you can see by the lines and circles in the chart, there were periods where they changed their opinion and the stock took the opposite trajectory. They recently initiated a buy rating on SIRI at its current high of $1.88.
Since then, the price has regressed to $1.67, or below its 50 day moving average of $1.70. Instead, had they initiated a sell or hold at the $1.88 mark, many traders or new investors to the stock would have been better off waiting for a better entry point. This is not intended to beat up on Smart Consensus, but rather point out the incorrectness that often lies in the opinion of many analysts.
One final example to support the findings of Professor Chen's research requires that I revisit an article I had written about the process of re-shuffling my portfolio. I pointed out that in the process of reshuffling these positions, I held true to form and follow precisely the same trading game plan that I have outlined in several commentaries provided over the past year. In my approach, I took particular importance of the current market reaction to the events of Japan.
At the time, it was evident that consumer discretionary stocks as well as techs took a severe beating. In fact, equities that rely on discretionary spending were down sharply for most of the year. But that was to be expected in light of rising gas prices as well as mounting concerns over events in the Middle East. In adjusting to these realities, I recommended the following stocks. On the long side, there were ATML, CSCO, GLW, ORCL and NUAN. On the short side, I recommended LPS and ORCC. Let's take a glance at how they've performed.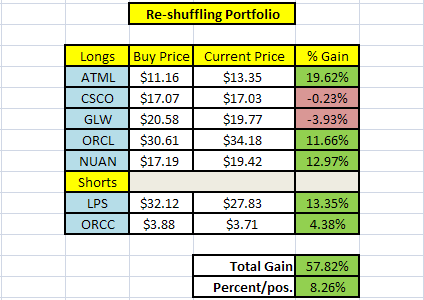 I have to say that I am pleased so far with their performance. What is interesting is that in glancing at the graphic above, in the box titled "percent/pos." or average percentage gain, it is a remarkable 8.26% or in this case we can round it down to 8% to keep the theme consistent with Professor Chen's research.
Summary
It is true that I did not disclose the weight of each position in the portfolio. Relative to the overall net gain, this information definitely would matter. But in the overall theme of the research, it would matter very little. I thank Professor Chan and his team for this study and as they sought to answer a couple of simple questions…
Do articles on Seeking Alpha, the leading financial social media website, contain quantifiably valuable information for investors?
Is Seeking Alpha more or less valuable for investors than traditional media outlets, such as the Wall Street Journal?
The answer is very clear: Yes!
Disclosure: I am long SIRI, CSCO, GLW, NUAN, ATML. I am short ORCC and LPS. I have no position in AAPL.