I believe that Haliburton (NYSE:HAL) represents a sound choice to capitalize upon the ongoing boom in the oil service sector.
HAL one-year price and volume (click to enlarge image):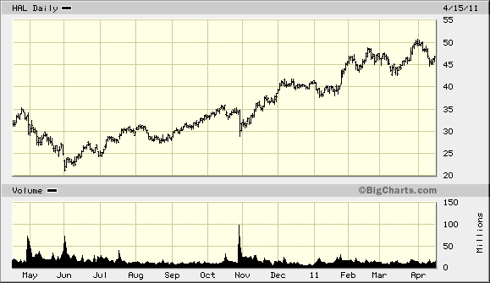 HAL is the second largest oil service company in the world, behind only Schlumberger (NYSE:SLB). The company has recently concentrated efforts to become a pure oil service firm, divesting their Kellogg, Brown and Root construction arm.
My investment thesis entails several key premises:
The Oil and Energy sector is in a secular uptrend that will continue for at least another two years.
Haliburton has and will maintain a solid balance sheet and strong operating cash flows.
Earnings per share will continue to ramp up as the oil and gas boom expands. Management will continue their recent track record by meeting or beating analyst EPS forecasts.
The company will maintain their dominant footprint in North America. This will enable them to become a leading service provider in the Bakken shale play and various N. A. unconventional gas activities.
Let's review the fundamentals and technical charts for additional insights.
FUNDAMENTAL ANALYSIS
The company has notable divergence in its valuation metrics. However, on balance, Haliburton couples a several strong value measures with a very strong growth story.
When evaluating equity investments, I like to start by reviewing the balance sheet. Here is a strength. Haliburton maintains a sound debt-to-equity ratio of 37 percent. Return on equity and return on assets are 19 percent and 10 percent, respectively. These are both acceptable figures on an absolute basis and stack up well versus industry peers. The current ratio of 2.9 is very strong; indeed perhaps a bit too liquid. This is somewhat offset by the fact that the balance sheet shows only $2.25 a share in cash, or about $2 billion.
Long-term debt has been stable after bumping up in 2009.
Benjamin Graham used to calculate the equity / asset ratio as an initial screen for value stocks. Graham considered a figure greater than 0.5 a plus. HAL sports a E/A ratio of 0.57.
Analyzing the cash flow statement offers a bit more color.
Operating cash flows are strong and have demonstrated a general upward bias. However, capital expenditures have been rising even faster. Capex has increased every year since 2002. In fact, FCF (free cash flow) for 2010 was only 15 cents per share: not enough to even cover the modest dividend. The company is attempting to cement its leadership in North America, battle Schlumberger globally, and make inroads to Iraq. While management pursues business growth aggressively, investors seek investments that translate to results. Return on capital employed (ROCE) is a key metric to watch. For all of 2010, the ROCE was about 14 percent. Certainly an acceptable return.
The income statement is where the entire narrative gels.
Despite the recent run-up in stock price, Haliburton still looks cheap by the numbers. The current P/E is 24, but that's not where to focus. Consensus 2011 earnings are forecast to be $2.85 per share or 16 X earnings. The 2012 EPS is $3.51, a 23 percent improvement. The five-year earnings per share CAGR is projected to be 19 percent. Indeed, while no analyst forecasts can be taken as gospel, I am willing to accept the next two years' EPS targets: HAL management has beaten the numbers six of nine quarters going back to 4Q 2008. Not a bad track record.
Utilizing the dynamic EPS projections, the five year PEG equates to 0.8. Anything lower than 1 is considered a good value metric.
So what are the negatives?
Well, the price to cash flow is 15. A value investor seeks P / CF less than 10. Price to book is 4.0; certainly not a value metric. The dividend is a pedestrian 0.77 percent, though this is mitigated by the five-year dividend growth rate of 8 percent. The Graham Number indicates a fair value of $17.34 a share. Conversely, the enterprise value (market cap + debt – cash) is $48.94.
TECHNICAL CHARTS
Since Novmeber of last year, Haliburton stock has followed a trendline north. Last week, the stock broke above the 50-day moving average. On balance volume is pointed in the right direction. That indicates the institutions are stepping up. This is important: 80 percent of HAL's investors are institutions.
On the other hand, the MACD and slow stochastic remain weak. Nonetheless, watching previous chart action, each time these indicators kissed the "zero" line or flashed the "overbought" signal, the stock price bounced back and resumed along the upward trendline.
Therefore, while I favor the fundamentals, a review the charts shows nothing ominous.
THE NEWS WIRES
Haliburton announces 1Q 2011 earnings on April 18. Some of the April selling pressure may be related to management's warning that first quarter EPS will be negatively impacted by inclement weather in North America and general disruption in the Middle East. For the patient investor, a downturn based upon these transitory issues is a Buy signal.
The fallout from the Deepwater Horizon incident remains another overhang. While the potential for significant litigation and damages are real, my view is that HAL's contract will BP will enable the company to avoid most claims. The indemnification language found in such contracts are usually quite strong: requiring proof of Gross Negligence or Willful Misconduct to trigger a loss of protection.
On the positive side, Haliburton is the leader in oilfield services in North America. Expansive drilling in the Bakken area and unconventional gas plays throughout the region bode well for the company. Recent contracts with ExxonMobil and Statoil are additional short-term positives.
THE BOTTOM LINE
Haliburton is a best-of-breed stock in the right Sector (Oil and Energy) and the right Industry (Oil Services) today. A strong balance sheet and promising forward EPS projections position the company's stock to rise in a secular trend that should last at least another two years. Management has demonstrated a penchant for beating the Street during earnings season.
These facts offset some questionable valuation metrics. For instance, price to cash flow and price to book ratios appear rich. Free cash flow is weak, but this is due to remarkably high capex, not lagging operating cash.
While HAL is not a pure value play, an investor is compensated by the robust future earnings potential.
Short-term issues around quarterly earnings are background noise. I believe the Deepwater Horizon tragedy will take several years to play and ultimately not damage the company's finances.
Assuming a 2011 EPS of $2.85, and a 19X multiple on the stock, I project a short-term (less than one year) target price of $54 a share. Weakness associated with management's discussion of first quarter earnings reduction presents an opportunity to Buy, not Sell.
Placing a 17X multiple on 2012 earnings of $3.51, I envision a twelve to eighteen month pricetag of $60 a share.
This offers an investor a 28 percent upside, plus a modest dividend that will add another one or two percent.
Risks include prolonged negative geo-political risks in the Middle East, oil prices escalating so high and so fast as to curtail demand and reduce production activity, the company over-extending its capital program to the detriment of prudent ROCE, the ongoing overhang with respect to the Deepwater Horizon incident, and U.S. regulatory risk over longstanding oil production fracturing techniques.
Disclosure: I am long HAL.