The Utility sector is a favorite for investors seeking reliable dividend income. However, this sector has been under performing the market lately. This is typically the case during a general business expansion. Utilities shine brightest when the economic cycle is in reverse and into the recession phase.
Higher interest rates and improving economic growth tend to put a drag on this sector.
Nonetheless, there are exceptions. I believe one such exception is American Electric Power (NYSE:AEP).
Company Overview
American Electric Power is one of the largest electric utilities in the United States, delivering electricity to more than 5 million customers in 11 states. AEP ranks among the nation's largest generators of electricity, owning nearly 38,000 megawatts of generating capacity in the U.S. AEP also owns the nation's largest electricity transmission system, a nearly 39,000-mile network that includes more 765 kilo volt extra-high voltage transmission lines than all other U.S. transmission systems combined.
American Electric Power is the largest coal-burning utility in the U. S. While a lightning rod for environmental activist organizations, AEP provides low-cost power to residential and industrial consumers throughout the U. S. mid continent region and Virginia.

American Electric Power (AEP) One-year price and volume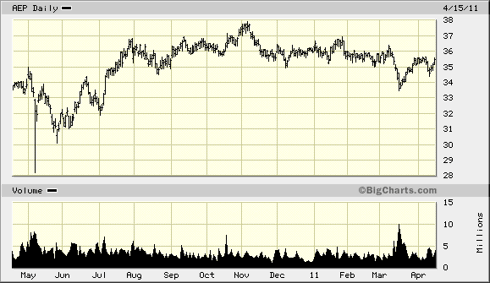 click to enlarge
Industry Position
First, here is a brief overview of AEP versus some other popular U. S. utility companies such as Consolidated Edison (NYSE:ED), PPL Corp. (NYSE:PPL), UIL Holdings (UIL), Pepco Holdings (NYSE:POM) and Progress Energy (PGN). My list is intended to be illustrative not exhaustive:
| | | | | | | |
| --- | --- | --- | --- | --- | --- | --- |
| | | | | UIL | | PGN |
| PE (ttm) | 14 | 15 | 12 | 19 | 30 | 16 |
| Div. Yield | 5.2% | 4.7% | 5.2% | 5.7% | 5.8% | 5.3% |
| Div. Gr. Rate | 3.8% | 0.8% | 7.8% | nil | 1.6% | 0.8% |
| 2010 EPS | $3.03 | $3.45 | $3.13 | $2.04 | $1.24 | $3.06 |
| 2011 EPS | $3.13 | $3.55 | $2.64 | $1.90 | $1.20 | $3.12 |
| 2012 EPS | $3.25 | $3.69 | $2.44 | $2.16 | $1.30 | $3.24 |
| Beta | 0.6 | 0.3 | 0.5 | 0.8 | 0.5 | 0.4 |
NOTES:Dividend Growth Rate = 5 year avg. annual GR
EPS figures are Operating Earnings.
2011 and 2012 EPS are consensus estimates.
Based upon this screen, AEP combines a low current P/E multiple, high yield, strong history of raising the dividend, increasing EPS estimates, and a low beta.
Let's look deeper into American Electric Power.
Fundamentals
AEP has a typical electric utility balance sheet: high debt, high debt-to-equity ratio, decent ROE and ROA, and ample liquidity. The debt-to-equity ratio of 139 percent is a bit higher than I'd like to see, but not out-of-line with industry peers. Long term debt has remained about flat for the past three years.
Cash flows remained strong even throughout the Great Recession. Operating Cash has hovered in the $2.4 to $2.7 billion range between 2006 and 2010. The five-year Cash Flow growth rate has been about four percent a year.
AEP has raised the dividend each year since 2004, with the exception of 2008 and 2009 when they kept it level. The cash dividend resumed its upward climb in 2010. The YoY increase was 4.3 percent.
Operating earnings tailed off in 2010, partly due to higher operating and maintenance expenses. Revenues had been largely flat going back five years. This is forecast to change. Forward revenues and earnings are projected to increase by 4 percent a year. The combination of pedestrian past growth and improving forward growth offers the platform that I believe can drive decent capital gains for the company stock.
Technical Charts
Since last July, the stock price has flat-lined; stuck in a $35 to $36 range. Occasional breakouts up or down have been short-lived. The stock returned to the range within weeks.
The stock has tried to stay above its 50-day moving average. Indeed, it's hovered around this line without breaking above it for months. This tends to be a bearish signal. On another bearish note for technicians, the 50DMA crossed the 200DMA in late March.
The MACD (moving average convergence / divergence) indicator has been neutral to negative during this same time period.
Several other technical studies all look neutral.
Recent Company News
American Electric Power has made the news sporadically.
They are named as the defendant in the upcoming U. S. Supreme Court decision where the High Court is being asked to throw out a lower court ruling that certain environmental activist groups can attempt to force carbon emitters to reduce or eliminate emissions through the judiciary system. Interestingly enough, even the Obama administration has sided with the utilities: such regulation and enforcement should be left up to the legislative and executive branch of government, not the courts.
There are also some key rate cases coming up in 2011. One of the most significant of such cases involve the AEP subsidiary in Ohio.
On a positive note, American Electric Power management has restated their intent to meet previous 2011 EPS guidance. This re-affirmation did little to move the stock price.
Bottom Line
The Utility sector is not my favorite sector now. However, a diversified portfolio is always in style, and most utilities pay the investor to wait.

American Electric Power combines a relatively high yield with reasonable growth. The Company has a typical electric utility balance sheet, steady cash flow, and rebounding forward revenue and earnings projections. The technical charts are neutral to slightly negative.
Placing a modest 13X multiple on this stock, I envision a 2011 price target is $40 or $41 a share. This represents a a 14 percent upside coupled with a generous 5 percent yield. Follow-on 2012 earnings indicate additional modest growth that could push this stock to $43 to $45 a share.
Risks include a spike in interest rates (generally bad for heavy-debt businesses like utilities), negative responses from state utility commissioners for upcoming rate hike requests, and new regulatory constraints promulgated by activists or the Federal government; particularly involving the use of coal.

Disclosure: I am long AEP.