If you're tired of living in a chronic state of "information overload," we feel for you! It seems the investment news and commentary never ceases.
But the good news is we're jumping into the mix to help out.
Following from the adage that "A picture is worth a thousand words," we're going to select a handful of graphics to put each week's investment news into perspective for you.
Say goodbye to long-winded commentary and hello to easy to understand pictures.
1. Bring On the Budget Battles
For any business to survive, the "innies" must exceed the "outies." Our government, however, has failed to learn this simple economic truth. Although politicians averted a government shutdown last Friday, the problem is hardly fixed. Click to enlarge: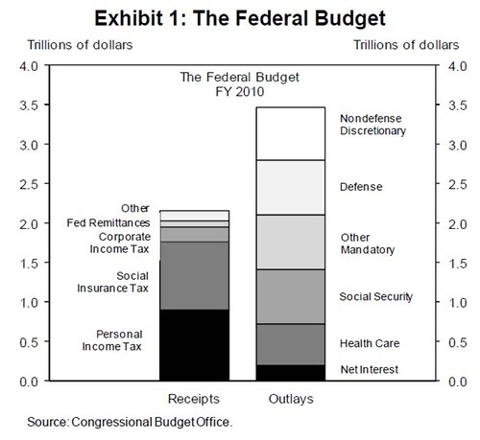 Click to enlarge
2. Pain at the Pump, Part II
Oil might not be trading near the 2008 record high of $145.29 per barrel. But the same can't be said about gasoline prices, based on this analysis from Bespoke Investment Group. The pain at the pump heading into this summer driving season could be prove to be déjà vu all over again. Click to enlarge: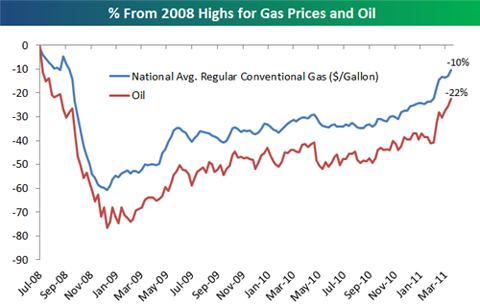 Click to enlarge
3. Buy Low, Sell High
Forget about arguing whether or not this bull market will charge higher. If you're putting new money to work, you want to buy cheap assets. According to the numbers from Bespoke Investment Group, that means buying stocks in the technology and consumer discretionary sectors. They're benefiting from nice price momentum, but still are cheap based on price-to-earnings ratios. Click to enlarge: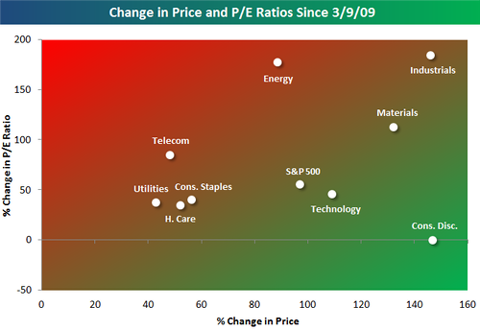 Click to enlarge
4. Inflation Rears Its Ugly Head
The latest data from the Labor Department confirmed inflation is alive and well. Consumer prices are up 2.7% over the 12 months. Of course, that's just the average. Here's a closer look at the items you can expect to pay more (or less) for in the coming months.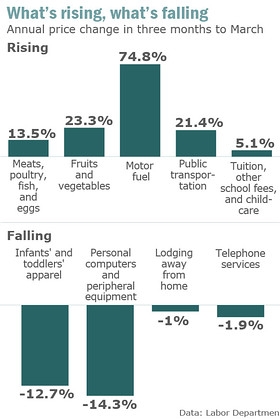 5. Go Global or Go Broke
The latest presentation from Niall Ferguson, Professor of Economic History at Harvard University, pretty much sums up why diversification is a must. Future growth (population and economic) is clearly headed east. Click to enlarge: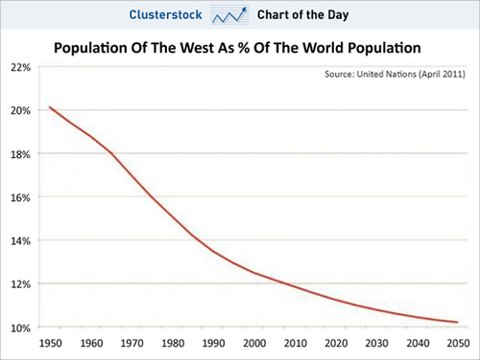 Click to enlarge