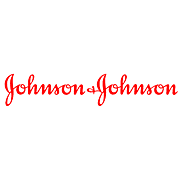 Johnson and Johnson (NYSE: JNJ) and its subsidiaries are engaged in the research and development, manufacture and sale of a range of products in the health care field. It has more than 250 operating companies conducting business in 60 countries worldwide. The company is organized into three business segments: Consumer, Pharmaceutical and Medical Devices and Diagnostics.

Sales, Earnings, and Free Cash Flow
| Years | Revenue (in millions) |
| --- | --- |
| 2006 | 53,324 |
| 2007 | 61,095 |
| 2008 | 63,747 |
| 2009 | 61,897 |
| 2010 | 61,587 |

The picture of JNJ's revenue looks bleak at first glance. Decreasing total sales since 2008, with the past year decreasing 0.5% (though this number is skewed by a 53rd week in 2009). There's no doubt that this is worrying, since revenue growth is the basis for all other growth over time. But if we break down the numbers, international sales are still on the rise; it is US sales that are dragging.

Internationally, sales have continued to grow over the past 5 years, averaging 7.7%, while US sales have averaged only 0.7% in that time. For the most recent year, international sales were up 3.6%, while the US was down 4.7%. US sales have taken a one-two punch from the combination of health care reform and persistent recalls, many stemming from the troubled McNeil Division. The Wall Street Journal estimates JNJ has lost over $900 million in US sales due to the recalls, and with the most recent one coming just last week (57,000 bottles of Topomax) one wonders when JNJ will get its act together.

click to enlarge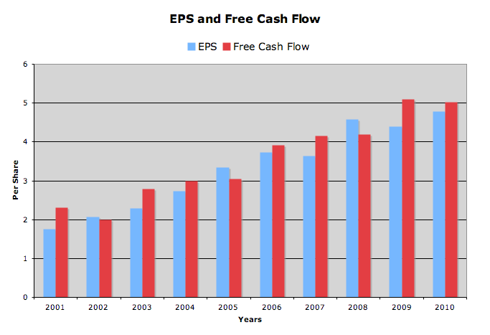 Earnings growth has averaged 11.7% over the past decade, and even after last years poor sales, EPS managed to grow by 9.3%, This came mostly from higher operating and net margins, as the number of outstanding shares decreased by only 0.01% last year. Analysts expect $4.83 in 2011 and $5.12 in 2012, growth of 1% and 6%, respectively. 5 year growth is estimated to be 5.8%, though I would put that at the high end, unless JNJ can start increasing revenue, and the Republicans can repeal some of the costs associated with Obamacare.

Free cash flow has had similar growth, averaging 8.9% over the past decade, although 2010 saw a slight decrease of 1.4%, from $5.09 to $5.02 a share. Still, JNJ produced 14 billion in free cash flow, giving the 5.8 billion dollar dividend plenty of room for growth.

click to enlarge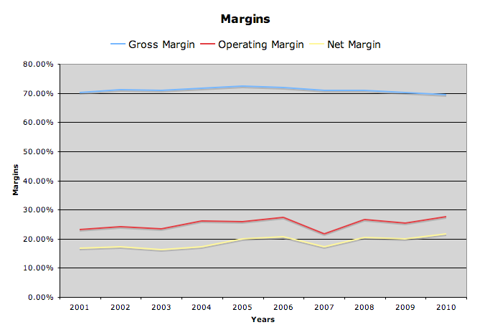 Margins have remained very steady over this tumultuous time for JNJ. Though gross margin decreased slightly this past year, from 70.2% to 69.5%, both operating and net margins grew in 2010. 10 year average margins are as follows Gross - 70.9%, Operating - 25.1%, Net - 18.7%.

Dividends

JNJ's dividend history is one to be admired, having 48 years of consecutive increases. The most recent increase in the quarterly payout was in April of 2010, when the dividend was increased from $0.49 to $0.54 a share. I expect an announcement of another dividend increase coming up soon. Click to enlarge: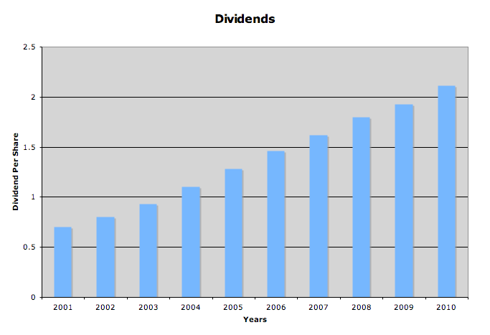 Dividend growth has averaged 12.9% over the past decade, and 2010's dividend of $2.11 a share was an increase of 9.3% from 2009's $1.93. Dividend growth has slowed over the past few years, which is most likely a combination of the weak financial performance, and simply the size of the dividend. A 15% increase on a $2 dividend is a $0.30 raise per shareholder. The same increase on a $0.20 dividend is only a $0.03 raise. So as the dividend grows larger, I expect its yearly percentage increase to go down.

If we assume a roughly 9% increase in 2011, this would be an annual dividend of $2.30. At the current price of $60.56, this is a future yield on cost of 3.8%.

Balance Sheet
JNJ keeps a clean balance sheet. Debt is only 22.8% of capital employed, and the current ratio is a solid 2.1. Interest coverage is a healthy 37.2, and with 19.4 billion in cash on the balance sheet, they should have no problems covering the roughly $777 million of obligations due in 2011.
click to enlarge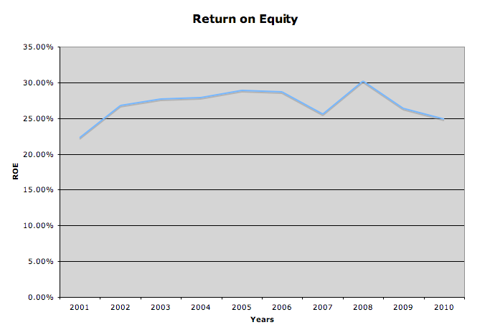 Return on average equity has stayed incredibly stable over the past decade, keeping above 25% for the majority of the time. With very low debt, and average equity growth of 9.8%, this is an impressive ROE. 2010's ROE dipped slightly below that 25% barrier, though only to 24.8%, still an acceptable return.

Stock Price Valuations

Current Price - 60.56
5 year low p/e - 14.1

p/e (ttm) - 12.7

p/e (forward) - 12.5
5 year high yield - 3.3%

current yield - 3.5%
Conclusion

There is no doubt that JNJ is a great company, and one that has done well by it's shareholders for a very long time. There is also no doubt that JNJ is in a very tough spot right now, and it's returns have been trailing, especially for the past year. It's getting to the point where they can no longer cover up the lack of business growth with share buybacks and increased dividends: JNJ needs to grow, or the already punishing share price will only get worse. All this, and Bill Weldon is still up for a raise.

Whether or not you purchase JNJ truly depends on your faith in the company. At the moment, there are other healthcare companies out there with higher yields, faster growth, or both - Abbott (NYSE:ABT) comes to mind, as does Becton, Dickinson (NYSE:BDX). But if you are a true contrarian, JNJ may be the perfect buy - strong financial position, long history of dividend growth, historically low p/e and high yield, and diversified operations around the world. I am long JNJ, and continue to increase my position. Is JNJ the dividend investors dream, or fool's gold?

Disclosure: I am long JNJ.