In this first issue my blogs dedicated to the end of QE2, I focus on the flows of US Treasury purchases according to the nature of flows and investors. The theoretical background of QE on investors' portfolio rebalancing is not straightforward. The impact of quantitative easing on asset prices can go through two broad and opposing channels:
Risk Exposure

(imperfect substitutability of assets): According to the portfolio-rebalancing view, the reduced supply of public bonds increases the exposure of investors to riskier assets (whose return are pro-cyclical). This may translate into

higher

risk premia for stocks and low-grade corporate bonds

(assets whose returns co-vary positively with consumption make consumption more volatile, and thus need to provide higher expected returns to entice investors).

Expected Returns

: Fed purchasing of bonds for excess reserves reduces the total risk exposures of investors (reserves instead of duration-risk-exposed bonds) that are therefore willing to diversify in riskier assets => lower risk premia for risky assets.
There is no clear-cut ex ante impact expectation, but empirical analysis can provide some insight into what happened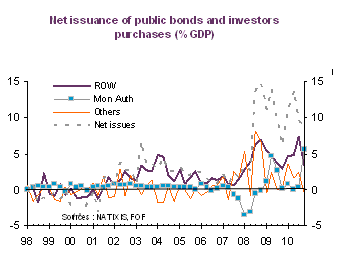 A quick look at the first above shows that (1) the Fed is not a natural (strong) buyer of Treasuries ; (2) since 2008 the average purchase of UST by foreigners is close to 5% of GDP ; and (3) others – mutual & pensions funds + banks & brokers - bought massively in 2008, and have been out since 2009. The second chart highlights that in 2009 the gap between domestic financial institutions purchases and the net issuance excluding the rest of the world (ROW) purchases widened significantly.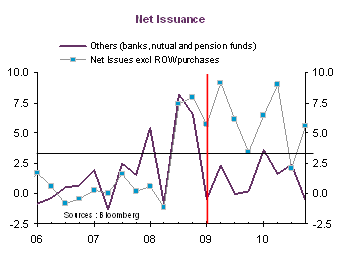 The gap has been filled by the Fed, as is well-known and visible below. The first chart shows that net issuance excluding Fed and ROW purchases is currently close to zero. It raises the following questions: Will foreigners buy more UST when the Fed stops purchasing? Or will domestic institutions take over? If we assume that things will remain as they are, there will be a 5% GDP shortfall of UST demand.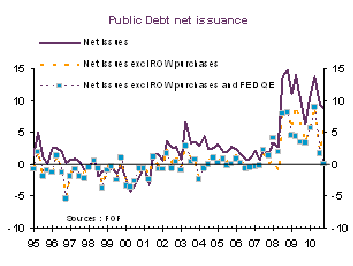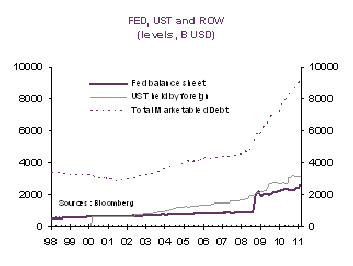 The second chart above shows notes based on levels of UST holdings. This is an important distinction. For Plosser (Federal Reserve Bank of Philadelphia Shadow Open Market Committee, March 25, 2011, New York, New York):
Many advocates of the asset purchase programs have argued that these programs mainly influenced long-term rates by changing the amount of these assets in the hands of the public — the so-called stock effect — and not through the flow or pace of purchases.
The stock effect (Flow and Stocks effects of Large-Scale Treasury Purchases, Stefania D'Amico & Thomas B. King. Fed paper September 2010) is based on the expectation of achange in the nature of the demand for Treasury bonds (fed purchases). It should lower interest rates permanently. This is even more significant, since investors have a so-called "preferred habitat" (for instance, pension funds are natural holders of long duration bonds and would not shift towards short term notes). The flow effect is analyzed through event studies and analysis of the current "response of prices to the ongoing purchase operation and could reflect… impairments of liquidity."
Empirical analysis shows that the stock effect is much stronger (a range of 30/70 basis points – see our next paper for econometric analysis) over the life of the program. Ending QE2 will not destroy liquidity (stock of bonds held by the Fed), but will reduce the flow of purchases.
A stock effect combined with a 5% shortfall in UST demand suggests an upward trend in 10-year UST yields in the second half of the year. Our next paper will show that any quantitative assessment requires controlling for the many factors that influence long term interest rates levels and term premium.
Disclosure: I have no positions in any stocks mentioned, and no plans to initiate any positions within the next 72 hours.