I have created a diversified, high-yielding portfolio comprised of stocks, preferred stocks, ETFs, and closed-end funds. This portfolio has a current yield of 8.5% and is constructed to provide nice risk-adjusted returns. The performance of this portfolio will be updated every quarter going forward, and its total return will be compared to that of the S&P 500 (NYSEARCA:SPY). All of the holdings are detailed below.
Portfolio Summary
This high-yielding, diversified portfolio features 19 different holdings:
1. OTCPK:AESAY - Aes Tiete SA – Brazilian utility company - AES owns and operates ten hydro power plants in the state of Sao Paulo. This recent Seeking Alpha article highlights the motivation for owning this investment:
The economy is projected to grow by 5.5% this year. Currently, plenty of opportunities abound at attractive prices for long-term and yield-hungry investors. Those looking to gain some exposure to Brazilian equities can consider the fast-growing electric utility sector as this sector benefits strongly from economic growth. Brazil has the third largest electricity sector in the western hemisphere after the U.S. and Canada.
2. ARR – Armour Residential REIT – US REIT - Focused on investing in Agency residential mortgage-backed securities. ARMOUR's residential mortgage-backed securities portfolio consists of hybrid adjustable-rate, adjustable-rate and fixed-rate residential mortgage-backed securities issued or guaranteed by the United States Government-chartered entities.
Definitely the riskiest holding in this portfolio, but I believe to be well compensated for the risk with a 20% yield. ARR has recently completed two secondaries in the last few months. ARR makes its money based on the shape of the yield curve (borrows short term, lends long term). Given the near historic highs of the yield curve (as discussed here ), ARR is well-positioned (at least in the short term) to maintain its robust yield.
3. CQP – Cheniere Energy MLP – MLP - Houston-based energy company primarily engaged in LNG-related businesses.
CQP was trading at 20+ up until a few months ago. Centerbridge Partners, made the claim about a month ago that a Cheniere subsidiary is in default on its senior debt notes. The stock price dropped significantly to 15 the following day, and has rebounded somewhat to 18. Prior to the claim from Centerbridge, CQP re-affirmed its annual dividend of 1.70. I see no reason why CQP will not pay 1.70 this year. At its current price, CQP is yielding 9.35%.
4. CHK+D – Chesapeake Energy Preferred - The second-largest producer of natural gas, a Top 20 producer of oil and natural gas liquids and the most active driller of new wells in the U.S., CHK+D is a convertible preferred, and does not have a regular call price. 1 share of CHK+D can be converted to 2.264 common shares. The current payout is $4.50 per year with a yield of 4.6%.
I'm a big fan of convertible preferred stocks (as is Warren Buffett). They provide you with downside protection based on a pre-determined payout amount (i.e. the yield will never get too high), are senior to common stocks, and provide you with upside if the common stock ends up moving significantly upwards.
5. DX – Dynex Capital – REIT - a real estate investment trust, which invests in mortgage securities and loans on a leveraged basis. The company invests in mortgage-backed securities (MBS) issued or guaranteed by a federally chartered corporation.
As discussed with ARR, the historic yield curve and the payout near 11% is justification for owning this stock.
6. HLM+ - Hillman Group Capital Trust – A leading value-added distributor of fasteners, key duplication systems, engraved tags and related hardware items to over 20,000 retail customers in the United States, Canada, Mexico and South America.
HLM+ is the only preferred stock I own which cannot be converted into common shares. HLM+ temporarily suspended its divy at the end of 2008 during the height of the financial disaster. About 6 months later, they reinstated the monthly payment and paid out all accrued dividends during the 6 month hiatus. The juicy dividend of 10% and monthly payouts are reasons that I own this stock.
7. LEG – Leggett And Platt - An international diversified manufacturer that conceives, designs and produces a range of engineered components and products found in many homes, offices, retail stores and automobiles.
LEG can be found on almost any "divided champion" list. Yields 4+% at these prices.
8. NHC+A – National Healthcare Corporation - NHC provides services to 76 long-term health care centers with 9,548 beds. NHC affiliates also operate 36 homecare programs, six independent living centers and 15 assisted living communities. NHC's other services include Alzheimer's units, long-term care pharmacies, hospice, a rehabilitation services company, and providing management and accounting services to third parties. Callable at 15.75 and convertible to 0.24204 shares at the common stock price of 65.07.
Please refer to my commentary under CHK+D for reasons I own this stock. This stock gives my portfolio some exposure to the healthcare sector.
9. OTCQX:PMGYF – Perpetual Energy Inc - The company focuses on generating revenue through finding, exploiting, producing and marketing oil and gas-based energy.
A CANROY that pays out monthly dividends and gives you exposure to the Canadian dollar. The most recent payout had an annualized dividend of 8.8% gross of the 15% foreign tax. Even though most of its revenues are tied to natural gas, the recent uptick in commodity prices should help maintain its divy and provide some nice capital gains.
10. PSEC – Prospect Capital Corporation – Financial - A financial services company that lends to and invests in middle market privately-held companies. The company is a closed-end investment company. The company invests primarily in senior and subordinated debt and equity of companies in need of capital for acquisitions, divestitures, growth, development, project financing and recapitalization.
Pays a monthly dividend which is currently yielding 10.5%. It should be noted that PSEC currently pays out slightly more than it makes (based on a comparison of dividend to net investment income), which makes it my second riskiest holding behind ARR. The recent secondary and historic dealflow over 300 million should push PSEC's annual net investment income above its annual dividend payout.
11. OTC:SOREF – Scott's Real Estate Investment Trust – Canadian REIT - Scott's REIT owns a geographically diversified portfolio of retail properties across Canada. As of December 31, 2009, Scott's REIT indirectly owned a portfolio of 207 income producing retail properties across Canada (the REIT Properties) with an aggregate of approximately 777,004 square feet of gross leasable area.
Provides exposure to the Canadian housing market and the Canadian dollar. The Canadian housing market is much more regulated relative to the US, and as a result, there was no significant downtick in housing prices in 2008 and 2009 across most of Canada. Pays a monthly dividend and yields 11.5% gross of the 15% foreign dividend tax.
12. GLAD – Gladstone Capital Corporation - a closed-end, non-diversified management investment company the company focuses on achieving a high level of current income by investing in debt securities, consisting of senior notes, senior subordinated notes and junior subordinated notes of private businesses that are substantially owned by leveraged buyout funds, individual investors or are family-owned businesses, with a focus on senior notes.
Recently confirmed its monthly payout of 0.07 for the second quarter of 2011. Cut its dividend from 0.14 to 0.07 in 2009 during height of the financial crisis. The most recent financial reports show that GLAD more than covers its dividend with its net investment income.
13. HAV – Helios Advantage Income Fund - a diversified, closed-end management investment company. The fund seeks a high level of current income. The fund seeks capital growth as a secondary investment objective. It invests a majority of its total assets in below-investment-grade debt securities. The fund also may invest in investment grade debt securities, up to 15% of its total assets in foreign debt and foreign equity securities, and up to 25% of its total assets in domestic equity securities, including common and preferred stocks.
It pays a monthly dividend of 0.06, and currently yields 9.4%. The top 10 fund holdings are:
| | | |
| --- | --- | --- |
| U.S. Steel Corp. | Basic Industry | 1.9% |
| Citizens Communications | Telecommunications | 1.8% |
| Global Crossing Ltd. | Telecommunications | 1.7% |
| Windstream Corp. | Telecommunications | 1.6% |
| U.S. West Communications | Telecommunications | 1.6% |
| Constellation Brands | Consumer Non-Cyclical | 1.5% |
| Huntsman International LLC | Energy | 1.4% |
| B&G Foods Inc. | Consumer Non-Cyclical | 1.4% |
| CCO Holdings LLC | Media | 1.4% |
| American Axle & Manufacturing Inc. | Consumer Cyclical | 1.4% |

14. HIH – Helios High Income Fund Inc - The profile is identical to HAV.
Pays a monthly dividend of 0.06, and currently yields 9.4%.
| | | |
| --- | --- | --- |
| U.S. West Communications | Telecommunications | 2.3% |
| U.S. Steel Corp. | Basic Industry | 1.9% |
| Windstream Corp. | Telecommunications | 1.8% |
| Citizens Communications | Telecommunications | 1.8% |
| AMC Entertainment Inc. | Services Cyclical | 1.6% |
| Global Crossing Ltd. | Telecommunications | 1.6% |
| Cablevision Systems Corp. | Media | 1.5% |
| Constellation Brands | Consumer Non-Cyclical | 1.5% |
| CCO Holdings LLC | Media | 1.5% |
| Service Corp. International | Services Non-Cyclical | 1.4% |
15. VKL – Invesco Van Kampen Select Sector Municipal Trust - The fund invests substantially in investment-grade municipal securities; it may invest up to 20% in municipal securities rated B or BB. It allocates assets primarily among the transportation, housing, health-care, and utilities sectors of the municipal securities market.
Pays a monthly dividend of 0.073 and is yielding 8.1%. Has increased its undistributed net investment income (UNII) from $0.02 per share on Jan 2009 to $0.22 per share on Dec 2010.
16. QQQX – Nasdaq Premium Income & Growth Fund - The investment seeks to provide stockholders with premium income and capital appreciation. The fund normally invests all of its net assets in a portfolio of investments designed to closely track the performance over time, before fees and expenses, of the Nasdaq 100 index. It uses certain option strategies, primarily consisting of writing Nasdaq 100 index call options, to generate premium income and reduce the volatility of the funds returns, with the intent of improving the fund's risk adjusted returns.
The current yield is 8.7% and trades at a slight discount (2.4%) to NAV.
17. CFD - Nuveen Diversified Commodity Fund - The fund's investment objective is to generate higher risk-adjusted total return than leading commodity market benchmarks, specifically the Dow Jones-UBS Commodity Index and the S&P GSCI Commodity Index, and passively managed commodity funds.
This is a good commodity play and features a current yield of 6.2%. Pays a monthly dividend.
18. RCS - Pimco Strategic Global Government Fund - This fund seeks to generate greater income than high-quality, intermediate-term U.S. debt securities while maintaining a comparably stable net asset value. It also seeks to maintain volatility in the net asset value of the shares comparable to that of high-quality. It invests primarily in a diversified portfolio of U.S. and foreign government securities. The portfolio is globally positioned, with normally at least 80% of net assets in government securities-bonds issued by governmental issuers located in no fewer than three different countries, including the United States.
It just increased their monthly dividend from 0.075 to 0.08. Approximately $0.52 of UNII.
Holdings Breakdown and Comparison to Benchmark
The table below summarizes the number of shares, payout frequency, dividend amount, if the automatic dividend reinvestment is enabled, the cost (here, cost is the number of shares owned as of 04/08/2011 multiplied by the closing price as of 04/08/2011), value (here, value is the number of shares owned multiplied by the closing price), yield on cost (total payout over one year divided by the cost), return (% change in value – cost). All dividends will be reinvested when possible. Total returns will be compared to SPY.
click to enlarge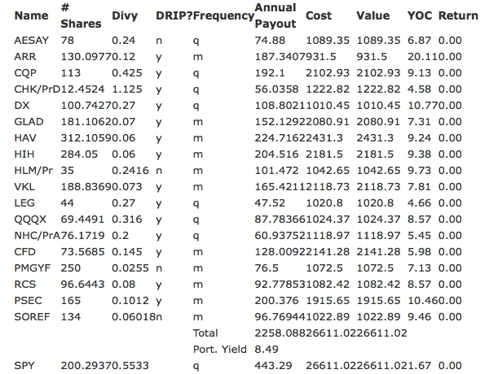 Disclosure: I am long OTCPK:AESAY, ARR, CQP, DX, GLAD, HAV, HIH, VKL, LEG, CFD, OTCQX:PMGYF, RCS, PSEC.
Additional disclosure: CHK+D, HLM+, QQQX, NHC/PrA, SOREF.PK, QQQX.