Each week I publish stocks to watch for the upcoming week as potential momentum trades. The stocks below all have a 50k minimum average daily share volume and traded at a 52 week high on strong volume, with a minimum of 2 times relative volume on Friday, April 15th. In addition, stocks were required to close Friday higher than the open price.

Last week's list returned an average of -1.44%, and if returns for the 2 leveraged ETFs on the list were excluded, the average return was -1.03%. Gold, precious metals, commodities and chemicals constituted a substantial portion of last week's list.
This week we also have 27 stocks and ETFs qualifying for the top momentum stocks. However, this week's momentum has switched to a mixed bag of industries with the highest concentration in drug and medical stocks.
Complete Genomics (NASDAQ:GNOM), which was on last week's list and returned 20.21% for the week, remains on this week's list. The share price of GNOM has made a parabolic move in recent weeks and remains in overbought territory:
click to enlarge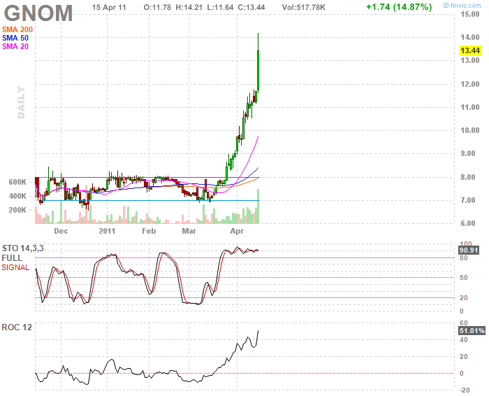 GNOM develops and commercializes a DNA sequencing platform for human genome sequencing and analysis. The stock began trading in November 2010, and while it has entered overbought territory, it is important to remember that stocks can remain overbought (or oversold) for extended periods of time.
Another familiar name making this week's list is Kraft (KFT). While I have concerns that rising commodity prices will impact the margins of food companies, the market has been shrugging off these concerns in the case of KFT and bidding the price to a new 52 week high on Friday. Part of the appeal may also be the dividend yield of KFT, currently at 3.48%, and relatively low volatility of the share price.
The following list is tracked real-time on the right hand side of Scott's Investments, along with the historical performance of previous week's lists:
Data and Chart Source: Finviz
| | | | | | |
| --- | --- | --- | --- | --- | --- |
| Ticker | Company | Industry | Relative Volume | Price | Change |
| (NASDAQ:MANH) | Manhattan Associates, Inc. | Application Software | 2.42 | 37.18 | 7.96% |
| (NYSE:KAR) | KAR Auction Services, Inc. | Auto Dealerships | 10.38 | 17.47 | 1.98% |
| (GNOM) | Complete Genomics, Inc. | Biotechnology | 5.36 | 13.44 | 14.87% |
| (NYSE:KNL) | Knoll Inc. | Business Equipment | 4.66 | 21.63 | 10.47% |
| (NASDAQ:MOBI) | Sky-mobi Limited | Diversified Communication Services | 2.67 | 15.53 | 6.37% |
| (CBST) | Cubist Pharmaceuticals Inc. | Drug Manufacturers - Other | 3.73 | 32.27 | 6.29% |
| (NASDAQ:AKRX) | Akorn, Inc. | Drugs - Generic | 2.6 | 6.45 | 6.61% |
| (NASDAQ:HITK) | Hi Tech Pharmacal Co. Inc. | Drugs - Generic | 3.71 | 27.07 | 5.25% |
| (NYSE:GME) | GameStop Corp. | Electronics Stores | 2.48 | 26.4 | 3.90% |
| (KFT) | Kraft Foods Inc. | Food - Major Diversified | 2.17 | 33.36 | 1.24% |
| (NYSEMKT:RIC) | Richmont Mines Inc. | Gold | 3.44 | 8.32 | 6.53% |
| (NYSE:AME) | Ametek Inc. | Industrial Electrical Equipment | 5.65 | 44.79 | 5.79% |
| (NASDAQ:ABMD) | Abiomed Inc. | Medical Instruments & Supplies | 7.74 | 16.93 | 12.19% |
| (NASDAQ:MMSI) | Merit Medical Systems, Inc. | Medical Instruments & Supplies | 5.32 | 22.6 | 3.62% |
| (NASDAQ:IRWD) | Ironwood Pharmaceuticals Inc. | Medical Laboratories & Research | 7.01 | 16.05 | 3.48% |
| (KONG) | Kongzhong Corp. | Multimedia & Graphics Software | 4.56 | 10.78 | 8.23% |
| (PDC) | Pioneer Drilling Co. | Oil & Gas Drilling & Exploration | 2.29 | 14.95 | 3.96% |
| (NASDAQ:UDRL) | Union Drilling, Inc. | Oil & Gas Drilling & Exploration | 3.67 | 11.94 | 2.58% |
| (NASDAQ:SLGN) | Silgan Holdings Inc. | Packaging & Containers | 5.51 | 45.98 | 2.06% |
| (NYSE:GRM) | Graham Packaging Company, Inc. | Packaging & Containers | 3.38 | 22.98 | 1.59% |
| (NYSE:FLO) | Flowers Foods, Inc. | Processed & Packaged Goods | 3.12 | 29.6 | 1.82% |
| (NYSE:MPW) | Medical Properties Trust Inc. | REIT - Healthcare Facilities | 2.04 | 11.77 | 0.68% |
| (NYSE:ESS) | Essex Property Trust Inc. | REIT - Residential | 2.39 | 126.6 | 2.20% |
| (NASDAQ:BJRI) | BJ's Restaurants, Inc. | Restaurants | 3.64 | 42.19 | 7.16% |
| (NASDAQ:SYMX) | Synthesis Energy Systems, Inc. | Specialty Chemicals | 2.94 | 3.46 | 5.17% |
| (NYSE:DHX) | Dice Holdings, Inc. | Staffing & Outsourcing Services | 3.44 | 17.1 | 7.28% |
| (NASDAQ:MAT) | Mattel Inc. | Toys & Games | 3.43 | 26.8 | 4.12% |