Shares of Amylin Pharmaceuticals (AMLN) and strategic partner Alkermes, Inc. (NASDAQ:ALKS) both received a healthy shot in the arm last week when it was announced that their once-weekly injectable product candidate for the treatment of type 2 diabetes, Bydureon, received a recommendation for approval from the European Medical Agency's (EMA) Committee for Medicinal Products for Human Use (CHMP).

Though AMLN & ALKS saw respective daily gains of 16.25% and 4.4% on the news, the CHMP's vote of confidence is no guarantee that Amylin and its Bydureon co-promoter, Eli Lilly & Co. (NYSE:LLY), will receive approval in the European Union (EU), as the European Commission (EC) has the final say in the matter.

The EC is expected to issue its decision in the next 60-90 days and while it seems highly unlikely that the commission will choose to act against the CHMP recommendation, we are still talking about Bydureon.

Bydureon's US History

A little more than a year ago, the US Food and Drug Administration (FDA) issued what some then considered a "soft" complete response letter (CRL), in which the agency did not request any additional trials but did explain that further review of Bydureon's label and Risk Evaluation and Mitigation Strategy (REMS) would be necessary.

On 10/20/10, in what many considered to be an unexpected and controversial move, the FDA decided to delay Bydureon's approval again. The second CRL was considered to be a major setback, as the agency cited previously undisclosed cardiac safety concerns and requested a thorough QT study (tQT), as well as the results of a comparison study between Bydureon and another Amylin product, Byetta, which is an already FDA approved twice-a-day injectable treatment that shares the same active ingredient as Bydureon. The tQT is to be completed later this year and the company hopes to file its response to the FDA's CRL shortly thereafter.

Back to the EU

Leaving the fastest growing global diabetes market (the US) out of the discussion for now, EU approval would give Bydureon exposure to an estimated 55M patient market.

From a 2010 article:
"It is predicted that one in 10 Europeans aged 20-79 will have developed diabetes by 2030. Its reach is growing - once a disease of old age, diabetes is now affecting adolescents and children and the highest increase is in the 30-40 year old age group. Diabetes now accounts for up to 18 per cent of total healthcare expenditure in Europe and costs an estimated £9 billion per year in the UK."
Bydureon, if approved in the EU, would be in direct competition with Novo Nordisk's (NYSE:NVO) highly successful once-a-day injectable treatment, Victoza. If one less injection per day was enough incentive to immediately steal a sizable chunk of market share from Byetta, it is fairly safe to assume that a once-weekly treatment option would be equally appealing to patients and caregivers, if not more so.

Victoza v. Byetta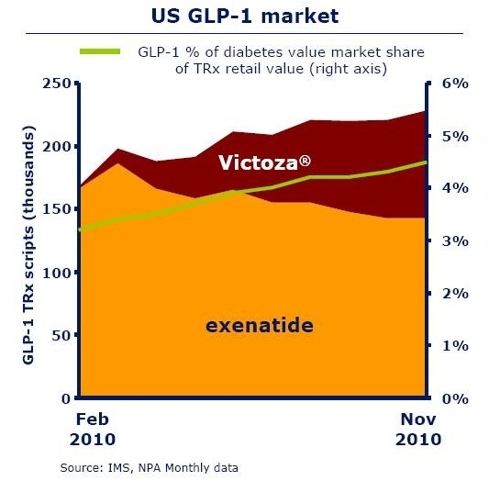 (Click chart to expand)
Victoza has already won FDA approval and Novo Nordisk has suggested that it will become a $1B product by 2012, largely due to its US sales.

With both US and EU approval in hand, it is hard to argue that Bydureon would quickly become a blockbuster product and finally drive Amylin to profitability while directing some cash-flow into Alkermes' and Lilly's coffers, too.

As it stands, the EC has yet to sign off on Bydureon's approval and there is no guarantee that the tQT will yield FDA approvable results. With so much of Amylin's future hinging on Bydureon and given its uncertainties, I plan to stay on the sidelines for now. However, if the FDA required tQT comes back clean and Bydureon wins EU approval, I will be closely watching its early uptake numbers from across the pond and if they are impressive I will consider entering a long position if the price is right.
Disclosure: I am long LLY.