These six stocks have a Price/Book Ratio of less than or equal to 1, on balance volume trending higher, above industry average EPS profit margins, annual growth percentage of greater than or equal to 10 over the next fiscal year, and PEG ratios of less than 1. The PEG ratio is a broadly-used indicator of a stock's prospective worth. It is preferred by numerous analysts over the price/earnings ratio because it also accounts for growth. Similar to the P/E ratio, a lower PEG means that the stock is more undervalued. Many financiers use 1 as the cut-off point for PEG ratios. A PEG of 1 or less is believed to be favorable. These are bullish indicators regarding a stock's possible future performance.
Nonetheless, this is only the first step in finding winners for your portfolio. Now that we have cut the wheat from the chaff, let's take a closer look to distinguish the driving factors behind these remarkable statistics and ensure the stories are intact.
Below are four tables with detailed statistics regarding company summaries, price performance, fundamentals and earnings and dividends followed by a brief analysis of each company's current events. Please use this as a starting point for your own due diligence.
[Click all to enlarge]
Company Reviews
Alterra Capital Holdings Limited (NASDAQ:ALTE)
, through its subsidiaries, provides specialty insurance and reinsurance products for the property and casualty market, principally in Bermuda, Ireland, the United States, and the United Kingdom. It offers aviation, excess liability, professional liability, property, general casualty, financial institutions, and accident and health insurance products. The company also provides agriculture, general casualty, aviation, marine and energy, professional liability, medical malpractice, whole account, workers' compensation, property, annuity, health, and life reinsurance products. Alterra Capital Holdings Limited was formerly known as Max Capital Group and changed its name on May 13, 2010 as a result of a merger with Harbor Point Limited. The company was founded in 1999 and is based in Hamilton, Bermuda.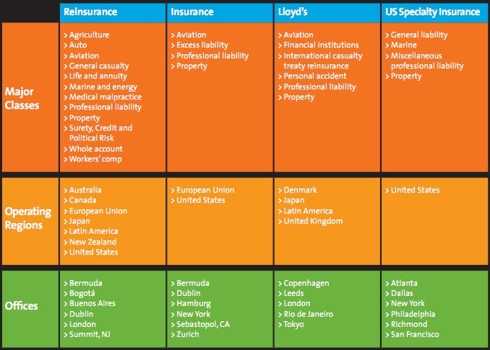 Alterra recently announced that its initial loss estimate from the March 11 Tohoku earthquake and tsunami in Japan is in the range of $60-100 million, pretax and net of reinsurance and reinstatement premiums. This estimate, which is based on an estimated event insured loss of $20-35 billion, equates to 2.1-3.4% of Alterra's 2011 opening shareholders' equity, and is within Alterra's normal risk tolerances for natural catastrophe events in this region. Additionally, Alterra owns a catastrophe bond with exposure to Japanese earthquake and tsunami losses. Depending on ultimate insured loss levels from Japanese events, this bond could generate an investment loss to Alterra of up to $25 million.
W. Marston (Marty) Becker, Alterra's president and CEO, commented:
We continue to be saddened by the extent of damage and suffering that the Japanese earthquake and tsunami have caused. At a magnitude of 9.0, the earthquake was one of the largest ever recorded. Loss estimates are still immature, and we are concerned that the final industry loss may be larger than many of the existing estimates. Accordingly, our estimate of losses to Alterra reflects a wide range of potential industry outcomes.
In 2010, the insurance markets continued to be impacted by competitive pricing that became increasingly more aggressive as the year progressed. Alterra's soft-market playbook for 2010 is to adhere to stringent underwriting and risk management practices. The company's foremost objectives are to maintain its underwriting discipline, manage expenses, invest in the future, and manage capital. Alterra has successfully enhanced its financial strength and operating capabilities with an increase of approximately $3 billion of capital and a broadened opportunity set, Alterra will be ready to capitalize on these strengths when the market turns.
The company is trading below analyst's estimates. ALTE has a median price target of $25 by six brokers and a high target of $27. On April 4, Deutsche Bank (NYSE:
DB
) upgraded the company from Hold to Buy. Please review the illustration for ALTE's summary and key statistics.

Allied World Assurance Company Holdings, Ltd. (NYSE:AWH)
, together with its subsidiaries, operates as a specialty insurance and reinsurance company in Bermuda, Hong Kong, Ireland, Singapore, Switzerland, the United Kingdom, and the United States. It offers casualty insurance products that provide coverage for specialty type risks, such as product liability, healthcare liability risks, and commercial general liability, as well as professional liability products, including directors and officers, employment practices, and fiduciary liability insurance.
The company also offers a mix of errors and omissions liability coverage for law firms, technology companies, financial institutions, insurance companies and brokers, municipalities, and media organizations; primary and excess liability and other casualty coverage to the healthcare industry, including hospitals and hospital systems, managed care organizations, and medical facilities; and general casualty products for various industries, including construction, real estate, public entities, retailers, manufacturing, medical and healthcare services, transportation, finance and insurance services, chemical companies, street energy companies, and consumer products.
In addition, it provides workers compensation insurance products; property insurance products covering physical property and business interruption coverage for commercial property; general property products covering risks for retail chains, real estate, manufacturers, hotels and casinos, and municipalities. Further, the company offers reinsurance of property, general casualty, professional liability, specialty lines, property catastrophe, accident and health, and marine and aviation coverage. The company was founded in 2001 and is based in Baar, Switzerland.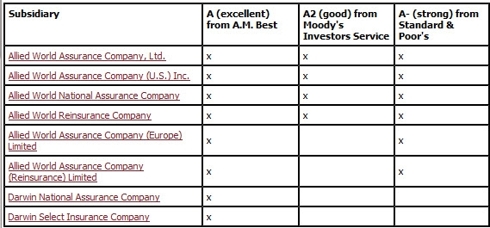 Allied recently announced it expects approximately $75 million in losses and loss expenses from the March 11 Tohoku earthquake and tsunami in Japan. This amount is pre-tax and net of reinsurance recoverables. The Tohoku earthquake, with a magnitude of 9.0, is one of the largest earthquakes ever recorded. The earthquake occurred off the eastern coast of Japan and triggered a massive tsunami, resulting in significant loss of life and extensive property damage.
President and CEO Scott Carmilani commented:
We wish to extend our deepest sympathies to those impacted by the tragic events in Japan and throughout the Asia Pacific region. As a global provider of insurance and reinsurance products, Allied World expects to have losses from these events but our loss estimates are within our risk tolerances, and we retain a very strong capital base. We remain committed to supporting our global customer base.
Allied recently announced the introduction of Allied World U.S.'s new ForceField management liability package product for U.S. Healthcare Organizations. The ForceField Package Policy for healthcare organizations combines the convenience of a single application and a single underwriter with the power of multiple, essential coverage components. While a number of these coverages were introduced in 2010 as standalone coverage solutions, this new package product allows U.S. healthcare organizations the convenience and flexibility to select multiple coverage elements (including employed lawyers coverage). Limits can be separated or shared.
"The ForceField for Healthcare Organizations package product expands our successful ForceField suite of products, creating a package product designed specifically for the Healthcare industry," said Gordon Knight, president, Allied World U.S. "The healthcare industry continues to be a key area of focus for our organization and for continued product and service innovation."
Allied recently announced it will release financial results for the first quarter ended March 31, after the close of market on May 4.
The company is trading below analyst estimates. AWH has a median price target of $70 by nine brokers and a high target of $76. On Feb. 18, Barclays Capital (NYSE:
BCS
) reiterated Equal Weight rating. Please review the illustration for AWH's summary and key statistics.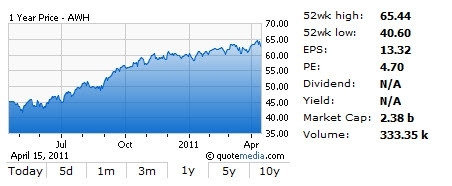 DryShips, Inc. (DRYS
), through its subsidiaries, engages in the ownership and operation of dry bulk carriers and drilling rigs that operate worldwide. Its dry bulk fleet principally carries various dry bulk commodities, including bulk items comprising coal, iron ore, and grains; and minor bulk items, such as bauxite, phosphate, fertilizers, and steel products. As of April 6, the company owned and operated a fleet of 39 dry bulk carriers consisting of seven Capesize, 28 Panamax, two Supramax vessels, and two Panamax new building vessels with a combined deadweight tonnage of approximately 3.3 million dwt, as well as owned and operated two ultra-deep water semi-submersible drilling rigs and four ultra-deep-water new building drill ships. The company was founded in 2004 and is based in Athens, Greece.
DryShips' dry bulk fleet carrying capacity totals over 3.4 million deadweight tons and its offshore oil deep water drilling segment is comprised of two ultra-deep water semisubmersible drilling rigs and four ultra-deep water new building drill ships.
For the third quarter of 2010, the company reported net income of $49.3 million, or $0.18 basic and diluted earnings per share. Included in the third quarter 2010 results are various items, totaling $49.7 million, or $0.2 per share which are described below. Excluding these items, net income would have amounted to $99.0 million or $0.38 per share. Basic earnings per share for the third quarter of 2010 includes a non-cash accrual for the cumulative payment-in-kind dividends on the Series A Convertible Preferred Stock, amounting to $3.4 million, which reduces the income available to common shareholders. The company reported adjusted EBITDA of $168.1 million for the third quarter of 2010.
George Economou, chairman and CEO, commented:
We are pleased to report another solid quarter of operating results. The strategic decision to fix out our dry bulk fleet has paid off as our time chartered fleet continues to outperform the spot market. With over 80% of our ship days in 2011 fixed out at around $37,000 per day we believe we will again outperform the spot market next year. On the ultra-deep-water drilling business, the two semisubmersibles continue to perform at high utilization rates on highly profitable contracts. The ultra-deep-water market has turned a corner in the last couple of months and we believe that current enquiry from operators matches or may even exceed the supply available in 2011. This is even before the full impacts of the unfolding regulations in the Gulf of Mexico are felt by the older rigs operating in the region. Asset prices for ultra-deep-water rigs with early delivery have strengthened considerably as a result of strong interest to purchase new assets from several drillers.
The company is trading below analyst's estimates. DRYS has a median price target of $119 by 16 brokers and a high target of $130. On July 22, 2010, Deutsche Bank reiterated its Buy rating on the company. Please review the illustration for DRYS's summary and key statistics.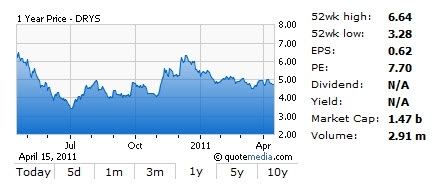 Endurance Specialty Holdings Ltd. (NYSE:ENH)
, through its subsidiaries, engages in underwriting specialty lines of personal and commercial property and casualty insurance and reinsurance worldwide. Its Insurance segment offers property insurance of a commercial nature; casualty insurance for a range of industry groups; and healthcare liability line focusing on excess hospital medical professional liability insurance; and workers' compensation insurance. This segment also provides agriculture insurance covering traditional multiple peril crop insurance, crop hail, livestock risk protection, and other agriculture risk management products; and professional lines insurance products, including directors' and officers' liability, errors and omissions, employment practices liability, environmental liability, and pension trust liability insurance.
The company's Reinsurance segment provides casualty reinsurance for reinsuring third party liability exposures from ceding companies, such as automobile liability, professional liability, directors' and officers' liability, umbrella liability, and workers' compensation; property reinsurance for individual property insurance policies; and catastrophe reinsurance focusing on catastrophic perils for ceding companies. This segment also offers agriculture reinsurance for reinsuring risks associated with the production of food and fiber; aerospace reinsurance covering hull, aircraft liability, and aircraft products; marine reinsurance of bluewater hull, brownwater hull, and cargo; surety reinsurance for contract and commercial surety, as well as for the fidelity line of business; and traditional treaty, proportional, and aggregate stop loss reinsurance for primary insurance companies writing multiple peril, hail, and named peril covers.
The company markets its products primarily through insurance and reinsurance brokers. Endurance Specialty Holdings Ltd. was founded in 2001 and is based in Pembroke, Bermuda.
Endurance expects to record losses of about $125 million related to the Japan earthquake during the first quarter. The loss estimate is pre-tax and net of reinsurance and reinstatement premiums. The company noted that actual losses could be different. Uncertainty continues because of ongoing threats from the Japanese nuclear plant damaged in the March earthquake and tsunami.
Endurance has a strong balance sheet with excellent financial strength and liquidity as of December 31, 2010. Endurance's total capital was $3.37 billion as of that date and includes $2.85 billion of shareholders' equity. At December 31, Endurance had access to additional capital in the form of a credit facility maturing in 2012 with approximately $770 million in remaining capacity. The company maintains significant levels of liquidity with more than 55% of investments in cash, short-term investments, U.S. government, and U.S. government-backed securities. The investment portfolio is comprised of high quality assets with an average rating of AA for fixed income investments. The company holds no sub-prime mortgage-backed securities or credit and interest rate derivatives in the portfolio. Endurance's asset portfolio has been managed to an average duration of 2.25 years at to minimize interest rate risk. ENH carefully manages asset-liability exposure and ensures that more than sufficient liquidity is available from the asset portfolio.
The company is trading below analyst's estimates. ENH has a median price target of $52 by six brokers and a high target of $57. On Feb. 11, Stifel Nicolaus )SF) upgraded the company from Hold to Buy. Please review the illustration for ENH's summary and key statistics.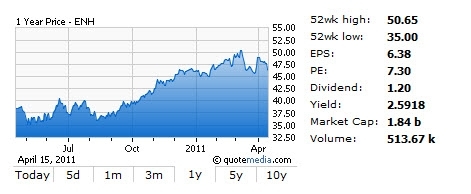 Everest Re Group, Ltd. (NYSE:RE)
, together with its subsidiaries, underwrites reinsurance and insurance in the United States, Bermuda, and international markets. The company operates in five segments: U.S. Reinsurance, U.S. Insurance, Specialty Underwriting, International, and Bermuda. The U.S. Reinsurance segment writes property and casualty reinsurance, on both a treaty and facultative basis, through reinsurance brokers, as well as directly with ceding companies within the United States.
The U.S. Insurance segment offers property and casualty insurance primarily through general agents, brokers, and surplus lines brokers in the U.S. The Specialty Underwriting segment writes accident and health, marine, aviation, and surety business within the U.S. and worldwide through brokers and directly with ceding companies. The International segment offers non-U.S. property and casualty reinsurance.
The Bermuda segment provides reinsurance and insurance to worldwide property and casualty markets and reinsurance to life insurers through brokers and directly with ceding companies, as well as offers reinsurance to the United Kingdom and European markets. The company was founded in 1973 and is based in Liberty Corner, New Jersey.
Everest recently announced its preliminary loss estimate for exposures relating to the earthquake that occurred near Christchurch, New Zealand in February. The company's initial pre-tax loss estimate, net of reinstatement premiums, is in the range of $140-210 million. On an after-tax basis, the company estimates this loss to be between $120-180 million. The company's current estimates for this event are based on underwriters' preliminary analyses and judgments, profiling of exposed limits, and modeled loss estimates that are consistent with an industry loss event ranging between $8-12 billion.
It is expected that it will be several months before relative clarity emerges with respect to its ceding companies' underlying losses; therefore, the company may adjust these estimates as new information emerges. The company also expects gross losses of $45 million in the first quarter due to storms and flooding across Australia, which on a net after-tax basis would amount to approximately $37 million. Losses arising from Cyclone Yasi are expected to be relatively immaterial.
Despite challenging global insurance and financial markets, Everest continues to focus on building out its distribution capabilities, establishing reinsurance operations in Brazil and Ireland, and acquiring Heartland, a specialty underwriter of crop insurance. The company also remains focused on advancing shareholder value through increased dividends and aggressive share repurchases, while growing its capital base to more than $6 billion. In 2011, Everest's chairman and CEO, Joseph V. Taranto, has been named "Insurance Leader of the Year" by St. John's University School of Risk Management, in recognition of his outstanding achievements and leadership in the insurance industry. Please review table below depicting RE's total shareholder return for the last 15 years.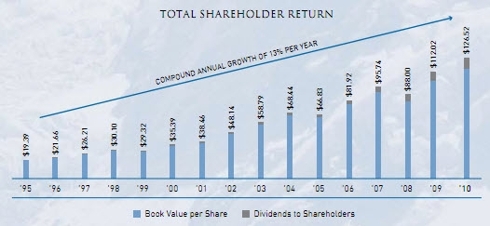 Taranto recently stated:
2010 marked our 15th year as a public company and once again we are pleased to report another strong year of building value for our shareholders. Despite the high incidence of international catastrophe events and an insurance/reinsurance market mired in, what seems to be, the perpetual soft cycle, Everest produced solid results for the year, with an operating return on equity of 9% resulting in an increase to book value per share of 12%.
RE has had a significant uptick in insider buying. Insiders have purchased 1,250,180 net shares over the last six months, representing a 16.8% increase in insider ownership.
The company is trading below analyst estimates. RE has a median price target of $101 by eight brokers and a high target of $107. On Oct. 14, 2010 Deutsche Bank reiterated its Buy rating on the company. Please review the illustration for RE's summary and key statistics.

Tutor Perini Corporation (NYSE:TPC)
, together with its subsidiaries, operates as a construction services company offering diversified general contracting, construction management, and design-build services to private clients and public agencies in the United States and internationally. It focuses on public works construction, including the new construction, repair, replacement, and reconstruction of the public infrastructure, such as highways, bridges, mass transit systems, and wastewater treatment facilities; large and complex projects in the hospitality and gaming, transportation, healthcare, municipal offices, sports and entertainment, education, correctional facilities, biotech, pharmaceutical, industrial, and high-tech markets, as well as electrical and mechanical, plumbing, and HVAC services as a subcontractor; and diversified construction and design-build services to the U.S. military and government agencies, as well as surety companies and multi-national corporations.
The company was formerly known as Perini Corporation and changed its name to Tutor Perini Corporation in May 2009. Tutor Perini Corporation was founded in 1894 and is headquartered in Sylmar, California.
Tutor recently announced that is has received new contracts and task orders totaling $327 million, which include work ranging from an infrastructure project in New York to construction projects worldwide for the U.S. State Department and a new aircraft parking apron at Andersen Air Force Base in Guam.
Tutor recently acquired 100% ownership of Anderson Companies, a privately-held parent company of Roy Anderson Corporation, Harrell Contracting Group, LLC and Brice Building Company, LLC. Anderson has current backlog of $475 million, fiscal year 2010 revenues of approximately $287 million and average annual revenues exceeding $400 million over the last five years. Anderson provides general contracting, design-build, preconstruction, and construction management services to its public and private clients throughout the Southeastern United States.
Revenues from construction operations were $3.2 billion for the year ended December 31, 2010, as compared to $5.2 billion for the year ended December 31, 2009. Net income was $103.5 million for 2010, as compared to $137.1 million for 2009. Diluted earnings per common share were $2.13 for 2010, as compared to $2.79 for 2009. The decrease in revenues primarily reflects the completion of large hospitality and gaming work during 2009, partially offset by an increase in the volume of civil infrastructure work. Operating profit margins increased due to higher margin public works building and civil contracts under construction.
The company is initiating guidance for the full year 2011, with revenues estimated to be in the range of $4.2-4.7 billion and diluted earnings per share estimated to be in the range of $2.20-2.40 per share.
Ronald Tutor, Chairman and CEO, said:
Our civil operation has delivered outstanding results for us and we expect it to continue to grow in the future. We are patiently awaiting the release of projects to bid and major awards in Guam. Over the course of the coming year, we anticipate the nonresidential building markets will steadily improve. Finally, with the added capital resulting from our senior notes offering, we are pursuing growth opportunities through acquisitions available in the current market, including our recent acquisition of Fisk Electric, which closed at the beginning of this year.
The company is trading below analyst estimates. TPC has a median price target of $28 by four brokers and a high target of $32. On Dec. 14, 2010,
UBS
upgraded the company from Neutral to Buy. Please review the illustration for TPC's summary and key statistics.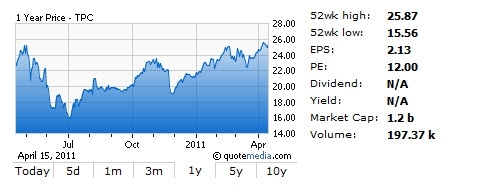 To reiterate: Using a screen to produce highly undervalued stocks with positive growth ratios produced four reinsurance companies and a shipping and construction company. These stocks have positive growth projections, profit margins, and high momentum. The reinsurance companies have been hit recently by a series of major disasters. Nonetheless, they are in good financial shape and often quickly recoup the losses by increasing premiums. Furthermore, the construction and shipping companies are all well-positioned to benefit from each of their respective sectors' burgeoning demands spurred by numerous positive catalysts. I will continue monitoring these stocks further to determine the precise timing to create a position. Scaling in to the position over a period of time will reduce risk.
Information was gathered from CNBC, Yahoo Finance and respective company websites.
Disclosure: I have no positions in any stocks mentioned, but may initiate a long position in RE, TPC, ENH, ALTE, DRYS, AWH over the next 72 hours.