Our previous analyses unveiled several Dow Industrial companies that share great exposure to the improving economic outlook. Using a similar quantitative framework, we found that DuPont (NYSE:DD) will also be a perfect bet during the next economic upswing. Historical simulation points to a high probability of 40% returns by the end of the year. At the same time, the downside appears very limited.
At BCMC, we specialize in quantitative economic modeling. For those who have not had a chance to go through our previous analyses, our modeling framework can be split into two major steps:
Forecasting U.S. economic growth using statistical models
Simulating stock performance, based on business cycle swings over the past 20 years
Quantitative economic models help us understand where we are in the business cycle and what the likely path of economic growth is. We developed two models for continuous monitoring: U.S. Monthly GDP and U.S. Industrial Production. These models suggest that a soft patch is expected to be followed by a new upswing in economic activity somewhere at the end of summer.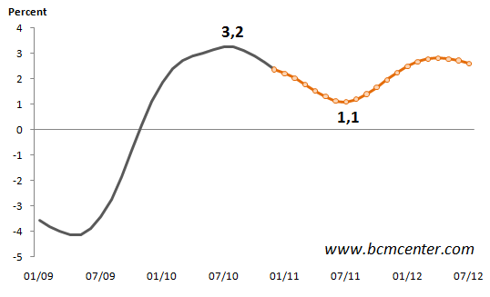 (Click to enlarge)
As soon as the economic outlook is defined, we can start to build projections for stock price. Using historical data, we have found similar positions in past business cycles and collected evidence on how DuPont stock reacted then. Data was processed and aggregated, to generate a range of possible outcomes. A forecast for the next 6-12 months was then constructed.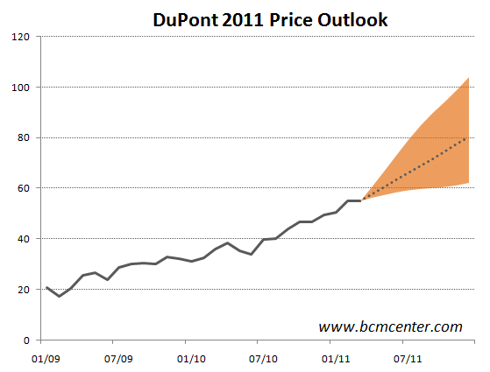 (Click to enlarge)
If our projections are correct, DuPont should get a significant push from positive economic momentum. The potential upside is remarkable. In the baseline scenario, DuPont is expected to deliver about 40% returns this year. In the best case, stock may shoot above $100, but this is rather unlikely. The downside risks are negligible, since, even in the worst case, there is slight upside potential. All in all, DuPont is another attractive asset for investors looking to benefit from better economic prospects.
Disclosure: I have no positions in any stocks mentioned, and no plans to initiate any positions within the next 72 hours.