Silver continued its extraordinary run last week, closing the week at 42.57. Even more astounding than how fast it is rising is the extent to which futures speculators are decreasing their bullish bets. The below chart shows the price of silver in gray, managed money net longs in green, and producer net shorts in blue.
[Click to enlarge]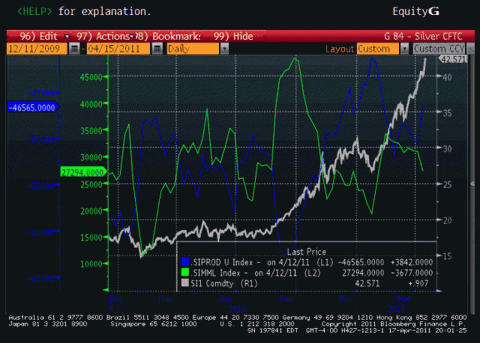 As can be seen, the price of silver has actually rallied in spite of speculators, rather than because of them. As we posited last week, silver's recent gains can be attributed to investors in physical silver bullion/coins as well as silver ETFs. Buyers silver in physical or ETF form are taking silver out of world supply and hoarding the metal, further increasing supply tightness for other investors and thereby driving the price of silver up.
With managed money net longs standing at ~27k contracts, the managed money net long position is more than 20,000 contracts lower than the all-time high set on 9/28/2010 of 48k contracts. If and when managed money starts to increase their net long position, the price of silver could absolutely skyrocket.
Trade Recommendation
While we usually prefer to be a net option seller, silver's current position significantly above its moving averages leaves it susceptible to a pullback. Even if it is only a temporary correction, a pullback to the 50-day moving average for silver could leave an investor down $40,000 per contract. Such a scenario seems very risky to recommend an outright long futures position.
Instead, we recommend buying the July 45-50 call spread on silver futures. As of 4/15, an investor could purchase the July 45 call for 1.711 and sell the July 50 call for 0.75, so the trade could be put on for a net debit of .961, or $4,805 per contract.
The trade would be profitable as long as silver is above 45.961 upon expiration, June 28. The maximum risk of the trade would be the amount debited, or $4,805 per contract. The maximum gain would be $20,195 per contract; the risk reward ratio is about 1:4, which we view as attractive.
If an investor wished to have a longer time frame on the trade with a slightly lower payout, he could purchase the September 45-50 call spread instead. If purchased for about 1.3, this trade would be risking $6,500 for a profit of $18,500. Instead of expiring on June 28, this trade would expire on August 25.
These trades can also be affected via the SLV, using the 45-50 strike prices, and the July or October expirations. The July 45-50 call spread could be purchased for about $1 per contract, meaning an investor would pay about $100 for a maximum profit of $400. The October 45-50 call spread could be purchased for $1.33 per contract, meaning an investor would pay $133 for a maximum profit of $377 if SLV closes above 50 on October 21.
Additional disclosure: All information included herein is the opinion of the firm and should not be considered investment advice. Past performance is not necessarily indicative of future results.
Disclosure: I am long SLW, long silver futures, long silver calls, short silver calls.