We have quietly had a rip-roaring bull market over the past two years. All major indices have gained handily, led by the Russell 2000 which is up 144%. The S&P 500 index has gained 98% while the DJIA has gained 91%, all since the March 2009 lows. The stock market continued to rally in the first quarter of 2011 resulting in the best first quarter performance since 1998.
This is consistent with the four year election cycle's historical pattern where the best and most consistent gains have occurred in the year before a presidential election. The majority of those gains, which have averaged over 18% in the third year of a presidential term, have come in the first six months of the year. This is also consistent with historically weak market performance in September/October leading to an October low.
Most solid, profitable companies are at or near their 2-year highs - making it increasingly difficult for individual investors to differentiate between attractive stocks to buy and stocks which may have reached their potential. While I have consistently stressed the theme that large caps would begin to outperform as they usually do in the third year of a bull market, today's blog post looks at mid cap stocks which may continue to offer value and participate in further market advances. We screened our data base of 5000 stocks for companies with the following characteristics:
Bullish rating*
Market Capitalization between $1 billion and $5 billion
Bullish price/volume activity
PEG ratio <= 1.6
Price/Sales ratio <= 2.5
Return on Equity > 12%
Below are five mid caps that fit our criteria and are outperforming in 2011.
| | | | | | | | | |
| --- | --- | --- | --- | --- | --- | --- | --- | --- |
| Company (Ticker) | Industry | Market Cap | Current Price | 52 Week Range | YTD % Gain/Loss | PEG Ratio | P/S Ratio | ROE |
| Herbalife Ltd (NYSE:HLF) | Nutritional Products | 5.0B | $86.14 | $42.33 - $86.07 | 26% | 1.09 | 1.84 | 68.6% |
| Lincare Holdings Inc (NASDAQ:LNCR) | Home Health Care | 2.9B | $30.41 | $22.55 - $33.45 | 13% | 0.91 | 1.71 | 19.1% |
| MasTec Inc (NYSE:MTZ) | Construction Services | 1.6B | $20.62 | $9.26 - $21.99 | 41% | 1.30 | 0.67 | 15.3% |
| MSC Industrial Direct Co (NYSE:MSM) | Industrial Equipment Wholesale | 4.5B | $70.76 | $44.19 - $79.22 | 9% | 1.35 | 2.40 | 20.6% |
| Rent-A-Center Inc (NASDAQ:RCII) | Rental & Leasing Services | 2.2B | $34.38 | $19.44 - $36.53 | 7% | 0.96 | 0.81 | 13.2% |
Buy on Weakness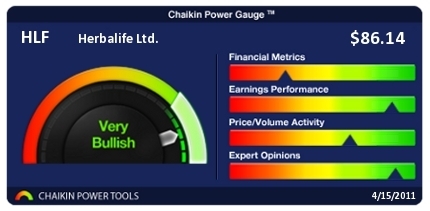 Herbalife Ltd (HLF): $86.14
Driven by worldwide volume growth of 16%, Herbalife reported 33% YOY increase in EPS in the 4th quarter of 2010 and raised its earnings guidance for 2011 by 3% over its previous guidance driven by an expected revenue increase of 13%-15%, thus leading to bullish analyst opinions. This is 10% earnings growth even if the company makes its numbers at the lower end. This strong and consistent earnings growth leads to a very bullish earnings performance metric on the .
The board of directors has approved a 2-1 stock split pending shareholder approval to improve liquidity in the stock. Strong money flow activity and positive price trend and volume trend together contribute to a very bullish price/volume activity rating. Strong price strength vs. its industry and the overall markets confirm the current positive momentum shares are enjoying.
A very high ROE further bolsters an already bullish rating. We believe the company will continue to do well in 2011 and the stock split, which, if approved, will be executed later this year, will generate investor interest driving shares further up.
Buy at Current Levels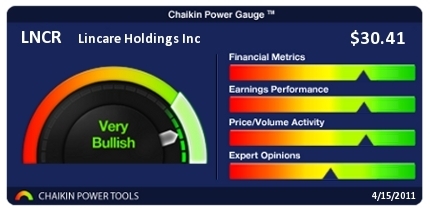 Lincare Holdings Inc (LNCR): $30.41
Early this month, Lincare Holdings announced that its board of directors has declared a quarterly dividend payout of $0.20 a share to be paid out at the end of the month. This healthy dividend yield of about 3% adds to the stock's appeal and a healthy ROE confirms it further.
Analysts are increasingly bullish about the company's near term and long term prospects and have raised their 2011 earnings estimates leading to a bullish expert opinions metric. The company grew YOY revenue by more than 7% and EPS by more than 40% in 2010. This consistent earnings growth along with a low P/E ratio on projected 2011 earnings further bolster a bullish rating.
Shares have gained investor interest in April as indicated by the upward move in the stock price on high volume following a Citigroup report that it believes shares are undervalued as the industry consolidates and maintained a "buy" rating on the stock with a price target of $41. LNCR, which reports earnings on April 18th, is a heavily shorted stock and any positive news from the company might trigger a short squeeze and take the stock beyond its 52-week high of $33.45 last reached in June 2010.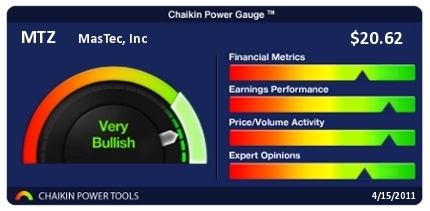 MasTec Inc (MTZ): $20.62
MasTec is in the construction business but it does not build houses. It is in fact in a growing segment of the business – it operates in the building, installation, maintenance, and upgrade of utility and communications infrastructure. A solid balance sheet with positive cash flow, strong business value** and high ROE contribute to MasTec's bullish financial metric rating.
In 2010, YOY earnings grew by 28% on 42% revenue growth and in the 4th quarter alone, EPS doubled on 47% revenue growth beating analyst estimates by over 15%. Going forward, management expects to grow EPS by 14% on over 9% revenue growth. Analysts, responding to the guidance, have raised their estimates for 2011 leading to a bullish expert opinions metric. Even during the recession, the company was consistently profitable for 3 years leading to a very bullish earnings performance metric.
Shares have been on a tear since October and have outperformed the market by 3x. This highly positive price strength vs. its industry and vs. the broader markets, along with a positive money flow activity and a positive price trend contribute to strong price/volume activity leading to a very bullish rating. Despite the gains, shares are still 10% off their 52-week highs reached early this month.
Despite some profit-taking the stock still has a relatively high short interest and if management delivers on its promise and has a strong Q1 earnings call, a short squeeze could be trigerred, thus helping the stock price reach new highs.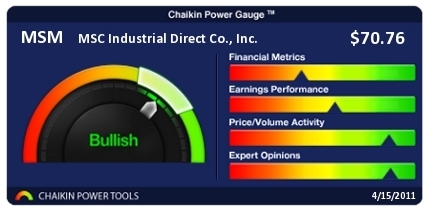 MSC Industrial Direct Co (MSM): $70.76
This direct marketer and distributor of industrial equipment reported earnings for its 2nd quarter of 2011 early this month. Driven by a 22% YOY revenue growth, MSM posted 62% earnings growth during the period. Citing higher gross margins, management guided third quarter EPS to $0.90 at the low end, 11% higher than average analyst estimates. Impressed with this outlook, analysts have raised their earnings estimates leading to a very bullish expert opinions metric. On the day of the earnings announcement, shares jumped 12% on more than 4 times the average daily volume to reach all time highs before closing a little below the opening price driven by profit taking on the news.
Management further boosted investor confidence by paying out a dividend of $0.22 on April 8th. Despite being off by more than 10% since reaching their all-time highs on April 6th, MSM shares have gained 10% in just one month confirming our belief that the sell-off is driven by sell-on-the-news profit taking. Positive price strength vs. its industry and vs. the broader markets along with strong money flow activity and a strong price trend contribute to a bullish price/volume activity rating. This suggests that the rally the shares have staged since September last year has legs and will continue into 2011 taking them back above their all-time highs.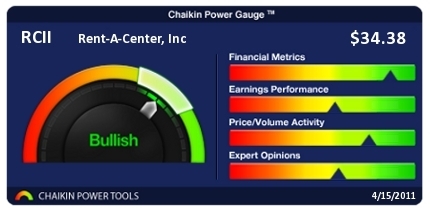 Rent-A-Center Inc (RCII): $34.38
RCII reported 2010 earnings with an adjusted EPS growth of 13% YOY generating positive cash flow. Management utilized this cash to return value to shareholders by initiating a quarterly dividend payout, beginning in the third quarter last year. Furthermore, the company also repurchased approximately 3.6 million shares in 2010 at an average price of about $23.5 per share. Strong cash flows, healthy valuation ratios and a high ROE lead to a bullish financial metric rating.
RCII expects 2011 earnings to be 3% to 10% higher than 2010 earnings. Shares have rallied more than 70% since September last year handily beating all major averages but are 6% off their all-time highs reached early this month. This very strong price strength vs. the overall market combined with a positive money flow activity and strong price strength contributes to a very bullish rating. The company announces earnings on April 26th. The six month rally has attracted short interest making RCII a short-squeeze candidate if earnings meet or beat expectations and guidance for the remainder of the year is positive.
* The rating is based on a 20-factor model incorporating financial metrics, earnings performance, price/volume activity and expert opinions to determine a stock's potential over the next 3-6 months.
** business value - the most heavily weighted factor in the 20 factor rating, business value measures free cash flow per share on a relative basis vs. 3000 stocks and is similar to EV/FCF calculations.
Disclosure: I have no positions in any stocks mentioned, and no plans to initiate any positions within the next 72 hours.