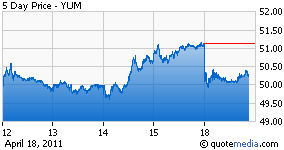 Quick service restaurant company Yum Brands Inc. (YUM) is slated to release its first quarter 2011 results on April 20, after the closing bell. The current Zacks Consensus Estimate for first quarter earnings is 64 cents per share on revenue of $2,379.0 million.
Yum Brands has outperformed the Zacks Consensus Estimate over the trailing four quarters, with earnings surprises varying in the range of 1.39% to 11.32%. The average earnings surprise was 6.28%. This implies that the company has beaten the Zacks Consensus Estimate by this magnitude over the last four quarters.
Previous Quarter Performance
Kentucky-based Yum reported fourth quarter 2010 adjusted earnings per share (EPS) of 63 cents, which surpassed the Zacks Consensus Estimate by 3 cents. Earnings increased 27% year over year mainly on the back of a strong performance at its China division. On a reported basis, Yum Brands' quarterly earnings were 56 cents per share, up 26% year over year.
The company reported a 6% year-over-year increase in total revenue to $3,562 million during the quarter, ahead of the Zacks Consensus Estimate of $3,499 million. Sales growth was fueled by a 21% increase in the China division and 1% rise in Yum Restaurants International (YRI), partly offset by a 4% decline in the U.S.
Comparable-restaurant sales improved 8% in mainland China and 5% in the U.S. The domestic growth was attributable to a 10% increase in Pizza Hut and a 2% rise at Taco Bell, offset by a 4% decline at KFC.
Yum Brands saw a decline in its overall cost structure. Company-restaurant costs and general and administrative (G&A) expenses declined 13% and 4%, respectively. China was able to reduce every aspect of its cost structure.
However, these were partially mitigated by 4% and 7% increases, respectively, in company-restaurant costs in YRI and U.S. divisions. On a year-over-year basis, G&A expense fell 8% in the YRI division and 12% in the U.S.
Outlook
The fast food company reaffirmed its intention to deliver 10% EPS growth for 2011. Most of this growth is anticipated to be driven by robust performances in its China division. New unit development in China and YRI (approximately 1,400) is also expected to contribute to earnings. This would make Yum Brands the industry's leading international new unit developer.
Estimates Revisions Trend
Estimates for the to-be reported quarter remained unchanged in the last 90 days, implying that the analysts are sticking to their outlook post fourth quarter earnings.
Agreement of Estimate Revisions
In the last 30 days, out of 18 analysts covering the stock, only one increased first quarter and 2012 estimates. Additionally, one out of the 20 analysts covering the stock raised the estimate for fiscal 2011. None of the analysts lowered the same for the upcoming quarter as well as fiscal years 2010 and 2011.
None of the analysts made any revision to the forecast over the past seven-day period, thus providing no directional movement.
Magnitude of Estimate Revisions
Over the past 60 days, Yum's estimates for the first quarter and fiscal years 2011 and 2012 did not budge. Therefore, the analysts expect the company to report in line. Currently, the Zacks Consensus Estimates for the first quarter, 2011 and 2012 are respectively 64 cents, $2.85 and $3.19 per share.
Our Take
We believe that the company's overseas expansion remains one of its key growth drivers. Moreover, Yum Brand's recognition, consistent performance and emerging market operations give it an edge over competitors. Apart from China, the company seeks opportunities to expand in new markets including India, France, Russia and Africa.
We are also optimistic on a host of tailwinds Yum will likely enjoy in 2011. Lower interest expense due to favorable debt issuance over the past couple years as well as around $20 million currency translation benefits in China and YRI will augur well for the company. Additionally, the positive impact from Mexico refranchising will boost the company's performance.
However, stiff competition from other quick-service restaurant operators, tough comparisons in China owing to The World Expo, cost escalation and wage inflation, as apprehended by management, will keep margins under pressure in 2011. Price increases in China may prove insufficient to weather the overall inflationary effect and thereby lower the margins.
In the U.S. segment, the impact of the lawsuit related to the content and quality of its beef products at Taco Bell is something to be watched for in the first quarter results. Moreover, severe winter in the U.S. in the early months of 2011 will also have an adverse effect on the first quarter revenue of Yum Brands.
Consequently, we have a Zacks #2 Rank (short-term Buy recommendation) on Yum shares. We also reiterate our long-term Neutral rating. Close on the heels of Yum Brands, one of its primary competitors, McDonald's Corp. (MCD) will report its first quarter on April 21, 2011.