ProLogis (NYSE:PLD), one of the leading global providers of distribution facilities, is scheduled to report its fiscal 2011 first quarter earnings on April 20, 2011. The current Zacks Consensus Estimate for the first quarter earnings is 15 cents per share, representing a year-over-year growth of about 16%.
Fourth Quarter Recap

ProLogis reported fourth quarter 2010 recurring FFO (fund from operations) of 25 cents per share, beating the Zacks Consensus Estimate by 8 cents. Fund from Operations is a widely used metric to gauge the performance of REITs and is obtained after adding depreciation and amortization and other non-cash expenses to net income.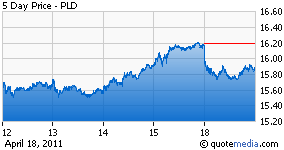 ProLogis' industrial operating portfolio (which includes completed developments) leased at quarter-end increased to 91.0% from 89.9% in third quarter 2010, primarily due to a rise in leasing activities. During the quarter, the company leased 34.5 million square feet of space across the globe. Leasing in the company's static completed development portfolio increased to 79.7%, up 560 basis points from September 30, 2010.
Customer retention in both the direct owned and investment management portfolios during the quarter was over 87% during the reported quarter. Rental rates in the total same-store portfolio declined 10.5% in the quarter, compared with an 8.5% decline in the third quarter of 2010. Same-store occupancy was up 2.1% – a third consecutive quarterly increase, while same-store net operating income was down 0.45%.
During 2010, ProLogis generated more than $1.75 billion in net proceeds, including $1.25 billion of asset sales and $500 million of contributions to property funds and joint ventures. The third-party asset sales were consistent with the company's stated goal to sell assets in non-strategic markets and redeploy the proceeds to fund new development in major global markets, thereby diversifying and improving the quality of its portfolio.
With improving property values and growing institutional demand for quality properties, ProLogis expects to generate $1.3 billion to $1.5 billion of proceeds in 2011 from sales of existing assets and contributions to funds primarily in the U.S. The company intends to utilize the proceeds to repay its debt and fund its existing development portfolio as well as development starts in 2011.
Agreement of Analysts

In the last 7 days, there were no earnings estimate revisions for the first quarter and fiscal 2011 as analysts, in general, were circumspect about the future outlook of the company. In the last 30 days, none of the 13 analysts covering the stock has revised earnings estimates for the first quarter. For fiscal 2011, only 1 out of 14 analysts covering the stock has reduced the earnings estimate in the last 30 days, while none has increased them.
Magnitude of Estimate Revisions

Earnings estimates have remained stagnant for the last 30 days for the first quarter and full fiscal 2011 at 15 cents and 66 cents per share, respectively, meaning that analysts were overtly cautious about the performance of the company.
Neutral on ProLogis

We currently have a 'Neutral' recommendation on ProLogis, which presently has a Zacks #3 Rank that translates into a short-term 'Hold' rating and indicates that the stock is expected to perform in line with the overall U.S. equity market for the next 1-3 months.
Our long-term Neutral recommendation on the stock is based on the belief that ProLogis has considerably reduced operating risks through continued lease-up of its development portfolio. ProLogis also has a geographically diverse portfolio of distribution facilities that integrate international scope and expertise with a strong local presence in its markets, which provides a strong upside potential for the company.
Furthermore, we expect the earnings to be accretive in the coming quarters when ProLogis completes its merger with its rival AMB Property Corp. (NYSE:AMB) in an all-stock deal to become a behemoth of sorts in the industrial real estate sector.