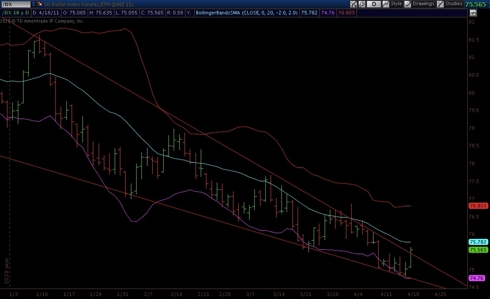 Since the beginning of 2011, the dollar index futures have been forming a falling wedge pattern (as seen in the chart above). This pattern is typically seen as a bullish indicator and would indicate a trend reversal from bearish to bullish. To confirm this pattern, we would need to see strong volume and a close above the upper trendline. As of this writing, we are on track for both a close above the upper trendline and the largest volume day since this pattern began.
There are two catalysts in the near term that will have considerable impact on the continued direction of the dollar. The first will be how Congress handles the need to increase the federal debt limit. This event is sure to become a political football and will set the tone for both political parties' stance on government spending going into the 2012 elections. However, I believe this discussion will follow the same path as the budget debate over the past few weeks. I fully anticipate plenty of political grandstanding but ultimately both sides will need to come to an agreement. The likely outcome is that Republicans push for further budget cuts in exchange for an increase on the debt limit. This is ultimately a good outcome both for the dollar and the country as a whole.
The second event of concern is the end of the federal reserve's second round of quantitative easing. Currently, the federal reserve is purchasing about 70% of a new US treasury debt. With QE2 set to end in June, it remains to be seen who will step in to fill the gap that will be left by federal reserve purchasing. With the federal reserve stepping aside, though, it is likely that interest rates will begin to rise and that is ultimately bullish for the dollar. I expect that barring any announcement of yet another round of quantitive easing, the conclusion of QE2 will be positive for the US dollar.
The bullish technicals coupled with the two catalysts mentioned above lead to what I believe will be a bullish run for the US dollar in the short term. Over the past year, there has been an inverse relationship between the US dollar and dollar-denominated asset classes. A systematically weakened dollar has driven stocks and commodities to new highs, but it is my belief that this relationship is about to reverse.
I would recommend going long the US dollar index either using the dollar index futures or an ETF such as the PowerShares Dollar Bull (NYSEARCA:UUP). Similarly, I expect a pullback in equities and especially commodities. I would recommend reducing exposure to both equities and commodities in the short term.
Disclosure: I am long US Dollar Index Futures.