Among the extraordinary developments of the latest investment bubbles is the arrival of wild-man concept stocks every bit as frothy and strange as those seen in the Internet Bubble of 1999-2000. These stocks mostly seem to be about gaming the shorts by taking advantage of their relatively tight, thin market capitalizations. In the past, this action has proceeded along until insiders manage to dump most of their shares. For instance, during the last bubble in housing finance, Countrywide Financial (CFC) stayed elevated until tan man Angelo Mozillo unloaded much of his stash.
I'm sure many bears have been trashed in this cycle, shorting the current bunch of inflated stocks. Usually this tends to continue until huge IPO underwritings are conducted. This time around, the scuttlebutt centers on a $15-$20 billion fleecing involving Groupon, with Facebook, Twitter and Lord knows what else in the mix. In 2000, the silly season stocks came undone in stages, overwhelmed by supply and reality ... not exactly all at once, although they accelerated down in a sequence of "bad days." The big down day last Friday for Google (NASDAQ:GOOG), without affecting the rest, was typical of the last days of the TNT bubble.
So how does one process (not predict) a shorting opportunity in a silly season bubble stock or sector? We already know valuation is irrelevant in the short term, so we need to pay close attention to playing defense and avoiding the worst of the gaming. As a rule of thumb, I would avoid heavily shorted stocks that still have large insider ownership; in other words, thinly traded and backed by the "system." All this information is readily available at Yahoo Finance under key statistics.
For example, Travelzoo (NASDAQ:TZOO) might get a chartist's attention because it recently had what looked like an exhaustion gap and a pickup of volume on the reversal (chart). But then, quite mysteriously, it moved right back up to test the highs. You can see the issue: There is only a float of 5.5 million shares and 1.94 million are shorted. The 10-day volume was 1.3 million. See the "% Held by Insiders" line in the following chart and notice that the ownership is large and standing pat. To me, this one is still too dangerous to get involved.
TZOO: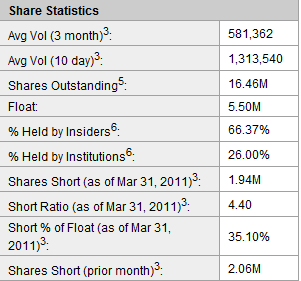 Another example would be OpenTable (NASDAQ:OPEN). First, I'd be eying the Groupon IPO here, as all the chop shops will be pumping this concept (the same one as OPEN's) leading up to that. In anticipation OPEN insiders are moving right along with their dump operations. They are down to 29 percent held. This progression can also be tracked directly at Yahoo Finance under insider transactions.
This ridiculous stock is moving toward the endgame and should be watched. However, you can also see that the short sellers took another shot at the stock and are back up to over 25 percent of the float short. In my book, the stock is too dangerous to short, as the shorts are too high and there are still too many insiders.
OPEN: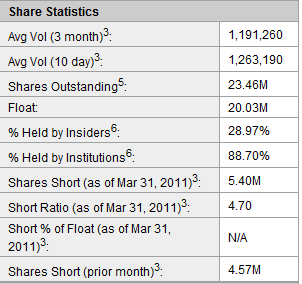 The final example is Salesforce (NYSE:CRM), which has been built into a fully mature silly season stock with nearly an $18-billion market cap (fundamental commentary here). It's already part of the S&P 500, so it can't be gamed with a fresh inclusion as could say Green Mountain (NASDAQ:GMCR), which is 25 percent insider held, 20.2 percent short. This is an example of Wall Street at its best -- a successful dump. Insider holdings have been greatly reduced and more stock is arriving everyday. This can be also tracked from the Yahoo Finance source.
Also, take a glance at institutional and fund holders and one can see the stock is now very much in the hands of Aunt Millie and the retail fund investor. The short selling, at well under 10 percent of float, is much more restrained. Thus, this one has far less gaming risk for the short seller. CRM looks like a triple top is being formed: There is convergence at previous tops (about 145) and that's where I'd look to go short.
CRM: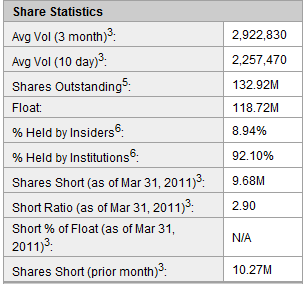 I cover these and other names on my Actionable site. There I have gone into different chart patterns: Exhaustion gaps or runaway days, double and triple tops, etc. where one can look for setups.
Disclosure: I have no positions in any stocks mentioned, and no plans to initiate any positions within the next 72 hours.