Call #1: Overweight U.S. Healthcare
Many investors are looking to lower their beta, or market exposure, while remaining in stocks. One way to dampen portfolio volatility is to increase the allocation to more defensive sectors such as Utilities, Consumer Staples, and Healthcare. On a long-term basis, we don't like Utilities as we think they will be vulnerable to rising interest rates. This leaves Staples and Healthcare. Despite all the headline risk to the sector, we would prefer Healthcare. We base this view on three factors: better pricing, more compelling valuations, and rising input prices for many Consumer Staples companies.
Starting with pricing power, the Consumer Price Index (CPI) for medical care has consistently outpaced overall inflation. Since 1995, CPI for Healthcare has risen by 4% a year, on average, versus less than 2.5% for a broad consumption basket. In recent years this trend has accelerated. Since 2009, the spread between medical and overall inflation has averaged roughly 2.50%.
The second advantage for Healthcare is that the stocks look cheap relative to Consumer Staples companies. The Healthcare sector trades at around 2.5x book value, versus nearly 3.5 for the Consumer Staples sector, a 28% discount (see chart below). The stocks also look inexpensive relative to Staples on a price-to-earnings basis. Healthcare trades at 12.6x trailing earnings, versus 15.5 the Consumer Staples sector.
Relative Valuation U.S. Healthcare vs. Consumer Staples (1993-present)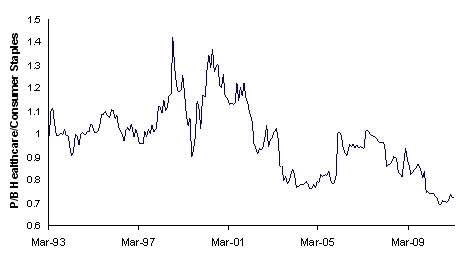 (Click to enlarge) Source: Bloomberg 3/31/11
Finally, Consumer Staples companies are contending with rising commodity inflation. With the price of everything from oil to cotton rising, many consumer companies are struggling with rising costs that they cannot offset by raising prices. Given their low use of raw materials and energy, Healthcare companies have historically been very resilient to rising commodity prices. While the Healthcare sector faces its own challenges, primarily in the form of regulatory uncertainty, these fears are already reflected in the price. In addition, we don't expect major regulatory changes to the sector until after the 2012 Presidential election, at the earliest. While headline risk will remain, we believe that Healthcare offers the best prospects amongst the defensive sectors.
Call #2: Underweight Small Caps
Beyond sector rotation, another relatively easy portfolio tilt is to lower exposure to small caps names. Recently we highlighted the benefits of mega-cap companies. Another reason to favor large firms versus smaller ones: small companies tend to be more volatile and are disproportionately impacted when the market goes down. To mitigate this risk, investors – many of whom have been overweight small caps during the last two years – may consider reducing their exposure to no more than a benchmark weight.
There are at least two justifications for lowering small cap exposure. First, we are nearing the end of Fed's easing cycle. Not only is the Fed's second round of quantitative easing (referred to as QE2) set to expire in June, but the futures market is now discounting a greater likelihood that the Fed will start to hike rates in late 2011 rather than 2012. The reason that this is important for small caps is that easy monetary policy generally benefits riskier assets, small caps included. With that set to change, one of the main factors supporting small caps will be reduced.
The second reason for lowering small cap exposure is valuation. Over the past 15 years, U.S. small caps have historically traded at around a 30% discount to large caps based on price-to-book. At the market lows in early 2009, small caps were trading at around 1.15x book versus 1.65x for large caps, a 30% discount. Today, that discount has mostly evaporated. By the end of March, small caps were trading at just an 8% discount to the S&P 500 index of large cap stocks. Small caps now appear fairly expensive relative to larger companies.
Potential iShares solutions
| | |
| --- | --- |
| Overweight U.S. Healthcare | IYH – iShares Dow Jones U.S. Healthcare Sector Index Fund (click here for fund details) |
Source: Bloomberg
Disclosure: Author has no positions in the securities mentioned.