Intel (NASDAQ:INTC)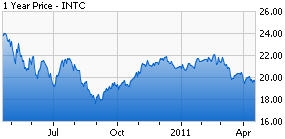 just reported better than expected first quarter earnings of 56 cents per share, 30% higher than earnings from the first quarter of last year, and 22% higher than the expected 46 cents. A major strength from the quarter was sales of computers to businesses. However, Intel reported growth in all three of its divisions, and is well positioned for future growth.
Its PC Client Group sells computer processors and related chipsets for notebooks, netbooks, and desktops and is responsible for 75% of revenues. Its Data Center Group sells processors and chipsets for servers, storage, and workstations in the data center and cloud computing markets and comprises 18% of sales. Embedded and mobile chipsets make up just 4% of Intel's sales. While many analysts are negative on Intel because of its lack of significant market share in mobile devices, Intel's core competency is highly profitable and will benefit from growth in cloud computing and mobile device sales.
PC Client Group revenues were up a strong 17% in this quarter. Since this unit makes up the bulk of sales, it is important it continue to grow at a good rate. While revenues were expected to grow, the improved economy and higher sales to businesses translated into significantly higher than expected growth. Data Center Group revenue increased an even more impressive 32% year over year. I think this is perhaps the most important number in Intel's earnings release.
As I mentioned before, many analysts think that Intel's low sales in embedded and mobile markets are a cause of alarm and reason to favor companies successful in this space, including Apple (NASDAQ:AAPL) and ARM Holdings (NASDAQ:ARMH). However, Intel has a strong position and growth in the data center and cloud computing markets. Mobile devices have to communicate with immobile devices elsewhere, and Intel is a leader in the processors and chipsets of these devices. As cloud computing and mobile markets grow, Apple and ARM will see increased sales because of their sales of mobile devices, and Intel will see increased sales in its Data Center Group revenues. Intel is therefore also well positioned to benefit from cloud computing and mobile device trends.
Intel has recently been using its excess cash to pay out an increasing dividend and buy back shares. Its dividend has increased from 32 cents per share per year in 2005 to 72.5 cents per share per year this year for an annualized increase of almost 18%. That results in a current yield of about 3.6%. Even this dividend level is only about 36% of last year's earnings. Intel has also used cash for stock buybacks, announcing a $10 billion share buyback program in January, using $4 billion of that in the first quarter of 2011. That reduces the number of shares outstanding by 3.4% and will positively impact earnings moving forward. While Intel can't quite keep up this pace every quarter, cash flow this quarter was $4 billion, just under the combined amount of share buybacks of $4 billion and dividend payments of just under $1 billion. That means that Intel can afford to buy back about 2% of its outstanding shares each quarter while retaining enough cash to pay an increasing dividend and continue double-digit revenue and earnings growth. With more than $21 billion in net cash at the end of 2010, Intel can continue an even faster rate of dividend growth and share buybacks for the next few quarters or years.
Intel's earnings release confirms my investment thesis: Intel is an undervalued stock, trading at just 10 times last year's earnings, and just 9.2 times trailing twelve months earnings. It pays a nice 3.6% dividend and enhances shareholder returns through stock buybacks. It is a growing company, and participates in the steadily growing but more mature personal computing market as well as the fast-growing cloud computing and mobile device market by sales of chipsets and processors necessary for the mobile device and cloud computing infrastructure.
Intel is a strong buy.
Disclosure: I am long INTC.