Apple (NASDAQ:AAPL) is expected to release its fiscal second quarter results shortly after the close of trading today, and it's going to be a doozy. There has been a significant amount of bearishness in Apple recently, leading a number of analysts to reduce their expectations on the quarter. Apple's stock has also been performing very poorly as of late as short-sighted fund managers have been unloading their shares on news that Apple will be rebalanced in the NASDAQ-100 (NASDAQ:QQQ).
Interestingly enough, the bearishness has gotten so out of control recently that if the stock continues to trade in this $330-$340 range after it reports its fiscal second quarter results, Apple will be trading at a multiple unseen since the lows of the financial crisis.
There hasn't been a better opportunity to pick up shares of Apple for cheap over the past few years. The current $320-$360 trading range is coming to a swift and imagined end once fund managers catch on to the fact that the stock is trading at a ridiculously cheap multiple. In fact, I believe the stock will trade much higher off of its fiscal Q2 results this afternoon.
According to analysts polled by Thompson Financial, Apple is expected to report $5.35 in earnings per share on about $23.27 billion in revenue, driven largely by sales of its iPhone, iPad and Macintosh computer. Yet, as history has clearly demonstrated, Wall Street analysts have consistently been too incompetent or too dishonest to arrive at estimates that have absolutely any semblance of reality. So it is pretty much useless to get an idea of what Apple will report using the Wall Street consensus.
Instead, investors are far better served by following the earnings estimates of unaffiliated investor-analysts who have had a significantly better track record predicting Apple's earnings. And they charge nothing for their superior projections.
According to a poll taken by Fortune's Philip Elmer-DeWitt, the top-14 unaffiliated investor-analysts are expecting on average for Apple to report $6.39 in earnings per share on $25.25 billion in revenue. That is a $2 billion revenue gap between professional Wall Street analysts and the more accurate unaffiliated investor-analysts. Just to get an idea of how accurate these unaffiliated analysts are, last quarter they predicted the same $2 billion gap on the top-line and nailed it on the dot.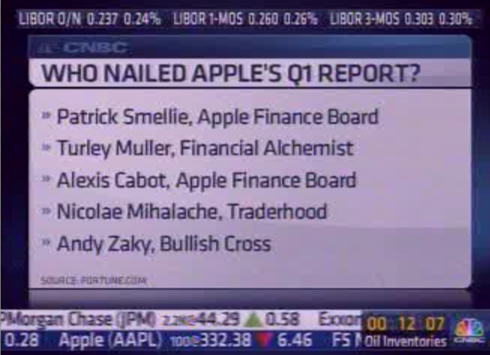 I'm looking for Apple to report $6.31 in earnings per share on $25.05 billion revenue, which falls just under the unaffiliated consensus estimates. I'm expecting Apple to post sales of 17.25 million iPhones, 6.8 million iPads, 3.8 million Macintosh computers and 9.8 million iPods. I expect gross margins to come in at 40.5%, which is at the higher end of the range on Wall Street, as I think the favorable product mix between iPhones and iPads is understated in most analyst projections. The table below contains my earnings forecast for Apple's fiscal Q2 2011. I've outperformed every Wall Street analyst for 22-quarters straight and counting.
click to enlarge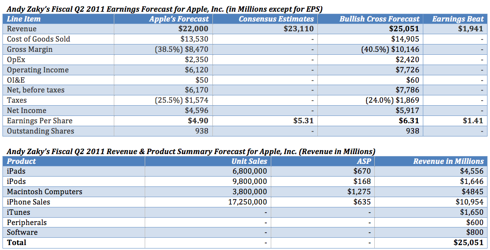 The table below contains my estimates for the 2011 fiscal year. Based on an 18-20 multiple, Apple should be trading somewhere between $490 and $540 come this fall. I believe the bottom is in on the stock as Monday's trading action, which briefly brought Apple down to $320 a share, has all of the markings of capitulation. Good luck.

Disclosure: I am long AAPL.